December 2014
---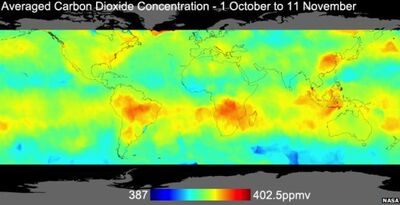 Latest Nasa data shows elevated CO2 levels over Africa and South America - According to this BBC article, "Also apparent are the higher concentrations over South America and southern Africa. These are likely the result of biomass burning in these regions."
Solar Cookers International remembers Rabbi Harold M. Schulweis - As co-founder of Jewish World Watch, Rabbi Schulweis was a visionary behind efforts like the Solar Cooker Project to empower and protect refugee women fleeing the Darfur crisis. He will be missed. His obituary is available online.
José Andrés details his use of solar cookers at Life is Beautiful event in National Geographic - In an article for National Geographic, Chef José Andrés writes about his pop-up restaurant, Sunny Day, which he opened at the Life is Beatufiul event in Las Vegas, NV. Sunny Day used solar cookers to cook their signature dish, vegetarian tacos, during the day and clean-burining ethanol in the evening. Read article...
Lapin Kulta Solar Kitchen Restaurant featured in The Guardian - Lapin Kulta Solar Kitchen Restaurant, the traveling solar restaurant from Catalan designer Martí Guixé, Chef Antto Melasniemi and Lapin Kulta beer, was featured in an article in The Guardian as an innovative user of solar energy. The piece discusses the journey of this experimental solar restaurant, including how they were able to cook in Finland in -15°C. Also featured are new innovations in photovoltaic technology, a new apartment in Hamburg, Germany which grows algae for fuel with solar energy, and simple method for water disinfection. Read article...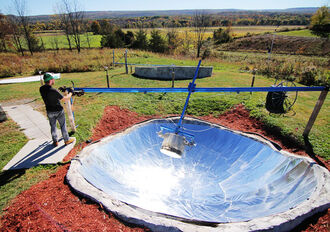 Another business uses solar cooking to prepare their product - New-member Bjorn Qorn located in New York, USA, has created a large In-the-ground solar cooker to cook their locally-harvested corn for sale as popcorn.
November 2014
---
José Andrés discusses solar and efficient cooking in Time Magazine - As part of the "What I'm Thankful For" series, celebrity chef, José Andrés, explains that he is thankful that his family has a simple and safe method to cook their food, and how solar cooking and other fuel-efficient cooking methods are bringing this benefit to the world's poor, for whom access to traditional cooking fuels is becoming more difficult and expensive every year. Read more...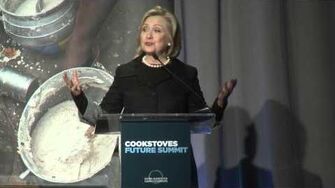 Hillary Clinton acknowledges solar cooking's role in solving cooking fuel crisis - In her keynote speech at a Global Alliance meeting, Hillary Clinton stated that students from the Clinton School of Public Service had traveled overseas to teach solar cooking.
Create an account and log in to turn off most of the ads on this site.
EG Solar has created a clever animated video short explaining the benefits of solar cooking - Visit EG Solar.
October 2014
---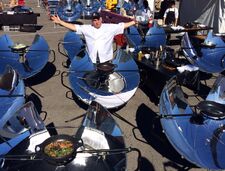 José Andrés debuts Sunny Day pop-up restaurant at Life is Beautiful festival - At the Life is Beautiful festival in Las Vegas, NV, José Andrés debuted Sunny Day, his new solar-powered pop-up restaurant. His goal for the new pop-up restaurant is to educate Americans about clean cooking around the world. Interview with José Andrés.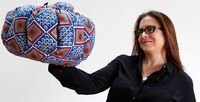 Heat-retention cooker receives world attention - Wonderbag reports that over 650,000 of the brightly colored heat-retention cooking bags have been distributed worldwide.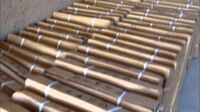 Solar cooking in the Navajo nation - Raquel Redshirt presented her solar cooker design at the TEDxABQ 2014 conference in Albuquerque, NM on September, 6 2014. She stated that her solar cooker was a more health-conscious option in her community which has a high rate of diabetes.
Global Hope Network International delivers solar cookers to Afghanistan - The Global Hope Network International reports its recent success in transporting 300 solar cookers to rural villages in central Afghanistan where all 300 were purchased by villagers.
September 2014
---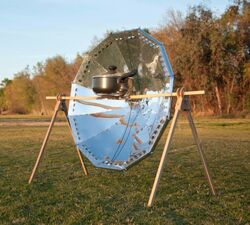 Successful Kickstarter for the Sun Juicer - Congratulations to Leonel Gotlibowski and the Sun Juicer on their successful Kickstarter campaign! They set a goal of $15,000 and raised a total of $19,152. They describe the Sun Juicer as an emergency ultralight, compact, parabolic solar cooker. Read more...
August 2014
---
Institutional solar cooker with heat storage allows cooking after sunset - Commissioned on October 26, 2013, the steam-based ARUN®100 solar cooking system at the Ram Krishna Mission Student's Home, Mylapore, Chennai in India now allows early morning and evening cooking. The accompanying graph shows when they need to cook and when the mid-day sun recharges the system. Read more about it at: ARUN®100 with Thermal Storage at Ramkrishna Mission, Chennai - Ajay Chandak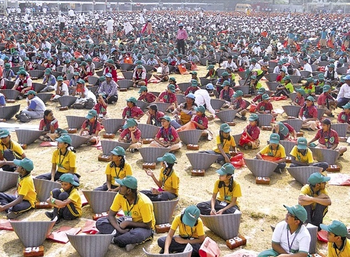 The stage is set for the next world's largest solar cooking workshop - A Bhayander, India based NGO, Keshav Srushti, in a bid to spread awareness on solar cooking, will be gathering 25,000 students from 500 schools across Mumbai on January 15, 2015 to cook solar-powered dishes. Read more...
Solar Cookers International contributes data for US-Africa Leaders Summit - President Barack Obama announced August 6th, 2014 that the U.S. NGO community invested over $1.5 billion in Africa in 2013 and anticipates investing another $4 billion over the next three years. Solar Cookers International (SCI) was one of the members of the InterAction network collaborating to collect data on U.S. NGO aid spending in Africa. See information on SCI's current projects and the news release.
Solar Cookers International is hiring! - Based on needs identified at the recent SCInet Solar Cooking Convention, SCI is hiring a full-time Monitoring & Evaluation Specialist to promote data collection and project evaluation practices within the global solar cooking sector. Read full job description.
July 2014
---
New video from Pat McArdle where people from all around the world tell why they solar cook: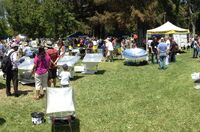 Solar cooking conference extols virtues of cookers to developing world (Sacramento Bee) - Hundreds of people Saturday cooked using only the power of the sun – a practice little used in the United States, but considered a liberating tool for women in developing countries that also helps curb greenhouse gas emissions. Read more...
June 2014
---
Household air pollution from cooking fires kills more people than malaria, tuberculosis, and AIDS combined - The journal Nature reports on a recent World Health Organization (WHO) report that states that 4.3 million people die annually from household air pollution caused by polluting biomass stoves used by one-third of the global population. However, efforts to introduce more efficient biomass stoves are failing. Read article in Nature: Global health: Deadly dinners
May 2014
---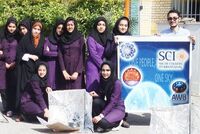 Solar cooking advocate in Iran trains high school students - Soheil Salimi, a twenty-two year old civil engineering student, has started a chapter of Engineers Without Borders - Iran, and has begun organizing solar cooking workshops in his free time. His latest class was at the Hafez high school for girls. Read more about his projects on his personal page.
April 2014
---
March 2014
---
How solar energy empowers women, youth in rural Nicaragua - Forty years ago Sabana Grande was ravaged by war. Now you will find people sitting under solar-powered lights, eating solar-cooked chicken, and drinking smoothies made by a bicycle-powered blender. Sabana Grande has embraced a solar culture that has transformed the community. Read more... (See also other solar restaurants and bakeries.)
NGO initiates second phase of solar bakery project in Burundi - Regions 20 continues its efforts to help local bakers organize their solar bakery. More information... Update: The deadline to submit proposals to supply the solar ovens has been extended.. Interested parties will find more information here: Invitation to Tender For Solar Bakery Project, Burundi. The scale of the project may be rather small, but the funding and implementation is coming from world leaders in the field of economic and environmental relief.
February 2014
---
French solar cuisine done with style - Sun and Ice shares photos of one of their reflectors incorporated into a portable solar kitchen, created by one of their customers in France. The small, trailered construction is a rolling work of art. See more photos on the facebook page.
January 2014
---
Hybrid solar cooker includes electrical back-up option - Since 2010, David Chalker, founder of the Sun BD Corporation, has been working on a version of a solar box cooker that includes an electrical heating element, rated at 465 watts / 120v. The SunFocus has a built-in thermostat which will turn off the electrical heating element once the cooker has reached 150°C (300°F). The cookers are made in Waterloo, New York, USA.
Solar cooking works with solar lighting to help families save money - Stephen Pearson, founder of SUN-LIFE, has been helping residents of Ghana for many years save on cooking fuel expense by learning to use the CooKit solar cooker. His new goal is to help these families further reduce their kerosene usage by offering a low cost portable lamp to replace their fuel-burning lanterns. The new MiniSun12H lamp has an integrated photovoltaic panel to recharge the lamp during the day. The projected retail price for the lamp is $5 USD. His reasoning is; if a family can save on cooking fuel using the CooKit, then they will have enough money to be able to buy the new lamp. Using both approaches, the families should be able to save $50-100 USD on kerosene expense annually. Money is saved, and indoor air pollution is reduced. You can help him with this project by supporting his efforts at Indiegogo fund raising. You can learn more about the new lamp in this short video.
International aid organization seeks solar cookers for bakery in Burundi - The global relief organization R20-Regions of Climate Action has organized a solar bakery project in Rutegama, Burundi. Currently the bakery, in operation since 2006, has relied on wood-fired ovens, with the wood needing to be gathered by the women working at the bakery. They are soliciting proposals from tenders interested in providing three institutional solar ovens required to convert the bakery to solar. The ovens must be limited to three meters (a little under 10 ft.) in height, and if carried, weighing no more than 10 kg (22 lbs.). Update: new deadline of offers to be submitted by Friday 28th February 2014. Interested parties will find more information here: Invitation to Tender For Solar Bakery Project, Burundi. The scale of the project may be rather small, but the funding and implementation is coming from world leaders in the field of economic and environmental relief.
New solar cookers ready for distribution in Chile - Guai Bao, traveling in Chile, sent along this photo of newly constructed solar box cookers at a manufacturing facility in Ovalle. The cookers are well thought out. They are sturdy with insulated inner walls, and an internal high-back reflector to catch the sun. The front wall is low and slightly tipped forward to avoid blocking any sunlight. The external side reflectors appear to be able swing closed and protect the glass surface. They look ready to start cooking sitting on the small tables, which provides a convenient work height for users. The cooker construction is being supervised by Ruddy Viscarra. See more assembly photos on facebook.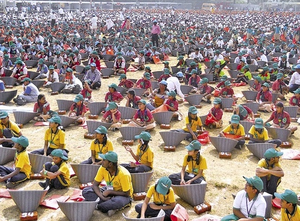 India raises the bar for the world's largest solar cooking class - "As many as 3,484 children from over 80 schools participated in the largest solar cooking initiative Suryakumbha on January 4th, which has qualified as an entry to the Guinness Book of World Records. The emergence of renewable sources of energy as an answer to the imminent exhaustion of conventional energy sources pushed a Bhayander NGO, Keshav Srushti, to start with the most influential members of society, children." The class was held in Mumbai, India. Read more...
All years
2019
2018
2017
2016
2015
2014
Main article: Solar cooking news archive 2014
2013
2012
2011
2010
2009
2008
2006-2008
Main article: Solar cooking news archive 2006-2008
1995-2005
Main article: Solar cooking news archive 1995-2005
Community content is available under
CC-BY-SA
unless otherwise noted.