Jurassic World: Dominion Dominates Fandom Wikis - The Loop
Play Sound
Last edited:
18 March 2022
Solar restaurants and bakeries have been established in various parts of the world as income-producing enterprises. Not only do they provide clean culinary options to communities, they also as they offer unique business advantages such as reduced overhead due to not requiring expensive cooking fuel. Below you will find examples of small, medium, and large-scale solar restaurants and bakeries in regions around the world. For information on opening a solar restaurant or bakery, visit the business development page for resources on this topic.
News
January 2022: New solar-fueled restaurant in Yerevan, Armenia - Founder of the Machanents Center, Grigor Babakhanyan, decided it made sense to highlight the work of local scientists, and incorporate solar cooked menu options at the Center restaurant. Vahan Hamazaspyan, began studying uses for solar energy after the devastating Spitak earthquake disrupted traditional grid-based energy sources in the 1980's. He experimented with parabolic solar cooker designs, and tried to convince local authiorities to help make them available within the country, with little success. Finding a new audience, patrons now seek out the restaurant for its solar prepared fare, many commenting they prefer the preparation over conventional stove use. Read more...
May 2021: Solar cooking smoker - Patricia McArdle recently interviewed the head chef, Joshua Murry, at the Conrad Hotel in Washington D.C., USA. He explained the hotel wished to take greater advantage of the roof deck to be able to serve meals to guests. However the space has limited electrical access, and Joshua drew upon his experimentation with solar cooking as a young man. He has found a way using a 'smoke gun' to inject smoke into the cooking chamber of an All American Sun Oven for the first 45 minutes of cooking a large pork roast. Then the chamber is completely sealed, and the meat cooks for another couple hours, resulting in the smoke flavored roast he desired.
December 2020: Solar baked foods - La Sazón del Sol, located in Oaxaca, Mexico, has a mission to make solar energy an integral part of the local daily life through food, economy and health. In this training center dedicated to women, passion is created for solar cooking. From the construction of an oven-dehydrator to cooking, pasteurization and solar conservation. As a way to strengthen the autonomy and social ties in the community with providing solar baked and dried products. More information... -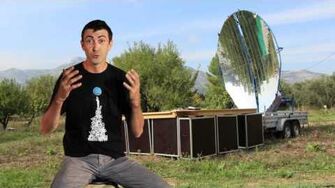 April 2020:  Pierre-Andre Aubert, solar chef, is setting up a solar restaurant - Le Presage - in Marseilles, France. He is collaborating with the local university to sponsor a PhD in restaurant-scale solar cooking, heat retention, and passive solar heating. If you have an interest in solar cooking, a degree in mechanical engineering (and preferably some French), you might want to apply. More information...
November 2019: Community bakery - GoSol.org reports that one of their solar array cookers, first put into use in 2017 in the Kisumu area, in Kenya is still in use. It was later transferred to Friends of Ndere, a very active baking community, which already had a GoSol concentrator. In spite of this being one an early pilot unit, they are still using this unit to bake bread. Below is a video in Swahili showing the concentrator in action. More information...
April 2017: Solar bakery employs eight people and produces 500 loaves a day - With funding from the Energy and Environment Partnership of Southern & East Africa (EEP S&EA), R20 and its local partner implemented a solar bakery project in Gitega. The results to date are: 1) A solar bakery with the capacity to produce up to 500 loaves of bread per day; 2) Employment for eight local women A bakery business plan; and 3) A draft Integrated Climate Plan for Gitega City. More information...
January 2017: Solar Cookers International (SCI) connected five organizations with solar cooker restaurant experience at its 6th SCI World Conference 2017. Said Rocio Maldonado: "Pierre's experience with a solar cooker restaurant in France will be very useful to us in Bolivia." Representatives from several countries expect to create guidelines for starting solar cooking restaurants, which they will share with international partners.
November 2015: An experimental solar restaurant in Aubagene, France - The restaurant, "Le Présage", was open from 3 November to 3 December 2016. It was organized and operated by chef, Ghislaine Milliet. The restaurant was open to the public as weather permitted. They used a Scheffler reflector as one of its cooking sources. A little more information is available at: "Le Présage" in Aubagne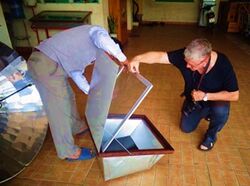 April 2016: Vietnam Solar Serve writes: A man from France came to visit us in Danang. He runs a restaurant in Vung Tau, a popular seaside resort in the south of Vietnam. He knew all about solar cookers and other environmentally friendly devices. He was very excited and wanted to buy several devices for his restaurant (three solar box cookers, two parabolic cookers and three clean cookstoves). He also ordered two solar lamps. For us it was interesting that after several years someone requested our box cookers again. Because of the sunny weather in the south they could be an attraction for tourists eating in his restaurant. Read more in Solar Serve News #47.
November 2015: Members of the Imani Women's Group in Msumarini, Kenya bake cupcakes and larger cakes using only a wooden box and the sun. They earn enough money to help support their families and send their children to school. On a sunny day they produce up to 150 cupcakes, which they sell for 10 shillings (0.10 US$), and 30 cakes that go for 200 shillings (2.00 $US). Kenya, which straddles the equator, receives (according to the Kenyan Ministry of Energy) an average of 4.5 kWh per square meter per day. Read more...
December 2014: In an article for National Geographic, Chef José Andrés writes about his pop-up restaurant, Sunny Day, which he opened at the Life is Beatufiul event in Las Vegas, NV. Sunny Day used solar cookers to cook their signature dish, vegetarian tacos, during the day and clean-burning ethanol in the evening. Read article...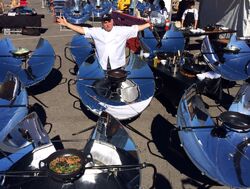 October 2014: José Andrés debuts Sunny Day pop-up restaurant at Life is Beautiful festival - At the Life is Beautiful festival in Las Vegas, NV, José Andrés debuted Sunny Day, his new solar-powered pop-up restaurant. His goal for the new pop-up restaurant is to educate Americans about clean cooking around the world. Interview with José Andrés.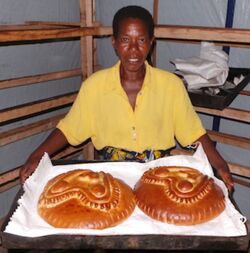 March 2014: R20 initiates second phase of solar bakery project in Burundi - The second phase of the project began with a stakeholder consultation workshop where 32 participants (women bakers, local officials) gathered to discuss the potential benefits of having a solar bakery as well as concerns they may have. The workshop was a success, and the women bakers expressed their gratefulness to R20 and CIRID for helping to start this project that will reduce the amount of smoke they inhale as much less wood will be needed to bake. The solar bakery project will provide a solar-powered oven to a small bakery in Gitega, Burundi, that employs women that have been marginalized by their communities. More information...
January 2014: International aid organization seeks solar cookers for bakery in Burundi - The global relief organization R20-Regions of Climate Action has organized a solar bakery project in Rutegama, Burundi. Currently the bakery, in operation since 2006, has relied on wood-fired ovens, with the wood needing to be gathered by the women working at the bakery. They are soliciting proposals from tenders interested in providing three institutional solar ovens required to convert the bakery to solar. The ovens must be limited to three meters(a little under 10 ft.) in height, and if carried, weighing no more than 10 kg (22 lbs.). Unfortunately, proposals need to be submitted by January 31, 2014. Interested parties will find more information here: Invitation to Tender For Solar Bakery Project, Burundi. The scale of the project may be rather small, but the funding and implementation is coming from world leaders in the field of economic and environmental relief.
December 2012: In the hot and dry village of Villaseca in central Chile, the sun's rays are hard at work here at Delicias del Sol restaurant, cooking up delectable dishes in the eatery's 20 solar ovens. The ovens were originally introduced to the village as a trial project from the University of Chile and the Institute for Nutrition and Food Technology. Delicias del Sol, which started out with a 16 person capacity, now seats 120. The future looks bright for Delicias del Sol. Read more...
Examples by regions
Africa
| | |
| --- | --- |
| | |
| | |
| | |
| | |
| Solar Bakery Burkina Faso | |
| | SOL5 Technology - Solar Energy for SMEs |
Asia
| | |
| --- | --- |
| Solar Cooking "Grilling becomes thrilling" -Panasonic ecoideasnet | |
Caribbean
Europe
Le Presage Aubagne

Les Festins Photoniques à la TV,
India
Latin America
Cocinas Solares en San Pedro de Atacama Chile.-
North America
| | |
| --- | --- |
| | |
| Cooking with the Sun at the Conrad Hotel in Washington, D.C.-2 | |
Articles on individual solar restaurants
Audio and video
Articles in the media
Documents
See also
External links