Last edited:
30 April 2018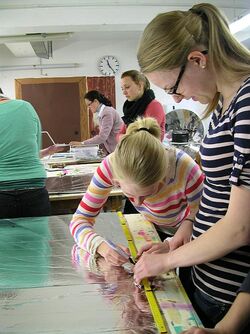 The students of the Jülich Mädchengymnasium (MGJ), a nationally recognized, girl's private grammar school in Jülich, are supporting Kenyan women in Nairobi. In 2012, fifteen high school students traveled to Africa and brought six funnel solar cookers and helped build more. Despite some initial difficulties, the project was a great success - indeed for everyone involved. More details...
Mädchengymnasium Jülich
Dr. Weyer-Str. 5
52428 Jülich
Germany
Telephone:+49 (02461) 97830
Fax: +49 (02461) 978333
Email: sekretariat@mgj-online.de
Website: http://www.mgj-online.de/
Facebook: https://www.facebook.com/Solar-Institut-Jülich-der-FH-Aachen-591423217537281/
Community content is available under
CC-BY-SA
unless otherwise noted.