Last edited:
14 October 2019
This article is about an entity that either no longer exists or that may no longer be active in solar cooking promotion. It is retained here for archival purposes.



At Solavore™, we believe that cooking fuel should be healthy and as abundant as sunlight.
The preparation of food using heat is the most elemental of human endeavors. Cooking sustains our bodies, nourishes our souls, unites us around a common hearth. In a world of infinite richness and variety, cooking is a common thread stretching across time and cultures.
We build ovens that make clean-cooking fun, easy and liberating.
We build ovens that will be game-changers for women who risk their lives every day gathering wood or burning it, simply to feed their families.
Every oven purchased gets us one step closer to putting out a wood-fuel fire somewhere in the world.
Solavore was founded by Anne Patterson in 2015 in order to resume production of the Solar Oven Society's flagship oven, the Sport Solar Oven. With guidance from SOS's founders and the Sport's designers, Anne is applying a career's-worth of business savvy to build a robust, sustainable company that generates not only profits but also social and environmental dividends.
The renamed Solavore Sport is a retained-heat box-type solar oven made of rugged, durable, lightweight injection- molded nylon resin. Surround insulation and two-pot capacity enable unattended, family-size, year-round cooking. The included water pasteurization indicator adds clean water to the Solavore Sport's versatility, along with slow-cooking, baking, and dehydrating. 
News
[
]
October 2019: It appears that Solavore has taken down their website and is longer in the business of marketing solar cookers.
April 2018: Solar cooking in Puerto Rico after Hurricane Maria - In late April, Ms. Anne Patterson, an SCI Global Advisor, will deploy 25+ Solavore solar ovens from Punta Santiago to the Toro Negro rain forest and Morovis.  Most of these places are still largely without power and families spend a lot of money on fuel for generators. Monitoring and evaluation are incorporated into this project to track results. The evaluation tools used in these projects can be downloaded from https://www.solarcookers.org/work/research.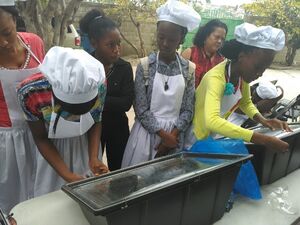 November 2015: Solavore is conducting a Indiegogo campaign to bring cookers to the poor worldwide.
September 2015 Solavore was founded by Anne Patterson, and production and distribution of the renamed Solavore Sport solar oven has resumed.
Audio and video
[
]
Articles in the media
[
]
See also
[
]
External links
[
]