Last edited:
14 October 2019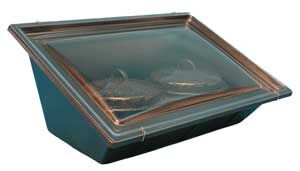 The Solavore Sport, manufactured by Solavore, is amazingly effective because of its innovative design features.
State-of-the-Art Insulation
Good insulation is the most critical requirement for a great performing solar oven. The Sport insulation has an excellent R 6.5 value. It is reinforced with glass fibers to protect it from heat degradation and help it resist crushing.
The Sport insulation material will not absorb water. It is composed of thousands of tiny, sealed, air holes that water cannot penetrate. This is a key design feature because moisture is always present in solar cooking as steam and humidity.
Exclusive Insulated Top
All solar ovens must let in sunlight. Most designs lack insulation in the lid resulting in heat loss during extended cooking times. The Sport lid is insulated with an innovative, exclusive, 1-inch air gap between the thicker molded lid and the taped on plastic film.
No Tip-Over
Tip-over from wind, rough terrain or slope can be a major issue in solar cooking. The broad footprint and low center of gravity of the Sport make it aerodynamically and physically stable.
Optional Reflectors
The Sport comes with optional higher grade polished aluminum reflector panels that will last a lot longer than the original corrugated plastic adhesive reflector panels that were with the oven from the beginning, this is a major upgrade.
Summer & Winter Cooking Positions
The Sport is designed to cook in two positions: a 60-degree slant for a lower angle sun, (winter) and a 30-degree slant for direct, overhead sun, (summer).
The 60-degree slant happens when the oven is placed on its back, and requires slightly smaller pots than come with the kit.
News
[
]
October 2019: It appears that Solavore has taken down their website and is longer in the business of marketing solar cookers.

September 2015: Solavore was founded by Anne Patterson in 2015 in order to resume production of the Solar Oven Society's flagship oven, the Sport Solar Oven, which is now called the Solavore Sport. With guidance from SOS's founders and the Sport's designers, Anne is applying a career's-worth of business savvy to build a robust, sustainable company that generates not only profits but also social and environmental dividend.
March 2006: Last year, 300 unassembled SPORT solar ovens were purchased by St. Edwards Catholic Church of Bloomington, Minnesota (USA) for the community of Jinotega. The cookers were assembled locally under the direction of volunteers Sue Kellet and Andrew Knutson, who were also responsible for trainings. Sport Solar Ovens were sold to families at a subsidized price of $10. Staples like rice, beans and bananas were popular solar dishes. Other solar foods included chicken dishes, vegetable stews with milk, and cooked mangos. One solar cook commented that the mangos cooked better in the solar cooker than over a fire. More information...
Test results
[
]
Audio and video
[
]
January 2009:
Articles in the media
[
]
See also
[
]