Last edited:
3 December 2014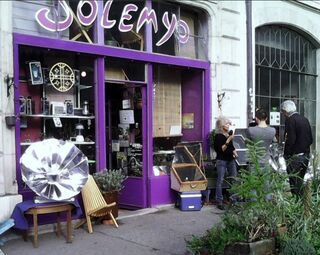 Solemyo is an information resource and non-profit business in Geneva, Switzerland providing solar cooking equipment and appropriate technology. Solemyo manufactures and sells ULOG box cookers, dryers, and SK-100 parabolic cookers.
They also offer self-construction workshops for ULOG cookers, and organize promotional events in French-speaking Switzerland and in France.
Together with ExSol, Solemyo is situated directly behind Geneva train station. Solemyo is an association.
Recent news and developments
December 2104: Yves Ronchetti of Solemyo has provided some history of their organization. They began teaching the use of solar cookers in 2008, and have distributed close to 400 solar cookers. They estimate they have introduced 1000 people to solar cooking since they began.
See also
Contact
SOLEMYO
15, rue des Gares
1201 GENEVE
Switzerland
Tel: +41 22 734 734 0
Email: solemyo@cuisinesolaire.com
Web: http://www.cuisinesolaire.com (English version)
Community content is available under
CC-BY-SA
unless otherwise noted.