Jurassic World: Dominion Dominates Fandom Wikis - The Loop
Play Sound
Last edited:
14 March 2016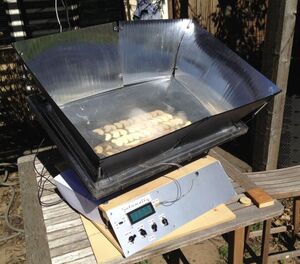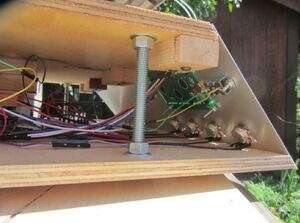 The Solrmatic is a programable turntable system intended to provide more control over when and how often a solar cooker needs to be reoriented with the sun. It can work with many existing manufactured or homemade solar box cookers and solar panel cookers when they are placed on the turntable.
The Solrmatic features thermostats, time delay, timed cooking, and web monitoring, allowing you to cook almost everything you cook in a traditional oven. The Solrmatic has cooked leg of lamb, brisket, veggies, bread, cookies, bacon, and even dehydrated apples.
[The text below about the controls is from company press release]
The Solrmatic has four knobs, one switch, and two temperature probes.
Switch: In Set/Idle mode, allows for settings to be adjusted; or in Run mode, allows for the Solrmatic to work its magic.
Knobs for adjusting settings:
Oven temperature: just like your oven temperature knob on your conventional oven Food temperature: If you want to stop cooking at a certain temp, this will cancel all further cooking and turn the cooker away (perpendicular) from the sun. This is important for recipes that you want to cook only to a specific temperature, like roasts.
End Time: When you want your meal to be done.
Duration: How long you estimate the meal will take to cook. The duration will cancel cooking regardless of whether the food temp is reached.
Temperature Probes: There's one for the food and one in the oven. The set temperature and current temperature are displayed on the LCD. The current oven and food temperature are sent to the web via wi-fi for viewing so that you can make sure things are going well while you are away.
There are a lot of systems working together, all managed by a Raspberry Pi. This is how temperature, position, and other inputs are read to control the orientation of the solar oven. The outputs are the LCD and the stepper motor, which enables the Solrmatic to precisely rotate.
The system was designed and assembled by Michael Nicholas, a post doctorate student at the University of California Davis, USA He also does market evaluation for electric vehicles. Read more...
Recent news and developments
[
]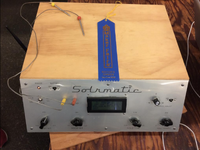 May 2015: Solrmatic was awarded with Editor's Choice at the 2015 MakerFaire.
April 2014: Michael will be demonstrating the Solrmatic at the MakerFaire Bay Area on May 17 & 18th, 2014. More information...
Articles in the media
[
]
External links
[
]
See also
[
]
Contact
[
]
Solrmatic
Email: mianicholas@ucdavis.edu
Web: http://www.solrmatic.com
Twitter: https://twitter.com/solrmatic