Jurassic World: Dominion Dominates Fandom Wikis - The Loop
Play Sound
Last edited:
21 June 2020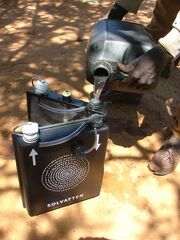 Solvatten makes unsafe water drinkable by using solar energy. The portable 10 liter container is a patented and scientifically-proven system invented by Swedish designer, Petra Wadstrom. Put SOLVATTEN in a sunny place, give it 3-4 hours and the water will be safe to drink! An indicator shows when it is safe to drink!
SOLVATTEN combines water pasteurization with SODIS. We have seen from our research that the synergetic effect of direct solar radiation and heat has a great impact on the purification results of the water. To allow the short wavelength of UV come through into the Solvatten container to work on the DNA in the cells as well as to be used as heat. The exposure time at for 3 hours is important.
When we compared the same water heated in the laboratory (no sun light) during a long time the purifying effect was reached as you mention at temperatures over 60°C but the same water was tested parallel in the Solvatten and the effect of the UV light together with heat was obvious. The same water was also exposed in PET bottles but the temperature never reached the same level as in the Solvatten and the water was not safe after the same time of exposure.
News
[
]
September 2019: Solvatten is for the first time doing a project in Rwanda which we are very proud of. With support from corporate sponsorships, Solvatten is collaborating with CSR Solutions Rwanda to provide clean water to over 100 households in Nyarungenge district in Kigali. The goal with the project is to reduce the number of cases of waterborne diseases, cut the rate of infant and maternal mortality as well as reducing the need of burning fuelwood.
July 2019: Solvatten supporting education in Burkina Faso - With support from corporate sponsorships, Solvatten is collaborating with Plan International to provide clean water to schools and families in Burkina Faso. Plan is a children's rights organization that provides support for children to attend school. Solvatten will be used in connection with a project called PASS+ (Primary Access through Speed Schools). The project helps children who have dropped out of school catch up in nine months of intensive studies. The goal is to reach almost 200 000 children and help them reintegrate into regular school.
November 2015: In a November 2015 interview with the BBC World Service, David Wadström, Communication, Marketing & Fundraising with Solvatten, reported that the company has delivered 40,000 units to date.
October 2015: Solvatten wins United Nations' Momentum for Change award for their work to curb climate change and improve access to clean water. Read more...
March 2015: Solvatten reports in their March 2015 newsletter that their water heating system is currently being used 180,000 people in over 60 countries.
October 2014: Thanks to a generous grant from the Erling Persson Family Foundation, Solvatten has launched a safe water campaign for Kakuma, Kenya. Erling Persson was the founder of H&M and today Stefan Persson, his son, is the chairman of the family's philanthropic foundation. The Turkana campaign aims to reach more than 100,000 people and is being implemented by the Norwegian Refugee Council (NRC). Read more news...
November 2013: Petra Wadstrom wins the Polhems Prize for the Solvatten system - The Polhem Prize is awarded by the Swedish Association of Graduate Engineers for a high-level technological innovation or an ingenious solution to a technical problem. The innovation must present environmental benefits and be available and shown competitive on the open market. The jury states: "Petra Wadstrom's innovation Solvatten is low tech but non the less ingenious. It addresses a growing global problem to millions of people living in poverty and without access to safe water and clean energy". Read more about recent Sovatten activities...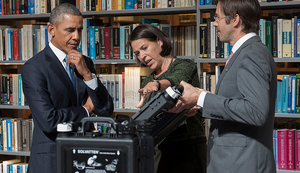 September 2013: President Obama meets with inventor of Solvatten - During the course of his one day in Stockholm, Sweden, President Obama asked for a visit to the Royal Institute of Technology KTH to see the latest research in energy solutions, research and innovation. Inventor of Solvatten, Petra Wadström was given the opportunity to present the unique Solvatten Solar Water System and how it is used around the world to improve health, empower women and lower CO2 emissions. Swedish Prime minister Fredrik Reinfeldt also attended the presentation, acknowledging the technology as a solution for global challenges. Read more...
November 2012: Changed lives in Dialakorodji, Bamako (Mali) - In Dialakorodji 98% of the population use firewood and charcoal for cooking and warming water, including making water safe to drink. The use of wood as a source of energy has negative consequences for householders and for the environment: it causes respiratory diseases related to smoke and gases from the stove, deforestation and emission of greenhouse gases. The use of Solvatten in a UN-Habitat/CREPA project in Dialakorodji has made a significant impact on both health and fuel consumption. A significant drop of cases of diarrheal disease has been recorded. From an energy aspect the average each household is using 60% less charcoal and 11% less firewood. This corresponds to a daily total reduction of greenhouse gas emissions of 5.7 kg CO2eq per household or 1,2- 2.0 tons per year per Solvatten unit. This is equivalent to the annual CO2 emissions of a new car in normal use.
September 2012: The Swedish Church and the aid agency Lutheran World Federation (LWF) are launching Solvatten in Kakuma Refugee Camp in Kenya. The goal of the project is to reduce environmental degradation by enabling people to use alternative sources of energy in the camp and in the host community that surrounds it. 

Supply of fire wood has been a problem in Kakuma region since the camp was set up in 1992 but it has escalated in the past two years, despite that the refugees are not allowed to harvest firewood directly from the bushes. This is attributed to the continuous massive influx of people into the camp leading to the environmental degradation through the harvesting of sticks from the available vegetation for firewood. Firewood has become very expensive and the UNHCR struggles to purchase and supply fuel to the growing population of refugees in the camp.
March 2012: Haiti Ministers launching Solvatten Project - On 13th February the Green Haiti Project was officially launched by the Haitian Government. The Minister of Health, together with the Ministers of Environment and Agriculture, officially announced that Solvatten is the "miracle product" that Haiti has been waiting for. The Green Haiti Product including Solvatten is addressing multiple issues such as cholera, deforestation and unemployment. The Government is promoting this initiative on a broad scale to international donors, aid agencies and NGOs in the country. "The Green Haiti Project is the way forward for Haiti. We can't see a more appropriate project for Haiti than this. The project is morally motivated, legally solid, technically ingenious, strategically positioned and politically manifested." Dr Florence D. Guiiaume. Minister of Health, Haiti.
April 2011: In Kibera slum, Nairobi, Kenya subsidised sales of Solvatten have begun. Under the guidance of the Institute of Environment and Water, 10 local CBOs (Community Based Organisations) are now selling units to their friends, family and neighbours. The units will be used to combat water-borne diseases and to help the community adapt to the effects of climate change. The social and environmental impact will be measured over the next year. Funding for the project is being provided by the Nordic Climate Facility.
October 2010: A sustainable solution with winners all round Solvatten AB has teamed up with Tricorona, a leading company in the global climate economy, to offer CDM* projects under the UN's Kyoto Protocol. The first project is now starting in the Western Province of Kenya As well as UNFCCC registration, Solvatten projects are expected to be certified 'Gold Standard'- a certification reserved for high quality carbon offsets and approved by all the major environmental organizations. Swedish company Middagsfrid was one of the first to embrace this scheme. They have set a target of offsetting a whole year's carbon emissions by distributing Solvatten units to families. These families would otherwise be collecting and burning wood to heat and treat their water. The result - everyone wins. More Information...
October 2010: Solvatten distributor in Haiti Bosoley, a US-based solar lighting solution provider, and Solvatten have signed an agreement to assist the people of Haiti. The two companies share the vision of improving the living conditions of people across the globe. In this venture, Bosoley will act as the exclusive agent of Solvatten in Haiti, the Bahamas and Turk and Caicos. Bosoley operates on the principle that there is no better way of lighting the world than harnessing energy from the sun itself. The company offers an array of solar lighting options including portable lighting kits, weatherproof floodlights and vandal proof street lights. More Information...
October 2010: 'Run for Water' and WSP support to Bungoma project A big THANK YOU to all who took part on 18th April. Over two thousand people joined Sweden's sports minister Lena Adelsohn Liljeroth and former World champion high jumper Kajsa Bergqvist to run, jog or walk 6 km in the first Stockholm Run for Water. Over 120,000 SEK (19,000 USD) was raised for three nominated water projects in Africa. One of the nominated water projects was Solvatten in Kenya and the money has been used to scale-up the Vi Agroforestry project in Bungoma, Kenya. 600 people now benefit from safe and warm water on a daily basis. WSP, the global engineering and management consultancy, has also contributed, adding to the number of Solvatten units being used in Bungoma. Thanks to all the staff that engaged in this fundraising effort. Watch for future information here
October 2010: Significant life changes in Mutomo Together with ROTARY and RINCOD, Solvatten AB has conducted another user acceptance study, this time in Mutomo, Kenya. The study has further strengthened confidence in the Solvatten technology and substantially helped the young mothers involved. Solvatten units were distributed to 37 mothers with children under five and the use of the units was monitored for three months. The average number of water treatments per day was 2.3, that is 23 litres of safe and warm water every day. In an area where the average income is very low, it is difficult for families to purchase household items, but there are ways to support each other as a group. During the latter part of the project 90 new members registered with the locally managed community savings group. They are now saving for their future purchases of Solvatten. More Information...
October 2010: Spirit of innovation Solvatten is currently on display at the Swedish pavilion at Expo 2010 in Shanghai, having been chosen as one of Sweden's best innovations. This is a clear endorsement of Solvatten, which is on view amongst iconic objects like the shiftwrench, the Celsius thermometer and the zip lock. Expo 2010 opened on 1st May and will continue until the end of October. 70 million people are expected to have visited - giving Solvatten AB a fantastic opportunity to promote the technology to businesses and organisations throughout China. More Information
April 18, 2010: (Stockholm) Stockholm Run for Water. The run will raise awareness of the problems faced by many in getting safe water, and it will raise money for three water projects. The length of the race, six kilometers, is the average distance travelled by many women and children in Africa each day to gain access to water. Support will benefit the distribution of Solvatten solar safe water systems.More Information about Solvatten and race
October 2009: For October 2009 newsletter...
May 2009: 50 sample SOLVATTENs have arrived in Nepal for an implementation study in conjunction with UN-Habitat and ENPHO. The units will be distributed to households, schools and community health centres and the users will be trained by community mobilisers. Interviews with users will inform future distribution of SOLVATTEN in developing countries.
Audio and video
[
]
November 2015: Audio interview with David Wadström, Communication, Marketing & Fundraising with Solvatten, on BBC World Service Business Daily. Interview starts at 09:03. http://www.bbc.co.uk/programmes/p035sn1w
November 2015:
Articles in the media
[
]
See also
[
]
External links
[
]
Contact
[
]
Solvatten Charitable Foundation
Petra Wadström, CEO & Founder

Roslagsgatan 56
113 54 Stockholm
Sweden
Tel. +46 8 777 29 05
Email:info@solvatten.se

5655 Silver Creek Valley Rd., #652
San Jose, CA 95138
USA
Tel. +1 408 471 7986
Email: sfcusa@solvatten.org

Web: http://www.solvatten.se
Facebook: Solvatten
Instagram: @solvatten
Twitter: https://twitter.com/solvatten?lang=en
LinkedIn: https://se.linkedin.com/company/solvatten