Jurassic World: Dominion Dominates Fandom Wikis - The Loop
Play Sound
Last edited:
4 August 2019
| | |
| --- | --- |
| | Bander Bayla is Somalia's first solar cooking village. Approximately 950 solar stoves have been distributed there. |
Events
[
]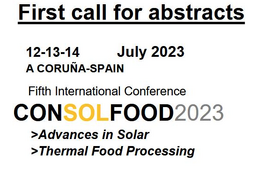 NEW: 

12-14 July 2023 (A Coruña, Spain): CONSOLFOOD2023 - Organizers have released a first call for abstracts to participate in the Fifth International Conference, taking place in Spain in 2023 as an in-person conference. The deadline for submission is 15 December 2022. More submittal information...
See also: Global Calendar of Events and past events in Somalia
News
[
]
November 2017: The Somalia government has announced that it will include solar cooking in their Nationally Determined Contributions, the national statement that defines a country's approach to achieving the goals outlined in the Paris Agreement (reported at COP23).
December 2012: Dozens of families in Mogadishu and Borama are starting to take advantage of solar energy instead of using charcoal, petroleum or natural gas to cook food and heat water. Muna Abdikadir Muhiyadin, 27, said she brought about 50 solar cookers with her from Stockholm, Sweden, to sell in Mogadishu, Somalia. Muhiyadin said some of her friends have also started businesses buying solar cookers from China and transporting them from Mogadishu to be sold in Borama, capital of Awdal region in northwestern Somalia. Anab Daud, a resident of Mogadishu's Hamar Weyne district, said she has not been able to buy solar cooker because demand has outpaced supply. Read the article
March 2009: Fatima Jibrell, co-founder of the Sun Fire Cooking organization, received the 2008 National Geographic Society/Buffett Award for Leadership in African Conservation. She was honored for her "outstanding work and lifetime contributions that further the understanding and practice of conservation." Among Jibrell's many accomplishments are her efforts to reduce soil erosion through the promotion of rock dams, her activism towards reducing Somalia's illicit charcoal trade, and her leadership in the formation of a cross-clan, cross-regional resource management network in Somalia and Somaliland. Since co-founding Sun Fire Cooking in 2004, Jibrell has been instrumental in providing solar cookers and training to villagers in the Sanaag district of Somalia, including nearly 1,000 in the coastal village of Bander Bayla.
October 2008: Somali Update - Sun Fire Cooking's latest newsletter is now online.
September 2008: Fatima Jibrell, co-producer and writer of the film Charcoal Traffic and co-founder of Sun Fire Cooking, has been awarded the prestigious 2008 National Geographic Society/Buffett Award for Conservation in Africa, for her many years of struggle against the illicit charcoal trade which is destroying the fragile semi-arid Somali environment and the pastoral way of life.
Fall 2006: The president of Puntland state, Gen. Mahmud Muse Hirsi, has appealed for help in tackling an environmental emergency caused by increased charcoal burning, which has been compounded by greater numbers of displaced people since 1992. Hirsi urged international donors to support solar cookers and other alternative means of energy. In an open letter, he called the international community to "join the Puntland government in permanently moving Puntland households from charcoal dependency to solar, wind, and other cooking alternatives." Fatima Jibrell, a renowned environmentalist and leader of Horn Relief, supported the call saying, "Donors need to promote and fund alternatives. They also need to research and become well-informed about the various alternatives to charcoal that are available." (Source IRIN)
November 2006: Fatima Jibrell of Sun Fire Cooking traveled to Capetown, South Africa in August where she presented a new video about Sun Fire Cooking's work to the United Nations Global Environmental Facility. Its work in Somalia was also featured on a BBC television program in October. Sun Fire Cooking hopes to make a longer video to help spread the word about the transformative power of solar cooking.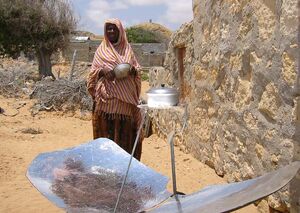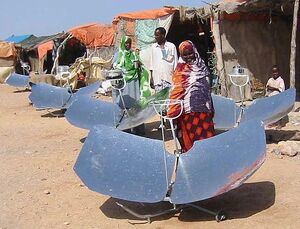 August 2006: The organization Sun Fire Cooking is promoting Chinese solar concentrating cookers in northeastern Somalia. In 2003, 14 of these high-temperature "butterfly" style cookers were purchased and tested by households in the town of Bosaso, and user feedback was positive. The families, each with eight or more members, use the solar cookers to cook lunch and evening meals. One user said that her monthly charcoal usage dropped from 100 kg of charcoal each month to about 25 kg. Several others in the community expressed interest in purchasing solar cookers. With funding from the United Nations, and in partnership with the NGO Horn Relief, Sun Fire Cooking recently distributed solar cookers to all 550 households in the small fishing village of Bander Beyla on the Indian Ocean coast of Somalia. (Bander Beyla was damaged by the 2004 tsunami.) A team of 12 individuals, led by Shukria Dini, assembled and distributed the cookers and trained the new solar cooks. Several families have shared stories of improved quality of life with solar cooking. One young woman commented that her fuel savings allow her to send her 10-year-old daughter to school. Another solar cook reported improved health due to reduced smoke exposure. In some parts of town the cookers are in constant use, while in other areas they mostly sit idle. Project leaders expect usage rates to increase as the solar squad makes additional follow-up visits to households. Sun Fire Cooking is planning for expansion to three additional coastal villages, including Dhuur and El-Didhir. Sun Fire Cooking is led by Fatima Jibrell, founder and former head of Horn Relief. In 2002 she won a prestigious "Goldman Environmental Prize" for her work protecting natural resources in Somalia, particularly old-growth acacia trees that are burned to make charcoal for export. Sun Fire Cooking hopes to curb deforestation in the area through expanded use of solar cookers. Contact: James Lindsay
History
[
]
Since little or no information comes from this beleaguered place, which continues to have no recognized government, there is also littleinformation on any solar cooking programs. The one exception is found with regard to programs in the autonomous region in the north of the country, now calling itself Somaliland. In 2001, a Somaliland organization was awarded one of the prizes in the World Bank's Development Marketplace competition for community activities that included solar cooking. No information is available as yet on the outcomes of the funds received. Additional requests for assistance in renewable energy projects have been developed, but the logistical complications are substantial and no project had been successfully planned.
The situation in this part of the world is promising, climatically speaking, for solar cooking, and the need is great. However, continuing unrest and civil disorder have effectively prevented projects from happening. Several years ago, a photovoltaic installation was installed in Somaliland, but only at enormous cost, since all materials had to be flown in from Nairobi. It is hoped that at some point in the future, normal national activities can resume, and will include solar cooking projects.
Solar Cookers International
In 2002, a team of staff from Solar Cookers International East Africa Office, on request, visited the Somaliland area to provide consultant services on solar cooking. Their conclusion was that solar cooking was feasible and would be useful. Interest appeared to be strong.
Archived articles
Climate and culture
[
]
Solar Cookers International has rated Somalia as the #14 country in the world in terms of solar cooking potential (See: The 25 countries with the most solar cooking potential). The estimated number of people in Somalia with fuel scarcity but ample sun in 2020 is 4,900,000.
Solar Cookers International had a project in eastern Ethiopia working with Somali refugees and found that foods in the Somali diet could be cooked very easily in the CooKit solar panel cookers used in the camp.[1]
See also
Resources
[
]
Possible funders
[
]
Construction plans in Arabic
[
]
Reports
[
]
Articles in the media
[
]
Audio and Video
[
]
October 2007: Dramatization showing the negative aspects of the charcoal trade
Contacts
[
]
The entities listed below are either based in Somalia, or have established solar cooking projects there:
SCI Associates
[
]
NGOs
[
]
Manufacturers and vendors
[
]
Individuals
[
]
Government agencies
[
]
Educational institutions
[
]
See also
[
]
References
[
]
↑

Margaret Owino in email correspondence 2007