Last edited:
6 August 2015
This article is about an entity that either no longer exists or that may no longer be active in solar cooking promotion. It is retained here for archival purposes.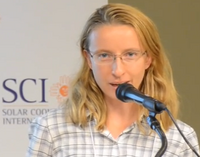 Solar Household Energy Executive Director Sophie Brock is responsible for Solar Household Energy's varied initiatives to carry out its mission. She works closely with SHE's Board of Directors, and oversees the efforts of SHE's associates and volunteers. Sophie has been working in environment and international development since 2005 with Greenpeace, USAID, and local NGOs in Democratic Republic of Congo, India and Haiti, where she also introduced solar cookers. During her four-year association with SHE, Sophie has assisted SHE in many capacities, including analyzing field project impact evaluations, researching large solar cooker projects in Asia. More recently she has been leading a solar cooking advocacy effort aimed at the Global Alliance for Clean Cookstoves. She began her association with SHE as a Research Associate in 2010, and later became Senior Program Manager before being promoted to Executive Director in October, 2014.
Her interests include funding (manufacturers), global solar cooking promotion, and solar cooker certification and testing standards.
Recent news and developments
Edit
June 2014 - October 2015: Sophie Brock is Regional Development Manager for One Earth Designs.
October 2013 - May 2014: Sophie Brock is the Community Development Associate for One Earth Designs.
Audio and video
Edit
December 2014: Sophie Brock is interviewed by "Green TV."
December 2014: Sophie Brock is interviewed for "Emerald Planet"
External links
Edit
Sophie Brock
Executive Director
Solar Household Energy
Email: sophie@she-inc.org
Web: http://www.she-inc.org
LinkedIn: https://www.linkedin.com/pub/sophie-brock-lyman/10/940/979
Community content is available under
CC-BY-SA
unless otherwise noted.