Last edited:
6 August 2019
| | |
| --- | --- |
| | |
South Korea, officially known as the Republic of Korea, has undoubtedly had solar cooking activities take place within the country, but it is in 2011 that information began to be received by the Solar Cookers World Network.
Events
[
]
NEW: 

Webinar:

Monday, 27 September 2021, 3:00pm - 4:00pm EDT, 19:00 - 20:00 GMT, Building a Solar Oven: A Real-World, Interdisciplinary Project for K-12 Students - Presented by Jennifer Gasser, Business Development Consultant, Solar Education Project; and Mary Buchenic, Education Director, Solar Education Project. Through innovative, hands-on lessons, Solar Education Project (SEP) helps students develop skills in STEM and other disciplines as well. Global acceptance of solar cooking begins at home. A recording of the webinar will be available after this free event. Registration information...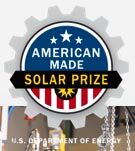 NEW: 

5 October 2021: American made solar competition - The U.S. Dept. of Energy is sponsoring a a multi-part competition to spur solar manufacturing, develop innovative solar solutions and products, and create domestic jobs and opportunities through public-private partnerships. The contest is open to U.S. residents, and the final phase is still open for submittals until 5 October 2021. Much of the attention has been with photovoltaic solutions, and this last phase is structured with two tracks that focus separately on hardware and software components. Solar cooking equipment should qualify as hardware solutions. Read more about the competition...
NEW: 

22-26 November 2021: 2nd National Congress for Solar Drying and Cooking Food - An affiliated group of universities in Mexico will host an online conference relating to solar food drying and cooking, as well as, food safety and energy savings realized with minimal environmental impact. Participants can register to view the presentations, or apply for presentation consideration. The conference will be in Spanish. Registration information... - (English version)
17-23 December 2021: Solar Cooking Awareness Week (Southern Hemisphere) - A loosely organized bid to acknowledge the fun and benefits of solar cooking. Show someone how to solar cook and share a meal.
24-26 January 2022: Fourth International Conference: Advances in Solar Thermal Food Processing - CONSOLFOOD Chairman, Celestino Ruivo, has announced an extended call for abstracts for the upcoming conference in January 2022, which is now planned to be an online event. Advances in solar cooking as well as solar food processing will be considered for inclusion. The event schedule and submission requirements are in CONSOLFOOD 2022 conference information.
See also: Global Calendar of Events and past events in South Korea
News
[
]
October 2012: The International Union for the Conservation of Nature (IUCN) has embraced a strong resolution sponsored by Solar Household Energy calling for increased support for solar cooking efforts worldwide. The measure was adopted in September at IUCN's quadrennial World Conservation Congress in Jeju, South Korea. The organization recognized the health hazards of cooking over biomass fires, and the availability of current solar cooking technologies. Efforts continue to develop solar cookers that offer increased efficiency, are cost-effective to produce and distribute, and are sturdy enough to withstand extended use. Read more...
March 2011: Simply Solar started a partnership with Energy Farm, a South Korean company for renewable energy technologies. The first step was training of Energy Farm staff in manufacturing of 10 m² Scheffler Reflectors, held in May 2011 at Energy Farm in Bucheon, South Korea.
History
[
]
Archived articles
Climate and culture
[
]
Resources
[
]
Possible funders
[
]
Reports
[
]
Articles in the media
[
]
External links
[
]
Contacts
[
]
The entities listed below are either based in South Korea, or have established solar cooking projects there:
SCI Associates
[
]
NGOs
[
]
Manufacturers and vendors
[
]
Individuals
[
]
Government agencies
[
]
Educational institutions
[
]
See also
[
]
References
[
]