Last edited:
16 October 2013
This article is about an entity that either no longer exists or that may no longer be active in solar cooking promotion. It is retained here for archival purposes.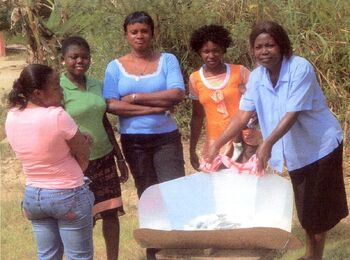 The successful introduction of solar cooking in the village of Osiem in Ghana began in an unlikely way. Steven Watson, a resident of New York, and Frank Otchere, a resident of New Jersey and Ghana, met in early 2003 in a taxi going from 110th and Broadway to 80th and Madison Avenue. Watson, a cultural historian and psychologist, liked to learn from conversations with taxi-drivers.
This 20-minute cross-town conversation led to a library, solar cooking, educational media, and medicine. A library came first, and solar cooking later. Watson became interested in solar cooking through interest in technologies for food in developing countries, and projects for education. Frank Otchere's full name is Nana Baffour Otchere Boateng I and is the Nkosuahene of his village. This title roughly translates as the development chief of the village. Frank works in New Jersey and New York in order to send money to his village, Osiem. He has been successful in establishing the best library in the region, the first public toilet in the village, organizing contributions of medicines, and introducing solar cooking to this region.
The first attempt at creating a solar cooker in Ghana didn't work because there was not a large plastic bag covering the black pot. Frank Otchere went to Washington D.C. to learn from Solar Household Energy. Frank learned from Louise Meyer and Darwin Curtis, who were helpful to him and will be helpful to others. Frank made a successful solar cooker for Ghana. It is called the CooKit. There are many types of solar cookers, and Frank chose this one because it is the cheapest to build, using aluminum foil, recycled cardboard, glue, and a large plastic bag. By keeping it protected from rain, the CooKit can last a long time. Most important for the success of solar cooking in Ghana: Frank repeatedly demonstrated the CooKit by serving local foods (rice, plantains, yam, and palm nuts) to his neighbors each day for lunch. There were two main questions: 1) Will I get sick if I eat this? Frank said no, it is safe. 2) Is this magic? Frank told them it is the magic of the sun. The sun is free in Africa. Frank calls his home Solar House. The people in Osiem are convinced that solar cookers work; they have seen it and they have eaten the food from CooKit. The solar cookers are sold for about $5.00. This low price is possible because the solar cookers are built in the village, coordinated by Daniel Daquah (age 21) and Bismark Osafo Otchere (age 22.) It is still difficult for villagers to afford the CooKit, even though they understand that it will be economical and helpful over time. There have been more than 60 cookers built. Frank Otchere visited Dr. Mercy Bannerman in Accra, and saw her elegant house, powered by solar energy. She lives like a queen in a solar house, he said. The two agreed that they would cooperate in introducing solar cooking to Ghana. Dr. Bannerman will work in the Upper East Region, the Upper West Region, and the Northern Region. Frank Otchere will work in the Eastern Region, the Ashanti Region, and the Bron Ahafo Region. They look forward to meeting the challenges for disseminating solar cooking in Ghana. Frank Otchere, Steven Watson, Dr. Mercy Bannerman, Louise Meyer, and Darwin Curtis all agree that solar cookers should not be given free. They are thinking about imaginative possibilities to make solar cookers economically available. One thought is to make them in Osiem and sell them (combined with teaching) in larger cities where there is more money for buying a solar cooker (for example in Accra, Kumasi, and Kofuridua, the capital of the Eastern Region, near Osiem.) It is clear that the technology works. Recently, a Kenyan-based promoter of solar cooking won an award for inventing a solar cooker similar to the CooKit, used in Ghana. The $75,000 prize was given to Jon Bohmer, by the Forum for the Future. The invention of the solar cooking box is not new, Bohmer acknowledges, and he is happy this prize will help promote solar cooking throughout the world. The experiences of many solar cooker advocates clearly show that most important challenges are social, educational, and economic.
There must be a good and concrete introduction that is not dependent on the written word. This first lesson shows how to cook local food in a solar cooker. This introduction must be followed up with further teaching and responding to all questions. Solar cooking is an alien technology, and that must be addressed in a practical manner. It is important to create a social network of people who use solar cooking in local areas so they can be useful in teaching one another.
It is important to think with imagination about how to afford solar cookers. Solar cookers can be partly subsidized by outside contributors from the people from Ghana who live in different countries. Also: people can earn barter equivalents for the work they do for the village. For example, in Ghana, the people can help with the library, with keeping the village clean, with planting trees, and other things that will help the village. This model of a barter system can be useful in many places throughout the world, as well as micro-financing.
Community content is available under
CC-BY-SA
unless otherwise noted.