Jurassic World: Dominion Dominates Fandom Wikis - The Loop
Play Sound
| | |
| --- | --- |
| | Video showing the Darfur Peace and Development Organization solar cooking project. This is a solar cooker workshop in Nyala, Darfur. As the women look for firewood around the displacement camps they face the danger of rape and abduction. Solar cooking offers an alternative to using firewood for cooking. |
Events
[
]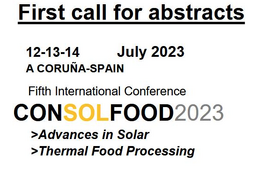 NEW: 

12-14 July 2023 (A Coruña, Spain): CONSOLFOOD2023 - Organizers have released a first call for abstracts to participate in the Fifth International Conference, taking place in Spain in 2023 as an in-person conference. The deadline for submission is 15 December 2022. More submittal information...
See also: Global Calendar of Events and past events in Sudan
News
[
]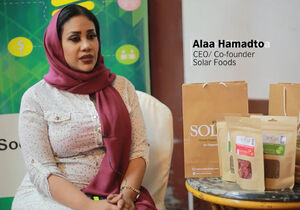 December 2019: New food processing company in Sudan - Solar Foods was established in 2017 by Dr. Alaa Hamadto to bring solar-dried foods to the marketplace, using solar dryers from her father's company, Solar Energy Enterprises.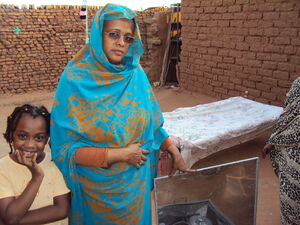 February 2018: Solar Box Cooker Promotion Model in Alkiryab Village - Mawahib Ahmed reports: Solar cooking technology in Sudan started at research level since 70's in Energy Research Institute but till now the technology doesn't reach deployment stage. There were very limited efforts had been done during the last 40 years ,by some organization like UNIDO and NGOs like Sudanese environment Conservation Society for technology dissemination. Solar box cooker (SBC) is most appropriate for household use, but it needs to be adapted to Sudanese cooking pattern. Sudan like other least developing countries suffer from access to energy services, the most affected sector is household. Now there is a problem of affordability and accessibility for LPG as alterative for charcoal, providing environmental problem that comes from the use of charcoal. Solar cooking saves from 40-50% of fuel when it is used with other alternative like LPG or charcoal. A model is being developed as a pilot project in Alkiryab village 18 km from Khartoum. The beneficiaries are women, the SBC was introduced with other energy alternative which is LPG gas cooker as one package The beneficiaries are 12 women. The overall goal of the model is to establish model for household energy conservation that includes solar box cooker that can applied in all Sudan. Other objectives are i) To access solar box cooker in targeted communities with reasonable price ii) To encourage women to use the solar box cooker as one of the alternative at home. The model is initiated by National Center for Research (Appropriate Technology Department, Institute of Engineering Research and Material technology), The responsible researcher is Dr.Mawahib Eltayeb Ahmed. The main partner is El Badail Company which is private company assigned to provide LPG gas cylinder, LPG cooker and SBC. The third partner is AlEbdaa bank is the financial body, which finance 12 women as micro finance project(18 months with 1% profit). Social responsibility money from Dal group (one of big private sector) support the price by 70%. There are some benefits gained from Solar Box Cooker introduction firstly it is clean and healthy technology women saved from 40-50% LPG monthly, accordingly there is money saved, secondly some women use it in for income generating activity by selling cup cakes or beans finally women can be part of carbon market credit.
December 2016: Sudanese bank supports solar cooking initiative - The Solar Energy Enterprises Company, under the direction of Salih Hamadto, has convinced the Sudanese Family Bank to participate in financing solar cookers through their microfinance program, which is well established in Sudan. After initial interest, Salih established a temporary solar cooking kitchen on the rooftop of bank headquarters in Khartoum. With three parabolic and four box solar cookers, they prepared meals for staff and visitors over a three-day period. A business plan was established incorporating cost, logistical matters, advocacy, maintenance, and training of new trainers.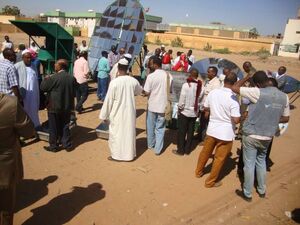 April 2016: Salih Hamadto writes: "Solar Cooking on Earth Day - We show some recent public lunches. They were meant to promote solar cooking, especially in the eyes of aid workers and government officials. The first post depicts photos of a public lunch thrown a few months ago during the celebration of the 50th anniversary of Practical Action, an NGO that has operated in Sudan for over 40 years. The main theme was "Technology Justice": The Global Right to Access Sustainable Technologies. Following a talk I gave, and the very comprehensive solar lunch, it was universally agreed that solar cooking is an overlooked opportunity for technology justice in Sudan and Sub-Saharan Africa. A dialogue was started to deal with this. The celebration was under the patronage of Dr. Tahani Abdalla Attia, Minister of Communications and Information Technology."
History
[
]
Archived articles
Climate and culture
[
]
Solar Cookers International has rated Sudan as the #11 country in the world in terms of solar cooking potential (See: The 25 countries with the most solar cooking potential). The estimated number of people in Sudan with fuel scarcity in 2020 is 6,600,000.
"[T]he availability of firewood in Darfur is dwindling, and women in North Darfur have all but stopped collecting firewood simply because there is none to collect, said Ms. Patrick. The Sudanese Forestry Department has reported total destruction of the environment up to a radius of an hour's walk around the internally displaced persons (IDP) camps in Darfur—there are virtually no trees and the mining of their roots has prevented regrowth. See: Alternative Fuels Take Root in Refugee Camps
See also
Resources
[
]
Possible funders
[
]
Facebook groups
[
]
Reports
[
]
Articles in the media
[
]
Audio and video
[
]
Construction plans in Arabic
[
]
Refugee camps with solar cooking projects
[
]
See Refugee camps.
Contacts
[
]
The entities listed below are either based in Sudan, or have established solar cooking projects there:
SCI Associates
[
]
NGOs
[
]
Manufacturers and vendors
[
]
Individuals
[
]
Government agencies
[
]
Educational institutions
[
]
See also
[
]
References
[
]