December 2012: Jewish World Watch, originator of the Solar Cooker Project for Sudanese refugees, reviews their current programs at several of the refugee camps in Chad – As a result of a joint security force between Chad and Sudan, violence against women has declined some since the project began seven years ago. Cord, their partner at the Farchana refugee camp, sees solar cooking as a way to keep girls in school, and not spending hours finding fuelwood for cooking. For others, the project has meant help for the environment and the air quality conditions for women previously using open fires. When the Jewish World Watch contingent first visited the camps many years ago, the refugees had just arrived and the encampment was meant to be temporary. The hope and expectation was that within a few months or a couple of years at most, they would return to their homes. But now, seven years later, it is clear that returning to Darfur is not a reality and the camps are turning into permanent settlements. As a result, the programs for the refugees must begin to move away from survival resources and begin to address ways of achieving self-sufficiency and permanence. In other words, helping to create a life, not an existence. Future larger scale solutions will be needed to address and benefit the surrounding communities, as well as the refugee camps, to help with the integration of the Sudanese residents. Read more...
May 2010: Solar Energy Enterprises sponsored a solar lunch in Khartoum with a public demonstration. Lunch was served to 200 people.
May 2010: As part of its continual program of training students, Solar Energy Enterprises (SEEC) has sponsored a Bachelor of Science graduation project in Khartoum, Sudan, to research revenue-generating cooking using the recently developed SEEC solar box cooker. Two fifth-year students produced quality pumpkin jam and cookies. Their project established cooking procedures for users. The results were backed by proper biochemical and microbiological analysis at the university labs. [Note: Only fruit should be canned in a solar cooker without pressure. See: Canning]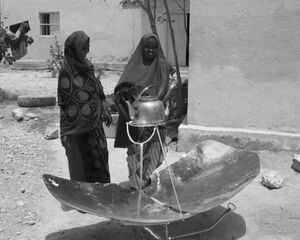 May 2010: Two years ago, Pat Hipp traveled to Yei, Sudan, as part of a medical mission. Everywhere in Yei, the tops of trees had been cut out. This was because the wood was being used for cooking, and to buy charcoal you had to deal with the black market. Currently they are raising funds to bring parabolic solar cookers to the community.
April 2010: Stephen Harrigan runs a U.S.-based nonprofit organization called Solar Clutch that designs and produces solar cookers for distribution to impoverished parts of the world. His cookers include a corrugated plastic solar box cooker called the Sun Scoop and a panel-type solar cooker made from woven baskets and modified clay water pots common in Sudan, called the Borma. Through Solar Clutch, Harrigan also offers consultation and training services to organizations wishing to set up solar cooker programs. In 2006, Harrigan helped the Darfur Peace and Development Organization (DPDO) begin a solar cooker training program for women displaced due to persistent conflict in Darfur. After much research and experimentation, he prepared a solar cooking training model for DPDO. Harrigan selected Solar Cookers International's cardboard and foil solar CooKit as the primary solar cooker to be used due to its low cost and simplicity. Though the solar cookers are being made locally in Sudan, DPDO has also imported several hundred more durable corrugated plastic versions made by volunteers in the United States. Volunteers in Fort Wayne, Indiana (USA) are making corrugated plastic solar cookers for displaced families in Darfur, complete with uplifting personal messages written on the backs (photo: Solar Clutch) From the beginning, Harrigan believed that DPDO's infrastructure and ongoing work in internally displaced persons (IDP) camps would be useful in promoting solar cooking. Solar cookers make a lot of sense in these camps because traditional cooking fuels, especially firewood, are in short supply, and the women that forage outside the camps for firewood must not only walk ever greater distances to find firewood, but also risk their personal safety. DPDO reports having trained 321 IDPs to solar cook from 2006 through mid-2009. Workshops have taken place in a number of camps and towns, including: Kalma and Sakali IDP camps in South Darfur, El Fasher town and Kassab IDP camp in North Darfur, and Omdurman and Haj Yousif towns in Khartoum. Women spend less time and energy foraging for firewood outside of IDP camps when they use solar CooKits (photo: DPDO) According to DPDO's Web site, "workshop participants quickly recognized the time- and money-saving benefits of the cookers, and learned to prepare all of the traditional Sudanese foods. [They] … continue to experiment with recipes, develop cooking-time charts, and conduct training workshops within their communities. DPDO subsidizes training workshops and provides supplies and training expertise, manuals, and follow-up assessment of use." Future trainings have been scheduled for DPDO women's centers in Kassab and Abu-Shouk camps, the latter of which was visited by U.S. Special Envoy to Sudan Scott Gration in September 2009. Many of the women at the center had previously been trained and were solar cooking when Gration visited. DPDO reports that Gration "was impressed with [the women's] efforts and tasted rice that had been cooked with a solar cooker."
October 2009: The long awaited solar cooking training for the Zalingei refugee camp in Sudan took place. Faustine Odaba and Simon Ogutu flew from Kenya and conducted a training for fifty trainers. Assisting them was Kharama who had been trained here in Kenya in 2007. The whole experience was heart lifting as the sound of music was heard once again amongst the refugee women who has suffered so much due to the civil war in Sudan. materials. In the end everyone received a certificate and a UNHCR representative presented each trainee with a solar cooker. These trainers were expected to train others and disseminate the remaining 1,750 CooKits. Solar Cookers International appreciated the efforts of the Danish Refugee Council, the sponsors, as well as UNHCR.
January 2009: The United Nations Industrial Development Organization (UNIDO) is partnering with UNICEF and the International Organization for Migration (IOM), a leading inter-governmental organization with offices in over 100 countries, to introduce solar cookers to internally displaced persons (IDPs) in South Darfur, Sudan. Based on input from a survey conducted by UNIDO, a prototype solar box cooker was developed and tested with women's groups in Khartoum. For the pilot phase of the project, 10 ethnically diverse women from El Serief Internally Displaced Persons Camp learned how to use the solar cookers during three days of training. (El Serief is home to approximately 13,000 IDPs from 21 ethnic groups.) The training culminated with successfully solar cooking several traditional dishes. Eight of the 10 women continued to regularly use their solar cookers after a month-long trial, with several hoping to cook not only for their families but also to bake goods for sale. According to the IOM Sudan Newsletter, one of the 10 women — Ms. Hawa Abker, who has lived at El Serief since 2005 — reported being happy about her solar cooker because she spends less money on charcoal and firewood for cooking. "I am saving two Sudanese pounds per day," she says. IOM and UNICEF plan to scale up the project, hoping to reach an additional 500 women during the months following the pilot phase. A primary goal of the project is to reduce sexual and gender-based violence against women and girls that are vulnerable while collecting firewood away from the camp.
September 2008: On the edge of Khartoum in the area of North Omdurman we found many thousands of IDPs. They came from not only Darfur but from the Nuba Mountains as well as from others parts of Sudan. These are often the ones who are forgotten by the NGO groups giving help and assistance. They too have to scrounge for a means to cook their food. Often they have to buy charcoal or propane gas to do this as firewood is not available. Every week at least 5-6 Sudanese Pounds are spent to cook the meager food supply. When asked what kinds of food they normally eat the reply was: " There isn't any food that is normal, its rather whatever food is available." This group of IDP were overjoyed at the solar cooker training we gave. We sent them out to buy pots, paint and glue for their own cooking efforts. This group has become the first group to reproduce themselves and the solar cooker effort in Khartoum. View a video of the Omdurman solar cooker training: http://www.youtube.com/watch?v=FtftdqhCp2Q&feature=user
September 2008: The Kassab IDP camp was tucked away in the northern part of Darfur near the town of Kutum. It has a well established infrastructure for food and water supplies. There are also other strong cohesiveness elements that make this a very good place for solar cooking. We met with about 60 camp elders to explain the plan of DPDO to introduce solar cooking to the women. The elders gave us their blessing and later in the day wandered into our training area. After eating the meat we cooked with the sun we knew we had passed the test. As we drove out of the camp in the afternoon we saw one of our lady students demonstrating to a group of men the way the solar cooker works. To see a video of this training in Kassab camp go to: http://www.youtube.com/watch?v=63BHacGCQDc&feature=user
September 2008: DPDO teamed up with Ngo group Practical Action in El Fashir North Darfur to do a solar cooker workshop. Students came from not only DPDO and PA but from IDP camps surrounding El Fashir. Women from Abuja camp and Abshouk camps were eager to learn what solar cooking was all about. Even the Sudanese officials from the Humanitarian Aid Commission sent a lady to our sessions. We were happy to train her too! Our host facility was the House of Learning. Teaching was done by lecture as well as hands on interaction with solar cookers and how to construct them. The students made all their own cookers from cardboard and aluminum foil. They painted the cooking pots black and got all their supplies ready for graduation day! Graduation is a happy and great occasion but the real test is whether these students will teach others in the IDP camp!!! Back in Abshouk IDP area two of our women trainees took this solar cooking seriously. They began to gather a group of women that they had been teaching concerning fire issues and used it to teach about solar cooking!!
September 2008: Many thousands of displaced people from Darfur also live in Khartoum the capitol of Sudan. This is also a very important area to introduce solar cooking. In February of 2008 DPDO taught a group of men and women in the El Hajusif region of the city how to make and use solar cookers. One of the women students had been a refugee all the way in Iridimi camp in Chad. She had done solar cooking there with Kozon and was very anxious to get back into the solar cooking mode again. The sun shines with brutal intensity in Khartoum an the heat from the sunbaked homes makes us feel like we are already living in a huge solar oven!
March 2008: Louise Meyer reports on a group of internally displaced persons that are students at the Culinary Institute of Africa. As part of their curriculum they are learning how to solar cook. Meyer sent photographs of several students taking "Masters of Solar Cooking" classes at the Institute's school in Juba, Sudan. Based in Lokichoggio, Kenya, the non-profit Culinary Institute of Africa is a community service division of the AFEX Group, which provides a number of management and catering services to camps throughout Kenya, Sudan, and elsewhere. The Institute began in 2004 when Terry Light, chief operating officer of AFEX, asked Nancy Crooks to train local Turkana with skills that could gain them employment at various camps and other institutions in the region. With technical assistance from Solar Cookers International (SCI), Crooks was able to incorporate solar cooker use and construction into the curriculum. The Institute offers an accredited, professional culinary education leading to a diploma in food production. SCI also provided training services and helped Crooks secure funding from the Lift Up Africa organization for a solar cooker project to teach Turkana women how to make and use solar cookers, heat-retention devices, and Water Pasteurization Indicators (WAPIs), as well as start a small solar cooker shop.
December 2007: The International Organization for Migration (IOM) and the United Nations Industrial Development Organization (UNIDO) jointly conducted a three-day training session on newly developed solar cookers from 11 to 13 December 2007. The training course was facilitated by an experienced national consultant for ten women living in Serif IDP Camp. The IDP camp is located in West Nyala and is currently home to an estimated 13,000 individuals. The ten women trained learnt how to use the solar cooker to prepare traditional Sudanese dishes. UNIDO provided raw cooking materials for use during the training. On 16 December IOM monitored the group of women and found that eight of the trained women were using the solar cooking for boiling water, cooking potatoes and eggs. The use of such stoves will reduce reliance upon firewood, the collection of which often creates physical risks for women when leaving the safety of the camp, and impacts negatively on the local environment (Source: http://www.reliefweb.int/rw/RWB.NSF/db900SID/MUMA-7A44DN?OpenDocument).
February 2007: Jewish World Watch is now coordinating donations for people wishing to donate to provide solar cookers to the Darfur refugees in Chad.
August 2006: Solar Cookers International (SCI) is partnering with The KoZon Foundation, a Dutch charitable group, to assist Darfur refugees living in Chad. In 2004, KoZon volunteer Derk Rijks trained fifteen women in the capital, N'Djamena. He returned in early 2005, after getting approval from the United Nations High Commissioner for Refugees (UNHCR), to start a solar cooker demonstration project at Iridimi Refugee Camp, one of the camps hosting Darfur refugees. Marie-Rose Néloum, one of the previously trained women, took the plight of the refugees to heart and joined Rijks to train refugee women to use solar CooKits and teach others, starting in early 2005. Women responded very enthusiastically and those who learned to solar cook fulfilled their promise to teach others. CooKits were soon assembled on-site by refugee women, who earn an income through this activity. A production workshop was completed in early 2006. The workshop is located in a neutral zone of the camp, close to the offices of the camp administrator, CARE. Refugee women from each of the camp's ten zones take turns training new groups of five to six people. The refugee women at Iridimi camp, as well as head trainer Néloum and two other staff, have persevered in promoting solar cooking even as the security situation has grown increasingly unstable since April 2006. As of July 2006 Iridimi camp had 32 certified solar cooking trainers, 21 CooKit assemblers, 566 trained families, and 1200 CooKits distributed, two to four per tent. Fifty-four women were interviewed in July 2006. Thirty-nine of them solar cook every day; twelve solar cook five to six days a week; and three solar cook two to four days a week. To minimize their reliance on firewood, many families would like to maximize use of all their CooKits. However, about a quarter of the families have sold one or more of their cooking pots in exchange for precious food. SCI and The KoZon Foundation are working together to provide supplies to make CooKits, training, monitoring and accountability to brighten the lives of Darfur refugees at Iridimi camp in Chad. Groups and organizations such as the Darfur Assistance Project and Jewish World Watch, both based in southern California (USA), and many individuals have donated to SCI in support of this project. Additional logistical and communications support from UNHCR and CARE International is invaluable in continuing project operations. Barring significant disruptions, each Iridimi camp household will have two or more CooKits by early 2007.
Community content is available under
CC-BY-SA
unless otherwise noted.