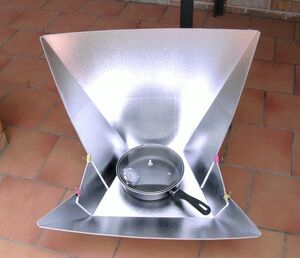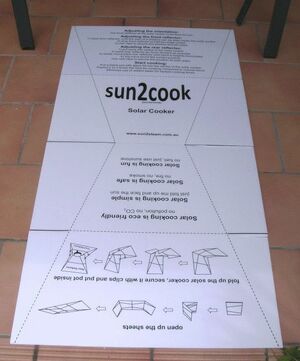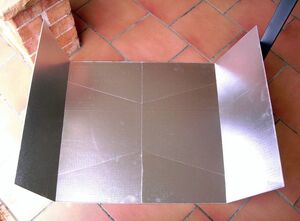 The Sun2Cook has been designed by Heinz-Joachim (Jo) Muller at Sun2Steam in Australia. The basic material is a double layer polypropylene sheet (core flute), much like a plastic version of corrugated cardboard. It is factory laminated with a robust reflective film. Jo reports that there is no need for a plastic bag enclosure, a black pot with a glass lid works very well by itself. The simple design is very easy to manufacture as there are only seven straight lines to be cut into the material. All the assembly information is printed on the back of the cooker.
The steep back allows it to capture early and late day sun, however it also makes the cooker more vulnerable to tipping in windy conditions.
External links
Edit
See Heinz-Joachim Muller.
Community content is available under
CC-BY-SA
unless otherwise noted.