Jurassic World: Dominion Dominates Fandom Wikis - The Loop
Play Sound
Last edited:
7 February 2017
SunFire Solutions is a leading Solar Cooker promotion and development agency in Southern Africa for solar cooker technologies. SunFire Solutions is aimed at assisting Africans to integrate solar cookers into the social, environmental and cultural fabric of life.
Southern Africa enjoys the least access to grid electricity of any region on earth and thus conversely stands to gain the most from the introduction of high quality solar cooker technologies.
SunFire Solutions predominantly manufactures and supplies parabolic reflectors (or the SunFire Series) for clients in Southern Africa but has also sent solar cookers to the USA, Europe and Middle East and are prepared to send cookers wherever there is need.
Our range also includes high quality box cookers and the Papillon for larger feeding schemes, we hope to introduce the Scheffler Community Kitchen at the earliest possible opportunity (need a minimum of 200 mouths on a daily basis to justify building one).
Phase 2 of SunFire Solutions flag ship project completed in December 2006 saw 80 SunFire14's installed in a Zulu village (Masihambisane) near Pietermaritzburg as part of an off grid electrification project.
This project aims to convince the South Africa, Botswana and Lesotho governments to include solar cooker technologies in all communities reliant on fossil fuels to meet their basic cooking needs.
This is the first project of its kind in the region and we hope it will establish and highlight beyond a doubt solar cookers potential beneficial role to the region.
SunFire Solutions is also involved in the formation of a regional network under the umbrella "Solar Cookers for Africa" aimed at assisting the continent's decision makers to use solar cookers in natural disaster or refugee situations.
We are also looking into the CDM mechanism to attract local governments to invest in and so speed up the role out needed to reach the estimted 240 Million people still reliant on coal, parafin or firewood for their basic daily needs.
Most significant projects
[
]
News
[
]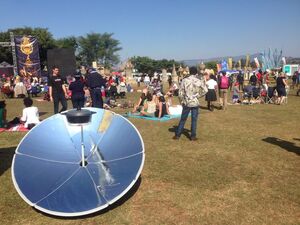 June 2016: SunFire Solutions reports: We have just returned from the Bushfire Festival in Swaziland. voted one of the best festivals in Africa. SunFire was a guest of the festival organisers and made free solar popcorn to as many festival goers as possible. The Bushfire Festival is an amazing coming together of many cultures, Mozambique, Swaziland and unusual mix from Kwazulu Natal, Mpumalanga, Free State provinces of South Africa's. This is truly a festival not to be missed. Our efforts were very successful and we look set to partner with http://www.youngheroes.org.sz and http://www.bush-fire.com/ to increase access to solar cooking and lighting technologies in Swaziland.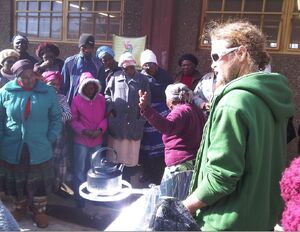 November 2013: SunFire Solutions partners with Beyond Carbon to promote local solar cooking businesses. - SunFire Solutions and Beyond Carbon recognize that long-term solutions need to include local business communities with shared sustainability objectives. Their current SunFire Stoves Project joint venture is based in South Africa. The project's goal is to protect the area around Kruger National Park from deforestation through the implementation of solar cookers. Three hundred parabolic solar cookers were initially purchased for the project, and 213 have already gone into households as of this fall. With access to the solar cookers, more than ten new locally owned enterprises have been created.
January 2013: SunFire Solutions receives media attention for their work - Visit this link to learn more about SunFire Solution's latest projects: Cooking With the Sun In June, SunFire Solutions visited Ghana to look at spreading Solar Cooker Technologies further north, sure to be the first of many visits to West Africa. Recently they have started receiving particularly strong interest from Zimbabwe - their deteriorating political situation leads to a deteriorating environmental situation. Read more of their update at SunFire Solutions Fall 2012
July 2010: Solar Cookers for Africa: Solar Caravan 2010 - SunFire is a NGO in South Africa that has partnered with Solar Cookers for Africa to create the Caravan as a way to reach the portions of the population that live in areas typically difficult to reach. It will be a convoy of knowledge, experience, and partnerships in the area of sustainable household and community technologies and practices. The Caravan will start in Mozambique, to eventually cover most of Southern Africa. Far from relying in the knowledge and resources of a few, the Caravan will link experts, product suppliers, communities and funders. Starting in August 2010, a core team of 4 people from 3 countries will start traveling from Johannesburg, South Africa, towards Beira, Mozambique. In each community the Caravan visits, its members will be presented with a flexible curriculum of applied introductory workshops and demonstrations about the core topics and technologies. One fixed workshop module concerns clean energy; another food security, waste management and nutrition. To learn more, see how your experience may be of value, and offer to financial support see: Solar Cookers for Africa: Solar Caravan 2010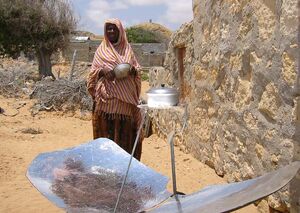 August 2006: The organization Sun Fire Cooking is promoting Chinese solar concentrating cookers in northeastern Somalia. In 2003, 14 of these high-temperature "butterfly" style cookers were purchased and tested by households in the town of Bosaso, and user feedback was positive. The families, each with eight or more members, use the solar cookers to cook lunch and evening meals. One user said that her monthly charcoal usage dropped from 100 kg of charcoal each month to about 25 kg. Several others in the community expressed interest in purchasing solar cookers. With funding from the United Nations, and in partnership with the NGO Horn Relief, Sun Fire Cooking recently distributed solar cookers to all 550 households in the small fishing village of Bander Beyla on the Indian Ocean coast of Somalia. (Bander Beyla was damaged by the 2004 tsunami.)

A team of 12 individuals, led by Shukria Dini, assembled and distributed the cookers, and trained the new solar cooks. Several families have shared stories of improved quality of life with solar cooking. One young woman commented that her fuel savings allow her to send her 10-year-old daughter to school. Another solar cook reported improved health due to reduced smoke exposure. In some parts of town the cookers are in constant use, while in other areas they mostly sit idle. Project leaders expect usage rates to increase as the solar squad makes additional follow-up visits to households. Sun Fire Cooking is planning for expansion to three additional coastal villages, including Dhuur and El-Didhir. Sun Fire Cooking is led by Fatima Jibrell, founder and former head of Horn Relief. In 2002 she won a prestigious Goldman Environmental Prize for her work protecting natural resources in Somalia, particularly old-growth acacia trees that are burned to make charcoal for export. Sun Fire Cooking hopes to curb deforestation in the area through expanded use of solar cookers. Contact: James Lindsay
Audio and video
[
]
April 2016: Crosby Menzies interview on the SunPod podcast. The discussion includes how Crosby got started with solar cooking and his new project, Solar Caravans. Recorded at CONSOLFOOD 2016. Podcast page...
Articles in the media
[
]
See also
[
]
External links
[
]
Contact
[
]
SunFire Solutions
Johannesburg, South Africa
Website: http://www.sunfire.co.za
Email: info@sunfire.co.za - crosby@sunfire.co.za

Crosby Menzies (CEO/Founder)
Tel. 082 954 0144

Facebook: @SunFireSolutionsAfrica
Twitter: @SunFire2020
YouTube: SunFire Solutions