Last edited:
15 October 2017
SunLife Is an NGO founded by Stephen Pearson, by building on his earlier experiences introducing solar cooking in Ghana. The focus has been producing low-cost cookers based on the CooKit design. Involvement of the local residents with the production of the cookers has provided a foundation for the success they have experienced in training and introducing others to solar cooking.
Those at SunLife strongly believe that free, safe, reliable and efficient non-fossil fuel based energy can greatly reduce the household expenditure of the rural poor, who spend much of their hard earned income on two basic necessities of daily living: lighting and cooking. They promote the "7 Steps put of Poverty" in which a family incorporates into their cooking techniques heat retaining baskets, solar cookers, and dried vegetable waste (as fuel) to reduce amount of kerosene needed. The money saved is then used to purchase a solar (photo-voltaic) lamp and charging system.
February 2016: Partnership addresses many community needs - School children in many rural areas of Ghana find it very difficult to study after dark. As a result, their performance in school is adversely affected. To address this problem, the Community Directed Development Foundation(CDDF) has recently established a partnership with SunLife to promote solar cookers. The Solar Energy Project encourages women to use the savings they make from not buying fuelwood to acquire other green energy equipment such as solar lanterns. The partnership takes a holistic approach with the community based programs, by empowering students, women, and those with disabilities. Read more about the Solar Energy Project: SunLife Annual Report for 2015.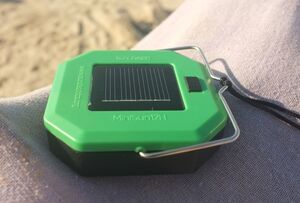 January 2014: Solar cooking works with solar lighting to help families save money - Stephen Pearson, founder of SunLife, has been helping residents of Ghana for many years save on cooking fuel expense by learning to use the CooKit solar cooker. His new goal is to help these families further reduce their kerosene usage by offering a low cost portable lamp to replace their fuel-burning lanterns. The MiniSun12H lamp has an integrated photovoltaic panel to recharge the lamp during the day. The projected retail price for the lamp is $5 USD. His reasoning is; if a family can save on cooking fuel using the CooKit, then they will have enough money to be able to buy the new lamp. Using both approaches, the families should be able to save $50-100 USD on kerosene expense annually. Money is saved, and indoor air pollution is reduced. You can learn more about the new lamp in this short [].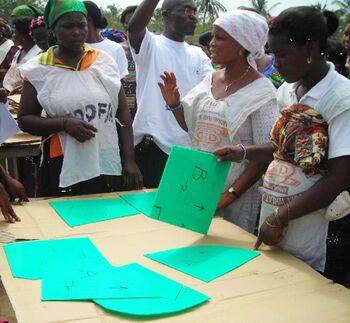 May 2010: The SunLife sponsored Oven Festival was recently held in the Dangme East area of Ghana (80 miles east of Accra). Quite well attended, there were about sixty ovens on display, all locally made using the CooKit design. The oven components were salvaged and recycled from local materials. Only the aluminum foil, at a cost of $2/oven, needed to be purchased. The event was held in collaboration with the Community Directed Development Foundation started by Professor Bosompem. Guests included representatives from several government ministries. The festivities began with a procession of local "oven ladies" led by the local brass band. After introductions and speeches, there were competitions and prizes awarded for best oven, best recipes, best group, etc.
SunLife (Ghana) Ltd
PO Box AO 372
Abossey Okai
Accra, Ghana
West Africa
Email: info@sunlifeafrica.org
Web: http://sunlifeafrica.org
Community content is available under
CC-BY-SA
unless otherwise noted.