Last edited:
18 November 2019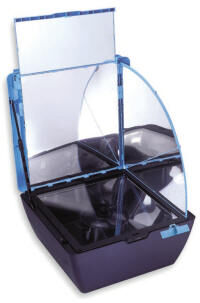 SunOK, based in Portugal, was founded at the end of 2008 in order to provide decentralized energy solutions. Providing cooking solutions that use energy sources off-grid is a primary goal of the organization. To that end, they have re-introduced the Sun Cook, a solar box cooker. The optics of the reflectors are technically advanced, and the construction components are quite sturdy, incorporating recycled materials.
Other products sold by SunOK include among other items a solar barbecue, the Sunflair portable solar oven, and a solar kettle.
June 2017: SunOK offers their cork-based cooker in new sizes - SunOK has made improved versions of their earlier Sun Cork solar box cooker. They now offer the Suntaste Compact and the Suntaste Large. More information...
SunOK Lda.
P.O. Box 24399
1251-997 Lisboa
Portugal
Tel: +351 210 960 643
Skype: Sunok-ltd
Email: info@SunOk.eu
Web: http://www.sunok.eu
Facebook: https://www.facebook.com/Suntaste.by.SunOK
YouTube: https://www.youtube.com/user/SunOKvideos
Skype ID: Sunok-ltd
Community content is available under
CC-BY-SA
unless otherwise noted.