Last edited:
3 September 2015
Solar Cookers now available in the Philippines

[

edit

|

edit source

]
Discover the first solar BBQ designed and manufactured in the Philippines

[

edit

|

edit source

]
Now solar cookers are available in the Philippines, our Sun Blaze BBQ is one of the most powerful solar barbecues avaialble. It heats instantly UP to 300 degrees Celsius, has a 1.5 meter diameter, and is made all of aluminium. It weighs roughly 10 kilos and it is very easy to operate. It needs nothing more than the sun, no charcoal, no LPG, no electricity needed, it's all clean, free, and unlimited energy.
Who can profit our Solar Cooker?

[

edit

|

edit source

]
As an individual, the Sun Blaze BBQ is ideal to organize BBQ parties, it is easy to operate, it heat instantly, it is clean, and uses free energy, and no doubt you will surprise your friends!
For communities the Sun Blaze BBQ provides an efficient alternative to charcoal and wood for cooking, it will contribute to help stopping deforestation and help preserve the bio diversity of the wildlife.
Free demo BBQ parties will be held in Metro Manila

[

edit

|

edit source

]
If you are interested by a demo we plan to organize a free BBQ party in Manila, just pm us and leave us your name we will get back to you to with a date and a venue.
BECOME OUR SPONSOR AND EARN!
If you wish to sponsor a BBQ party by hosting, we will pay you a commission on every sales made by one of the guests having attended this event hosted by you, we will come with our Solar BBQ, install it and assist you in operating the BBQ. Please pm us for details.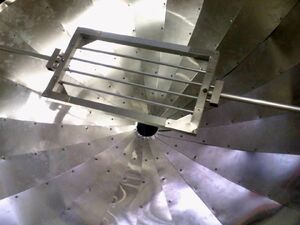 Ten good reasons to purchase our Solar BBQ

[

edit

|

edit source

]
It's unique in Philippines, you won't find this anywhere else
We deliver, we install (Metro Manila), we service, we repair, we ship nationwide,
It heats instantly, 300 to 400 degrees Celsius by sunny days
It's free to use
It's eco-friendly, 0% C02
It's not messy, no charcoal
It's all made of aluminium, extremely light
Made to be durable (10 to 15 years)
Can be totally or partially dismantled
Cooks almost anything, boils and fries
We will unveil more about our Solar BBQ by posting more pictures and videos soon, stay tuned!
We welcome potential partners and NGOs to help us provide solar cookers to those in need in the Philippines, you can help in different manners:
help us getting the right contacts
help us by introducing us to networks in the business
help us by distributing our products
help us by promoting our products
help us provide solar cooker to communities in need through NGOs
help us by hosting demos
For every 6 Solar BBQ that we sell we will donate one to communities who desperately need one.
The price of the Sun Blaze BBQ is 346.00 Dollar US (USD) or 15,000.00 Philippine peso
The shipping fee depends on your location, so please just let us know where the item is to be delivered and we will check.
We provide online assistance in French and English 24/7,
In Metro Manila we install your BBQ with no additional fee
We ship nationwide and worldwide
All parts can be purchased separately, in case it is needed any part of the BBQ can be replaced
Contact us through our facebook page for additional information
DIY Parabolic Dish (cheap alternative from buying the Sun Blaze)
[
edit
|
edit source
]
If you wish you can just purchase the parabola and assemble it yourself, more details here:
Sun Blaze BBQ
See SolarCookingSystems.
Community content is available under
CC-BY-SA
unless otherwise noted.