Last edited:

10 September 2019

      

Sun Buckets is a commercial enterprise started by students and faculty at the University of Illinois in Urbana, Illinois, USA. The company has taken on the problem of storing solar thermal energy for use in cooking. First, the Sun Bucket is heated in the sun. Then using the stored heat, cooking can be accomplished by users at any time of the day. Direct sunlight is not required for cooking, which is typical for most solar cookers. While improved combustion stoves have made advances in reducing fuel consumption, fuel collection and emissions are still a problem.
The Sun Bucket is a sealed container weighing approximately 10 kg (22 lbs) with a phase-changing latent heat storage material inside. The bucket is placed with a parabolic reflector in direct sunlight for a couple hours, charging the bucket with enough thermal energy for cooking use later in the day or even the next morning. The company reports the buckets may initially reach temperatures up to 400 °C (752 °F), and then will slowly cool.
The bucket utilizes a top cooking plate of aluminum, on which standard cooking pots and pans may be placed. The developers feel there may be a business model where charged Sun Buckets could be delivered to households for daily use, and traded for the depleted unit.
September 2019: Oil company supports indoor solar cooking: - IndianOil has formed a partnership with the start-up company, Sun Buckets, to sponsor a test pilot program of their indoor solar cooking system in Leh, Ladakh. The Sun Bucket can be 'charged' using parabolic solar concentrators kept outdoors. Once charged, the system is capable of storing and discharging the thermal energy on demand for indoor cooking — for boiling, steaming, frying and to make roti. It has enough heat storage capacity to cater to cooking demands during the day as well as at night. More information...
September 2019: IOCL flags off pilot study of solar indoor cooking in Leh - Daily Excelsior
September 2019: Indian Oil launches pilot study of indoor solar cooking at Leh - The State Times
January 2019: Solar Energy Drying in Haiti: Reducing Peanut Loss - In 2019, Sun Buckets in partnership with Acceso Peanut Company committed to research the causes and extent of postharvest peanut loss in Haiti and design, build, and field test a prototype crop dryer utilizing solar thermal storage, a product that can also be used for household cooking. Throughout Haiti, the domestic peanut market is characterized by low production volumes and high seasonal price volatility. As such, Haitian peanut farmers often store their peanut harvest for several months until they are able to receive more favorable prices in the market. Often, the crop is exposed to humid conditions without proper ventilation leading to contamination. Through this commitment, Sun Buckets will test the hypothesis that drying practices are the foundational cause of most peanut losses and create a prototype storage container that collects, stores, and recovers solar thermal energy to not only heat air and product, but also move air as needed for a dryer.
November 2018: Sun Buckets launches a Go Fund Me Campaign - If you would like to support our development work, please check out our page and support our campaign.
September 2018: Sun Buckets selected for Humanitarian Grand Challenge - Sun Buckets was been selected to test a method to collect, store, and recover solar energy in portable containers for cooking, space-heating, and thermal pasteurization in Kenya.
October 2017: Seeking early adopters - Sun Buckets is seeking from 2 to 4 organizations that are early adopters (i.e., willing to try an early-stage innovation) to help implement and coordinate field-testing. Participating organizations may use the Sun Buckets to start a solar harvesting farm/business, or they may choose to give or sell the Sun Buckets to individual participants. Selection criteria for the field tests include: Candidate organizations must have at least 10 years experience working in the community of implementation and must have staff available at the site to assist with implementation, beginning in the next 5-9 months. Participants/users in the test group must be among those who spend a large portion of their income to purchase cooking fuel, and must directly benefit from fuel cost savings. Participants/users in the test group should prefer to cook inside and/or in the evening, thereby taking advantage of the storage and portability attributes of the new cooking system. Candidate organizations must be willing to invest from $5,000 to $10,000 US (the approximate value of the cooking system). Payment must be in advance and the exact amount will depend on the size of the test group. At the completion of the study, the organization or individual participants will retain ownership of the cooking system(s). The community location must have high levels of direct normal solar radiation – full sun without clouds or haze, and candidate organizations should ideally have experience with implementation of solar cooking systems. Candidate organizations may inquire further and express intent to apply by writing to info@sunbuckets.com
May 2017: Sun Buckets to Haiti: Sun Buckets has moved into the production mode with units being readied for shipment to southwestern Haiti, with support from Loving Shepard Ministries. However, as of this date, Sun Buckets are not yet available for commercial sales.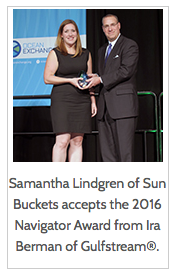 January 2017: Sun Buckets receives environmental award: - The Gulfstream®Navigator Award 2016 was given to the solution that best demonstrates the greatest alignment with the 2016 theme with applicability across multiple industries generating positive impact on the environment, economies or health while respecting cultures around the world. Read more...
Audio and video
Edit
External links
Edit
Sun Buckets
Email: Sun Buckets contact page
Community content is available under
CC-BY-SA
unless otherwise noted.