This article is about an entity that either no longer exists or that may no longer be active in solar cooking promotion. It is retained here for archival purposes.


Last edited:
3 October 2011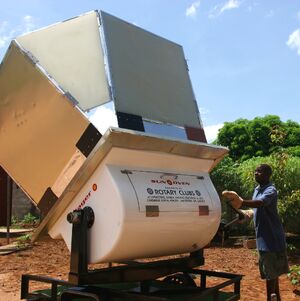 While studying lemurs in Madagascar, veterinary scientist Rita Riewerts began to develop a passion for humanitarian work. She saw that health care was not readily available and that poverty was rampant. Riewerts later organized a group of medical students to bring medical supplies to remote villagers in Africa. Riewerts and the students were "blown away" by the malnutrition they witnessed, the lack of clean drinking water, and the hours or even days women spent searching for firewood to cook over. Riewerts vowed to help these villagers find solar solutions to these problems.
Riewerts returned to Africa again, this time brining along a solar cooker. She traveled through several countries, teaching about solar cooking and demonstrating solar cookers at orphanages and schools. While at an orphanage in Zambia, Riewerts saw a large Villager Sun Oven®. She was "overwhelmed with the excitement of the children who proclaimed they used their oven every day."
Riewerts returned to the United States and formed a nonprofit organization called the Sun Catchers Project (SCP). SCP will work to supply village-size solar ovens to orphanages, schools and hospitals in developing countries; to practice and promote the responsible use of solar energy through integrated cooking; and to improve the health of children and future generations by creating efficient, sustainable cooking methods.
SCP will initially work with three African organizations: Usa River Children's Centre in Usa River, Tanzania; Friends of Mulanje Orphans in Mulanje, Malawi; and Kikunduku Schools Project in Kikunduku, Kenya.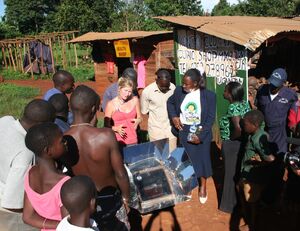 From a May 2008 email from Rita Riewerts: On my recent trip I spent most of my time in Western Kenya near Uganda. I visited schools and orphanages to discuss whether or not they would benefit from a village solar oven, I am proposing to use the Villager made by Paul Munsen at Sun Ovens International. I had great feedback from everyone... the kids loved my demonstrations with the small cooker and the representatives of the institutions were extremely excited about the ease and lack of expense. This region has power outages every day and in most areas indefinitely. The making and use of charcoal is devastating to the environment and health of children cooking indoors and is very expensive. The orphanages can not afford to pay for the amount of charcoal needed to cook for their children. Electricity is not even an option and gas is also way too expensive.
I met and spoke with James Savage and Marcel Wagner who work with the Shiplake College Expedition Society (SCES) focusing on schools in Kenya since 1994. They created the Kikunduku Schools Project (KSP) which has grown to consist of over 6,000 children. The area is extremely hostile and poor and as such ideally suited to the introduction of solar ovens. We made plans to work together to build workshops at Sagana in order to get volunteers to make and distribute solar ovens. I also am planning to supply the villager to a school in this area. On my next trip to Kenya I will meet with the local chief as well as the community and the Provincial Administration who has been very supportive and generous for letting us use land to build the proposed workshops.
When in Uganda I had a wonderful time there and met with Kawesa Mukasa from the Solar Connect Association, we had a great time with my oven and worked with people in the villages.

Audio and video
[
]
December 2009: To make the film Africa Revolutions Tour, six professional paddlers teamed up Rita Riewerts to bring solar ovens to orphanages, hospitals and communities across Africa. From the crocodile-infested White Nile in Uganda to big-water first descents in Madagascar, a group of friends seek adventure on African rivers. Accompanying the team is Rita Riewerts, the founder of the Sun Catchers Project, a non-profit that installs solar cooking facilities in orphanages, hospitals and communities.