Last edited:
31 January 2018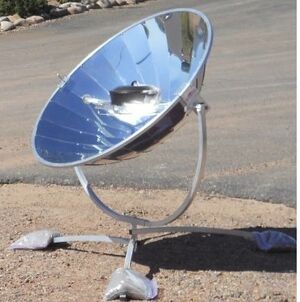 The Sun Chef Cooker is a parabolic solar cooker manufactured in the USA in Waddell, Arizona and sold by Sun Chef Cookers. Originally the cooker and the company had the same name, "Sun Power Cooker."
The Sun Chef Cooker is lighter than some commercial parabolic cookers yet heavier than others making it steady enough when there are breezes yet light enough to easily move around the yard.
The diameter of the parabolic dish is 107cm (42"). The reflectors is made from polished aluminum panels. The frame is also aluminum. Weight is 10.5kg (23lbs).
Sun Chef Cooker
17336 W. Cheryl Dr
Waddell, Arizona 85355
USA
Tel.: +1 800-713-1277
Community content is available under
CC-BY-SA
unless otherwise noted.