Last edited:
31 January 2018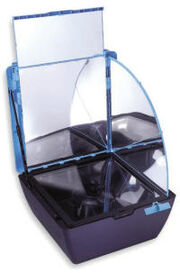 Sun Cooking Australia is an organisation aimed at promoting solar cooking in Australia. Australia is one of the best places in the whole world for solar cooking! Located between the 29th to 46th latitudes, we have some of the highest rates of sunny days and low atmospheric haze, making it perfect conditions to cook all year around. Sun Cooking Australia is owned by Heather Stevens.
Sun Cooking sells 4 key products:
The Sun Cook solar oven
The SunFlower solar oven
The SunLite solar oven
The Solar Rocket water boiler
The Sun Cook:
Imported from Europe, it is a deluxe solar oven model which works as a combination of:
an oven - used to bake breads, cakes, muffins, roasts etc
a slow cooker - used to make delicious stews, soups, curries etc
a steamer / kettle - used to boil water (useful for sterilization) and steam veggies etc
a dehydrator - can dehydrate foods such as bananas, tomatoes, chillies, apricots, mangoes etc
a canner / preserver - makes jams, preserves and caning acidic foods like tomatoes
a thermal cooker - for rainy days or overnight bring a pot of food to boil on the conventional stove then wrap it in a towel and put into the solar oven, lid closed. The heat will be trapped and food continue to cook for hours. Perfect for rice, soups, legumes etc.
The SunFlower
The worlds most popular solar oven design! This solar oven design has been loved and used by people around the world. It's a simple, sturdy and effective design that uses 4 reflective panels focused onto an adjustable tray to really maximize the sun's heat.
Key features
Simple design - open the panels, point to the sun, adjust the back support and it's ready to go
Gets very hot very fast
Internal hinged tray which can be removed to increase cooking capacity.
Internal oven thermometer
Weighs only 9kg
Packs down to a compact carry case with handle
Made from quality materials to ensure long term use.
The SunLite
Are you into hiking, walking, camping or traveling? Then this solar oven is for you! Light weight and cleverly designed, this one is great for reheating cooked food or cooking simple dishes.
Key features
Super light weight! Weights only 0.5kg.
Zippered plastic cover, designed for maximum heat retention.
Super portable - packs down into a neat shoulder bag
Simple but effective design
The Solar Rocket
A fast and efficient way to boil water. The SunRocket uses the evacuated tubing system commonly used in household solar hot water systems, where a glass chamber has most of it's air removed so that heat can get in faster and then is trapped in there. It's amplified by reflective panels on each side. In direct sunlight this can boil 2.5 cups of water in under 30 mins! Then can keep it hot for some time.
Key features
Can boil 2.5 cups (500ml) of water
Compass on lid to assist in getting best positioning
Side reflective panels to increase heat attraction
Closes up to look like a conventional thermos (or a rocket!)
Comes in range of colours
Weighs less than 2kg when empty.
Audio and video
External links
See also
Contact
Solar Cooking in Australia
Email: Use this contact form
Web: http://www.sunkettle.com
Community content is available under
CC-BY-SA
unless otherwise noted.