This article is about an entity that either no longer exists or that may no longer be active in solar cooking promotion. It is retained here for archival purposes.


Last edited:
15 August 2014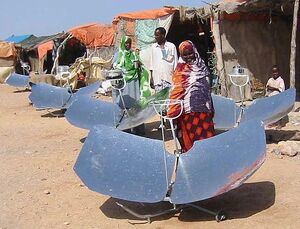 In Somalia, Sun Fire Cooking has experimented with the three basic types of solar cookers available, that is, panel, box, and parabolic. Over a period of several years, Fatima Jibrell and Jim Lindsay, co-founders of Sun Fire Cooking, imported several models of panel and box solar cookers from the United States, Europe and Africa. Fatima also had various homemade designs constructed. None of the panel or box designs were found to be acceptable by Somali users. Somalis wanted a solar cooker that cooks as fast as charcoal. Sun Fire Cooking found that Somalis were interested only in using the parabolic type of solar cooker because its cooking speed is comparable to charcoal. The Women's Commission for Refugee Women and Children (http://www.womenscommission.org) in their report Beyond Firewood, (March 2006), reached a similar conclusion.
Of the parabolic type solar cookers, Sun Fire Cooking has experimented with two designs - first the more widely known bowl style made up of reflective aluminum strips and the second the "butterfly" style consisting of two parabolic plates of cast iron covered with reflective tape. In a recent timed cooking test using 1 liter of water at 32 degrees Celsius, the "butterfly" parabolic solar cooker boiled the liter of water in 7 minutes while the bowl style parabolic cooker took 42 minutes. Both solar cookers had been left outside in an open courtyard in Bosaso, Somalia for over six years.
The reflective square area of the butterfly parabolic solar cooker is 1.5 square meters. The heat output is rated at 800 watts. To work efficiently, the butterfly design solar cooker should be adjusted approximately every 30 minutes to track the sun. This only takes a few seconds using a convenient screw mechanism. The butterfly solar cooker's weight of 50 kilos is an advantage because it provides stability in strong winds which are common in Somalia for many months during the year. The butterfly solar cooker has two cast iron wheels which means it can be moved easily. The design life of the butterfly solar cooker is 20 years. If there is any loss of reflectivity, the reflective tape can be replaced.
The only limitation on the use of the butterfly solar cooker, aside from rainy and overcast days, is where housing is so crowded that there is not sufficient room for the solar cooker to receive direct sun light during the day. Most village and rural housing in east Africa does have sufficient space for the butterfly solar cooker to operate efficiently. Many houses have a walled compound. The weight and size of the solar cooker means that it cannot be easily stolen. The cooker could be chained up overnight. So far in the experience of Sun Fire Cooking in Somalia theft has not proved to be an issue.
Their purpose was to find a practical alternative to the use of charcoal and wood for daily household cooking because of the devastating consequences of deforestation in the fragile, semi-arid Somali environment.
In 1996 while traveling in Tibet, Jim stayed at a hotel where they used a solar cooker to boil water for his tea. After none of the readily available designs of solar cookers were found to be acceptable to the Somali users, Jim decided to try to find the manufacturer of the solar cooker he saw in use in Tibet. In 1999 Jim tracked down the manufacturer of the butterfly solar cooker. The manufacturer turned out to be Sang Li, a company located north of Shanghai, China, that had never exported solar cookers before Jim's contact. Jim visited the factory himself. Then Jim sent one butterfly solar cooker to Somalia for evaluation. The following year he arranged for the export of fourteen more butterfly solar cookers.
The butterfly design solar cooker proved popular with Somalis. In 2004, Jim and Fatima started Sun Fire Cooking to distribute the butterfly design solar cooker in east Africa as an alternative to using charcoal or wood for household cooking. Sun Fire Cooking is the sole distributor of the butterfly design solar cooker in east Africa. Sun Fire Cooking is currently working with Somali community groups and welcomes additional partners, either community groups or businesses interested in the distribution of solar cookers in east Africa.
Our Vision
Sun Fire Cooking envisions everyone in Somalia working to protect and reclaim the land for future generations. We see a future when environmentally friendly solar energy replaces charcoal for cooking.
Our Mission
To help reduce the devastating cutting of trees for fuel, Sun Fire Cooking mobilizes people in Somalia and east Africa to switch from charcoal to solar for cooking.
We will revolutionize the culture of cooking in east Africa by promoting solar cooking.
We need your help!
Here's what you can do TODAY to help us:
Order a video (available in either NTSC or PAL format). Only $10 including postage and handling. Send us an email with your request and a check to 651 Oakland Avenue Apt. 2E, Oakland CA 94611-4517 USA.
Show the video to family, friends and neighbors.
Pass the word. Send us suggestions about whom we should contact for support. Our current project is a to tell the story of charcoal conflict and solar alternatives through video. We are looking for funding and donations for a 25 minute video.
Buy a solar cooker for a Somali family. For $200 you can buy a solar cooker for a family OR for a woman to start her own tea shop and support her family. Send us an email at sunfirecooking@yahoo.com for details.
Send us a donation of any amount. Make your check out to Sun Fire Cooking and mail it to Sun Fire Cooking, 651 Oakland Ave. Apt 2E Oakland CA USA 94611-4517.
Write to us with your ideas and suggestions at sunfirecooking@yahoo.com.
[Text from this topic was adapted from http://sunfirecooking.com.]
News and recent developments
[
]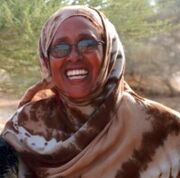 March 2009: Fatima Jibrell, co-founder of the Sun Fire Cooking organization, received the 2008 National Geographic Society/Buffett Award for Leadership in African Conservation. She was honored for her "outstanding work and lifetime contributions that further the understanding and practice of conservation." Among Jibrell's many accomplishments are her efforts to reduce soil erosion through the promotion of rock dams, her activism towards reducing Somalia's illicit charcoal trade, and her leadership in the formation of a cross-clan, cross-regional resource management network in Somalia and Somaliland. Since co-founding Sun Fire Cooking in 2004, Jibrell has been instrumental in providing solar cookers and training to villagers in the Sanaag district of Somalia, including nearly 1,000 in the coastal village of Bender Bayla.
February 2009: Buy a solar cooker for your family in Somalia and give them a steady income stream of $20 per month. At the moment cookers are only available in Bosaso, but plans are underway to expand operations to other towns including Galkayo and Hargeisa. The solar cookers cost $200. This may seem expensive, but these cookers really work, have a payback time of 10 months and a design life of 20 years. Payment can be made by cheque or bank transfer. Bank details are found below.
October 2008: Somali Update - Sun Fire Cooking's latest newsletter is now online.
September 2008: Fatima Jibrell, co-producer and writer of the film Charcoal Traffic, and co-founder of Sun Fire Cooking has been awarded the prestigious 2008 National Geographic Society/Buffett Award for Conservation in Africa, for her many years of struggle against the illicit charcoal trade which is destroying the fragile semi-arid Somali environment and the pastoral way of life.
April 2007: Representatives of Sun Fire Cooking attended January's World Social Forum in Nairobi, where they organized a group of activists to plan a three-part campaign of education, mobilization and networking for solar cooking. Sun Fire plans to open a solar cooking promotion center in Nairobi with support from Horn Relief, a nonprofit organization in Somalia. Meanwhile, Sun Fire Cooking continues its work spreading solar cooking in Puntland, Somalia, and plans to expand to the Hargeisa area. The organization also has experience in Djibouti, having sold 25 solar cookers there.
November 2006: Fatima Jibrell of Sun Fire Cooking traveled to Capetown, South Africa in August where she presented a new video about Sun Fire Cooking's work to the

United Nations Global Environmental Facility

. Its work in Somalia was also featured on a BBC television program in October. Sun Fire Cooking hopes to make a longer video to help spread the word about the transformative power of solar cooking.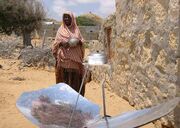 August 2006: The organization Sun Fire Cooking is promoting Chinese solar concentrating cookers in northeastern Somalia. In 2003, 14 of these high-temperature "butterfly" style cookers were purchased and tested by households in the town of Bosaso, and user feedback was positive. The families, each with eight or more members, use the solar cookers to cook lunch and evening meals. One user said that her monthly charcoal usage dropped from 100 kg of charcoal each month to about 25 kg. Several others in the community expressed interest in purchasing solar cookers. With funding from the United Nations, and in partnership with the NGO Horn Relief, Sun Fire Cooking recently distributed solar cookers to all 550 households in the small fishing village of Bander Beyla on the Indian Ocean coast of Somalia. (Bander Beyla was damaged by the 2004 tsunami.)

A team of 12 individuals, led by

Shukria Dini

, assembled and distributed the cookers, and trained the new solar cooks. Several families have shared stories of improved quality of life with solar cooking. One young woman commented that her fuel savings allow her to send her 10-year-old daughter to school. Another solar cook reported improved health due to reduced smoke exposure. In some parts of town the cookers are in constant use, while in other areas they mostly sit idle. Project leaders expect usage rates to increase as the solar squad makes additional follow-up visits to households. Sun Fire Cooking is planning for expansion to three additional coastal villages, including Dhuur and El-Didhir. Sun Fire Cooking is led by Fatima Jibrell, founder and former head of

Horn Relief

. In 2002 she won a prestigious "

Goldman Environmental Prize

" for her work protecting natural resources in Somalia, particularly old-growth acacia trees that are burned to make charcoal for export. Sun Fire Cooking hopes to curb deforestation in the area through expanded use of solar cookers. Contact: James Lindsay
Articles in the Media
[
]
Audio and Video
[
]
| | |
| --- | --- |
| | May 2007: Somalia's solar cooking village |
| | |
| --- | --- |
| | May 2007: Solar Cooking in Boraso, Somalia |
| | |
| --- | --- |
| | October 2007: Dramatization showing the negative aspects of the charcoal trade |
External Links
[
]
Contact
[
]
Physical address:
Sun Fire Cooking
Horn Relief Guest House Compound
Bosaso, Somalia
Tel. +252 5821274 or +252 5761066 (mobile)
Postal address:
Sun Fire cooking
10680 Hampshire Ave S, Apt 105
Bloomington, Minnesota 55438 USA
Email: sunfirecooking@yahoo.com
Web: http://www.sunfirecooking.com
Bank information

Name of account: Sun Fire Cooking Inc
Account no. 0531760744
Bank of America: 496 Lake Park Ave, Oakland, California 94610, USA
SWIFT: BOFAUS3N
Telegraphic routing no: 026009593
Tel. +1 (510) 649-6600, +1 (510) 273-5402