Last edited:
10 February 2017

Sun Frost
, located in Arcata,
California
,
USA
, is a company interested in the research and marketing of sustainable energy-efficient products. They are the designers and manufacturers of the
Sun Frost Cooker-Sterilizer
. The company has had extensive experience with highly efficient refrigerators and composting toilets, and recently have begun to manufacture a solar cooker that incorporates an evacuated tube.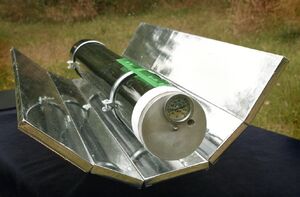 The evacuated tube permits reaching extremely high cooking temperatures around 316 °C (601 °F). Even at these high temperatures the outside of the oven is still close to room temperature. The Sun Frost Cooker-Sterilizer can not only be used for cooking but for sterilizing and providing a safe disposal method for disposal needles used for vaccinations and other medical "sharps". The used "sharps" can be dropped in the oven. When full, the cooker is placed in the sun, sterilizing the needles and safely submerging them in a block of plastic. For more product details, see
Sun Frost Cooker-Sterilizer
.
Recent news and developments
Edit
External links
Edit
Sun Frost
824 "L" Street
Arcata, California 95521
USA
Mailing Address:
Sun Frost
P.O. Box 1101
Arcata, California 95521
USA
Tel.: +1 (707) 822-9095
Fax: +1 (707) 822-6213
Email: info@sunfrost.com
Web: http://sunfrost.com
Community content is available under
CC-BY-SA
unless otherwise noted.