Last edited:
26 July 2018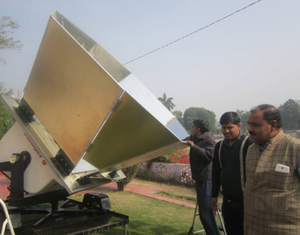 Sun Oven India is building durable, efficient Sun Oven solar cookstoves in Orissa(Odisha). We seek to connect to people all over India who want to try clean solar cooking in their homes and schools, using free energy from the sun!.
Sun Oven India is a social enterprise that works to foster clean solar cooking in rural India to improve women's health and the environment. We will offer rural women a viable alternative to collecting fuel wood and cooking over smoky primitive cook stoves. Our ultimate purpose is to reduce the severe adverse health effects of hazardous indoor air pollution on the women, and slow the pace of deforestation.
[Above text from Sun Oven India website.]
Sun Oven India
Gram Tarang, Centurion Institute of Technology Campus, Jatni,Khurdha-752050
Odisha
India
Tel: +91 933 7047 543 , 9078205008
Email: sunovenindia@gmail.com
Web: http://sunovenindia.com
Community content is available under
CC-BY-SA
unless otherwise noted.