Jurassic World: Dominion Dominates Fandom Wikis - The Loop
Play Sound
Last edited:
11 December 2019
Sun and Ice is a manufacturer of solar cookers in Germany. They have introduced a new parabolic solar cooker, which hopes to capture a portion of the market for parabolic cookers due to its simple design elements. Two versions of the cooker, called the Premium 14 and Premium 11, use less material and simpler construction equipment than found in the SK14. Read about it.
The highly efficient solar cookers of Sun and Ice are available at any time of the year and within all degrees of latitude. You will be surprised at which short time dishes including cake, meet, stew, pizza, bread or pasta are ready to serve.
The solar cookers of Sun and Ice are easily and quickly assembled and disassembled, and the swivel-type rack belonging to it allows to direct the cooker towards the sun.
Due to a ceramic protective layer the reflecting material is weatherproof and sheltered from saline air as well as from pollution by chemicals.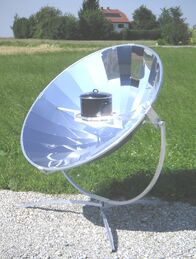 News
[
]
October 2016: Solar cooker quickly boils water at high altitude - Stephan Zech reports that a Sun and Ice parabolic solar cooker is stationed at base camp on Mt. Everest. At an altitude of 5,200m(17,060ft.) the solar radiation is so intense a liter of water quickly was boiling in four minutes.
March 2016: Senegal receives an integrated cooking facility with help from Sun and Ice - Stephan Zech reports that Sun and Ice has sponsored a facility in Senegal that is promoting solar cooking, heat retention cooking, and fuel-efficeint stove use. More information...
January 2015: Only the cooking food is out in the sun at this Mali school - Stephan Zech, with Sun and Ice, posted this photo of a mid-day meal being prepared at a school in Mali.
November 2014: Sun and Ice reports that it has helped with the manufacture of 500 parabolic solar cookers in Nepal in 2014. They provided the reflector panels, and the support frameworks were built on-site in Nepal. The solar cookers are used by families on the outskirts of Pokhara (second largest city in Nepal).
August 2014: Stephan Zech recently posted these photos of a recent solar cooking workshop in Senegal.
February 2014: Sun and Ice shares photos of one of their reflectors incorporated into a solar restaurant, created by one of their customers in France. The small trailered vending kart is a rolling work of art. See more photos on the facebook page.
November 2011: Sun and Ice reports they began teaching solar cooking in 1993, and have distributed over 45,000 solar cookers worldwide.
October 2011: Sun and Ice offers a new solar cooker for camping. CookAway16 - solar cooker and parasol in one - assembled and modified into a parasol within a minute.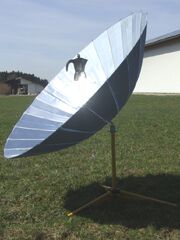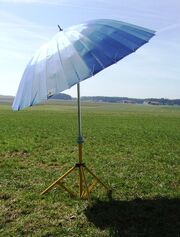 Audio and video
[
]
See also
[
]
External links
[
]
Contact
[
]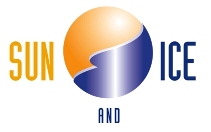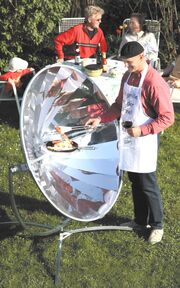 Sun and Ice
Bahnhofstr. 1
84558 Kirchweidach
Germany
Email: s.zech@sun-and-ice.de
Web: http://www.sun-and-ice.de
Facebook: https://www.facebook.com/Sun-and-Ice-Solarkocher-182264431865854