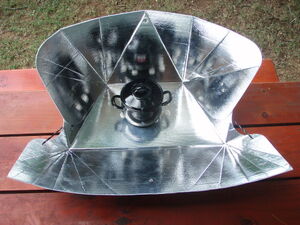 The Suncatcher is a light-weight, fold-up solar cooker manufactured by Richard Pocock in South Africa. Proudly South African , the Suncatcher is an inexpensive and user friendly solar concentrator. It is great for warming up meals while hiking, boiling water while fishing. The perfect companion for the outdoor enthuthiast.
This cooker design looks a bit like the CooKit, however is not really based on the Cookit and evolved out of a curved back cooker that RIchard made some 15 years ago. He finds that the Cookit battles outside the tropics and also low sun angles in the morning, afternoon and winter. The Cookit has three wide flat panels that reflect onto the pot one at a time whereas the Suncatcher reflects all the panels onto the pot and as the sun moves the hot spot rotates around the pot rather than moving off it. A rectangular board is used to minimise waste and the cut-out includes washers for assembly. There are also built-in felt insulating washers for the pot and a drop over Nylon oven roasting bag for the greenhouse. The cooker is fully adjustable for seasonal and geographic sun angles and has pictographic instructions on the back. It can be folded up into a thermal bag and flat for easy storage.
Community content is available under
CC-BY-SA
unless otherwise noted.