Last edited:
30 September 2014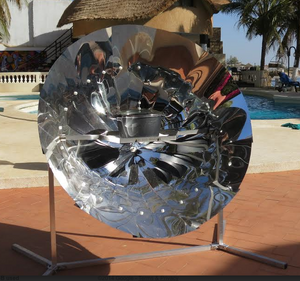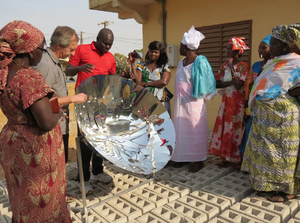 The SuniCook is a parabolic solar cooker designed by the Belgian non-profit Sol Suffit and is being produced in Europe. They wished to create a cooker that would be easier to use, less expensive, and with an added degree of safety compared to other available parabolic cookers. The deep shade of the parabolic shape directs all reflections inward so the SuniCook is safe to use, eliminating the risk of accidental blinding.
With a diameter of 120cm (47") and highly reflective surface, the Sunicook boils 1 liters (approx. one quart) of water in 15-20 minutes. The cook pot holder is able to carry up to 10kg (22 lbs.), allowing the cooker to prepare meals for up to ten people. Weight of the cooker is 10kg (22 lbs.). Cooking temperatures to 250°C (480°F) can be easily reached.
External links
Edit
See Sol Suffit.
Community content is available under
CC-BY-SA
unless otherwise noted.