Last edited:
30 November 2014
This article is about a group or individual that may no longer be active in solar cooking promotion. It is retained here for archival purposes.



The main aim of the Sunsational Cookers Limited is to promote solar cooking in Europe by providing fresh designs for the modern european, city living, life style.
Recent news and developments
Edit
November 30, 2014: De Wet reports that he is in the process of closing Sunsational Cookers Limited. He will continue research on Concentrating Collectors at fraunhofer ISE, but not mainly on Scheffler Reflectors.
Products
Edit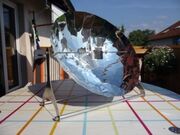 The
Espressolar
is a very sexy, small paraboloid Solar Cooker conceptualised specially for the European market. It will look great on your city apartment balcony. The first product in this range has a unique characteristic apart from its appealing curves and size: you can assemble it in 20 minutes. The Espressolar can be taken apart in aid of easy transportation and storage. Mainly made for brewing an espresso with the well known Moka Express, it is also a handy travel companion for destinations with sunshine, but no other means of heating food or water. Your tin cup fits comfortably on the cookingplace. We are very excited about our first series.
For orders of more than 10 units, customizations to incorporate logos onto the cooker can be made. This product is the ideal advertising or business gift within the renewable energy and coffee sectors.
We are very grateful for the generous financial support from Solarspar in Switzerland in order to start the Espressolar development.
The Espressolar can prepare an espresso in 12 to 15 minutes with adequate direct solar radiation (sunshine).
Scheffler2qm
Edit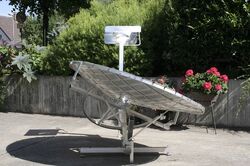 The 2 m²
Scheffler
-Reflector is suited for a small family and is currently being produced in Europe. This versatile cooker allows for solar cooking to take place indoors.
External Links
Edit
Sunsational Cookers Limited
De Wet van Rooyen, Director
Haierweg 27
79114 Freiburg
info@sunsationalcookers.com
http://www.sunsationalcookers.com
Mobile: +49 (0) 171 835 4997

Community content is available under
CC-BY-SA
unless otherwise noted.