Last edited:
8 January 2020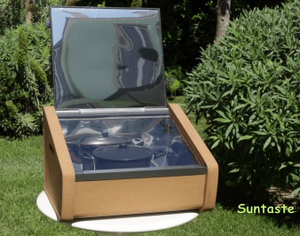 The Suntaste is a solar box cooker designed by SunOK, located in Portugal. It represents a design evolution for the company, which wishes to incorporate more sustainable materials into their product line. SunOK has successfully marketed many of their Sun Cook solar box cookers, but its primary construction material is plastic, and not sustainable.
A presentation]] from CONSOLFOOD 2016 by Manuel Collares Pereira, University of Évora, outlines the issues of sustainability and the features of the Sun Cork oven.
With the new design, the company wanted to reduce production costs, accommodate two large cook pots, improve optics, and reduce potential condensation on the underside of the glazing surface, as well as address sustainability. Cork was decided to be a suitable new material to work with, as it has both structural and insulating capabilities. The cooker utilizes a rear entry door to access the cooking chamber.
January 2020: New Suntaste use video - Enthusiast Alan Howell has created an informative video on using the Suntaste solar cooker, including a great looking recipe for meatloaf.
June 2017: SunOK offers their cork-based cooker in new sizes - SunOK has made improved versions of their earlier Sun Cork solar box cooker. They now offer the Suntaste Compact and the Suntaste Large. More information...
Community content is available under
CC-BY-SA
unless otherwise noted.