Last edited:
140 June 2016
Events
International conferences
NEW: 

30-31 May 2019: Pathways to Clean Cooking 2050: Leaving No-one Behind - Ireland will host; Pathways to Clean Cooking 2050: Leaving No-one Behind. The conference will focus attention on reaching the furthest behind first, with topics such as: 􏰀households and settings, evaluating pathways to modern sustainable cooking energy systems, policy options, and more. More information...

See also: Global Calendar of Events and past events in Swaziland
News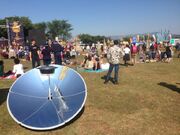 June 2016: SunFire Solutions reports: We have just returned from the Bushfire Festival in Swaziland, voted one of the best festivals in Africa. SunFire was a guest of the festival organisers and made free solar popcorn to as many festival goers as possible. The Bushfire Festival is an amazing coming together of many cultures: Mozambique, Swaziland, and unusual mix from Kwazulu-Natal, Mpumalanga, Free State provinces of South Africa's. This is truly a festival not to be missed. Our efforts were very successful and we look set to partner with http://www.youngheroes.org.sz and http://www.bush-fire.com/ to increase access to solar cooking and lighting technologies in Swaziland.
History
Archived articles
Climate and culture
Resources
Possible funders
Reports
Articles in the media
Web pages
Contacts
SCI Associates
NGOs
Government agencies
Manufacturers and vendors
Individuals
Government agencies
Educational institutions
See also
References