Last edited:
4 August 2019
Events
International conferences
5-7 November, 2019 (Nairobi, Kenya): Clean Cooking Forum 2019 - The Clean Cooking Alliance and the Kenya Ministry of Energy will co-host the Clean Cooking Forum 2019, to be held in Nairobi, Kenya, from 5-7 November. With the theme of "Investment. Innovation. Impact," the sector's flagship event will bring together hundreds of attendees from around the world working to build an inclusive industry that makes clean cooking accessible to the three billion people who live each day without it. More information...

22-24 January 2020 (Faro, Portugal): CON

SOL

FOOD

2020

- To be held at the Institute of Engineering, Universidade do Algarve, Campus da Penha. The conference will focus on solar thermal food processing. The deadline for receipt of abstracts was 15 June 2019. More information... 
Call for applications
See also: Global Calendar of Events and past events in Swaziland
News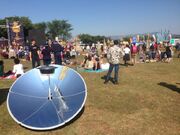 June 2016: SunFire Solutions reports: We have just returned from the Bushfire Festival in Swaziland, voted one of the best festivals in Africa. SunFire was a guest of the festival organisers and made free solar popcorn to as many festival goers as possible. The Bushfire Festival is an amazing coming together of many cultures: Mozambique, Swaziland, and unusual mix from Kwazulu-Natal, Mpumalanga, Free State provinces of South Africa's. This is truly a festival not to be missed. Our efforts were very successful and we look set to partner with http://www.youngheroes.org.sz and http://www.bush-fire.com/ to increase access to solar cooking and lighting technologies in Swaziland.
History
Archived articles
Climate and culture
Resources
Possible funders
Reports
Articles in the media
Web pages
Contacts
SCI Associates
NGOs
Manufacturers and vendors
Individuals
Government agencies
Educational institutions
See also
References
Community content is available under
CC-BY-SA
unless otherwise noted.