Last edited:
3 November 2015
This article is about an entity that either no longer exists or that may no longer be active in solar cooking promotion. It is retained here for archival purposes.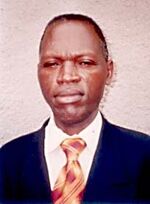 Sylvian Kimour Kalubi is the director of Terre de la Paix, which is active in promoting solar cooking in the Democratic Republic of the Congo.
News and recent developments
[
edit
|
edit source
]
October 2015: We are still very much involved in the promotion of solar cooking in our country, and many associated activities such as the manufacture of solar cookers, the production of solar electricity and so many solar projects, biogas from plants and animal dung, not to mention fish farming with tilapia farming by ponds etc. At the next e-mail we sent images of our activities in Kinshasa. We regret one thing no SCI financial support so far.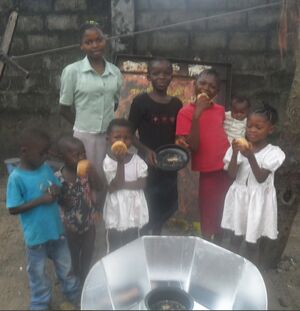 Juin 2011: NOS ateliers en images mois de Mai et Juin 2011 Ces images d'atelier de cuisson solaire sont tirés de Kinshasa DRC. Parlons de la solidarité internationale entre nous tous qui s'intéressent à l'énergie renouvelable (solaire et autres ...) Lorsque nous avez une occasion de donner un atelier des formations à organiser vous pouvez nous contacter ou nous inviter à y participer pour venir apprendre à nos membres ici en DRC qui ont besoin des beaucoup d'expériences pratiques pour l'énergie solaire et protéger notre forêt tant aimée environnement comme cela se faire dans d'autres pays d'ailleurs (nous pouvons nous organisé avec nos petit moyen et venir assister et rendrez pour l'intérêt de nos membres au skype : kimour11' Merci d'avance et très franche collaboration S. KIMOUR KALUBI
Mai 2011: L'échauffement climatique est beaucoup observé ce dernier temps. Les gents en parlent partout. Nos habitations sont surchauffées par la cuisine lors qu'on cuisine de repas. Une façon plus simple c'est cuisine avec de four solaire là il n'y aura pas l'échauffement. C'est dans ce sens là que nous avons eu ce matin 12/05/2011, un coup de téléphone provenant de nos amis solaires du Congo Brazza qui comptent venir nous rencontrer pour voir comment nos cuiseurs solaires cuisinent les repas sans dégager la chaleur ; une façon de n'est pas chauffer notre entourage (maison, cité, village …). Ils veulent apprendre la cuisson solaire et nous sommes près d'organiser des ateliers de démonstration pour eux ainsi que tous ceux qui s'intéresse à cette façon de cuisiner uniquement avec le soleil sans se chauffer.
Février 2010: Upon her departure from Kinshasa in June 2009 at the end of her stay in DRC, our Madame Doctor Joyce Hightower asked us "to not let go the use of solar cookers, because they have the potential in the future of Congo to save many people in a humanitarian fashion, especially by water pasteurization." Today her thoughts are confirmed by the invitation of African Energy. It was an opportunity that does not arrive every day, to see the seminars and trainings on solar energy in Kinshasa led by outside partners African Energy from the 15 to 16 of February. We participated in these trainings while the leaders (Steve, Patrick, and Lincoln) gave us materials what are rare in our country, so we have all we need to live more enlightened. We are happy to provide solar cookers for solar electricity to our villages and cities in DRC (solar pumps, solar projectors, public solar lighting systems) with a system of assistance that can respond to the needs of the rural and urban population. The American firm, to testify to our participation, gave us a certificat as "Entrepreneurs of Renewable Energy" in which dozens of people took part. The pioneers of solar cooking were numerous. There were many demonstrations of solar products, a good occasion and suitable moment to learn for poor countries who live in obscurity.
Mai 2008: J'ai le plaisir de vous annoncer de mon bref voyage en Afrique du Sud ( du 28 Mai au 1 Juin 08) durant mon séjours j'ai profité de me rencontrer avec les instigateurs solares membres de SCI, pour l'echanges des idées et expériences solaires entre le DRC et South Africa. Vendredi le 30 Mai 2008 à 17h15' Dr. Kelvin Kemm de STRATEK a eu l'honneur de m'accorder une audience ou nous avons eu à évoquer beaucoup des projets solaires.Etudiez la technique de fabrication de cuiseurs solaire et voir comment mettre sur les pieds un projet d'électricité solaires pour la population rural et urbain De Kin qui manquent l'électricité. L'accueil était très excellent et fructueux. Nous souhaitons voir des telles rencontres se poursuivre à la venir, nous sommes d'accord de collaborer avec son groupe ou nous pouvons apprendre beaucoup pour enseigner les autres, cette technique de cuisiner à moins cher. On avait un traducteur à la personne de la charmante Madame Marolet Van, que nous félicitons grandement pour son service car elle était à la hauteur. Tous les membres de TPAX se réjouissent de la rencontre. Le Dimanche le 01/06/2008 nous avons regagné la capitale congolaise.
March 2007: Sylvain Kimour Kalubi of the Terre de la Paix group has been busy translating solar cooker information on the Solar Cooking Archive into several local languages. Kalubi and his colleagues have also been experimenting with various cooker designs, including the Twelve-Sided Parvati cooker, and have developed their own solar box cooker called the KIN 1. Kalubi has found advantages to using cassava (or manioc) flour instead of wheat flour for making paste. He says the cassava flour is cheaper in the Congo than wheat flour, and it makes a stronger glue for cardboard solar cookers.
Sylvain Kimour Kalubi
203, COMMERCIAL, Quartier 7/ NDJILI
KINSHASA-DRC
or
BP 10796 Kin 1 -DRC
Tel: +243-815119662
kalubi2001@yahoo.fr or
kimour1@hotmail.com

Community content is available under
CC-BY-SA
unless otherwise noted.