Last edited: 24 August 2009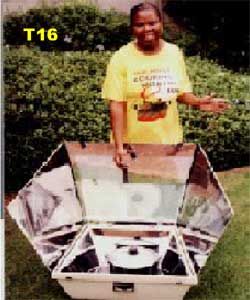 The T16 cooker is a proposal from SYNOPSIS, a research group with several projects about solar boiling at world scale. Its predecessor, the REM5, is a solar cooker box with a cover of single pane glass, aluminium frame and a policarbonate box, with three exterior reflectors. This model has been developed to be used and fabricated during cooperation projects in developing countries. Because its fabrication required patience and habilities with tools, they developed the T16, a version easier to reproduce. The maximum temperature reached by the T16 is 147 °C (297 °F) in frying oil after 130 minutes.
Glass cover, aluminium frame, plastic body (policarbonate) and aluminium reflectors.
Dimensions: 88 x 101 x 96 cm
Synopsis
Route d'Olmet F - 34700
Lodève
France
Tel.: + 33 (0)4 67 44 04 10
Fax. + 33 (0)4 67 44 06 01
Email: synopsis@wanadoo.fr

Community content is available under
CC-BY-SA
unless otherwise noted.