Last edited:
30 April 2018
This article is about an entity that either no longer exists or that may no longer be active in solar cooking promotion. It is retained here for archival purposes.


TanzSolar's mission is to reduce poverty and improve the quality of life for people throughout the continent of Africa through the promotion of affordable technology powered by renewable energy, distributed to communities not served by an electricity grid.
News
[
]
March 2016: TanzSolar wins the Green Africa Award.
May 2015: Since the beginning of March 2015, Tanzsolar has become most fortunate to be able to install an additional 10 LED lighting systems with phone charging in Rorya and Serengeti Districts Mara region... See Global Giving project report.
June 2012: The annual Green Africa Award for Business was awarded to TanzSolar (www.tanzsolar.org) for championing environmental change in Africa. TanzSolar received the Award for bringing clean, renewable solar energy and electric lighting to villagers in Tanzania. TanzSolar received the Green Business & Environmental Management Award, one of ten categories. "We are thrilled and this is an enormous honor to receive such an award. It's nice to be recognized for our hard work in solar energy in Africa" said Marianne Walpert, Founder and Director of TanzSolar.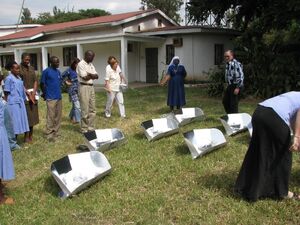 June 2008: Karyn Ellis of Solar Cookers International (SCI) writes: "I traveled to Musoma, Tanzania to pursue collaborations between SCI and TanzSolar ~ a newly established nonprofit that will provide affordable solar panels to local internet organizations, health clinics, schools, small businesses and individuals throughout Tanzania. While TanzSolar specializes in photovoltaic (PV) systems, they are interested in expanding their solar reach and open to working with SCI to bring simple solar cooking and water pasteurization techniques to the area as well. Marianne Walpert and her sons showed me great hospitality while I was in Musoma, treating me like family and taking time from their busy schedules to help with a solar demo and introduce me to some active and influential business people in the community; like Sergio Velasquez of Mano a Mano, and Robi Machaba of JuaSun, a local internet company that works closely with Marianne and TanzSolar. With their help we rounded up a good group of locally active individuals interested in improving their environment by providing alternative methods of cooking, treating water and generating income in their community. Together we organized a very successful day of informational presentations on solar cooking and water pasteurization ideologies, processes and techniques, generating a great deal of participation and interest. With the help of those listed above and SCI's East Africa Office, SCI and TanzSolar will plan to host a 5-day integrated solar workshop on the TanzSolar grounds later in the year."