This article is about an entity that either no longer exists or that may no longer be active in solar cooking promotion. It is retained here for archival purposes.


Last edited:
1 March 2011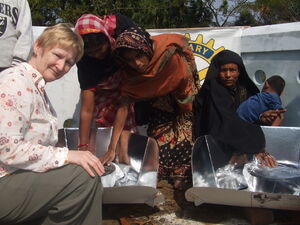 From England, we run a clinic in a remote village in north-east Bangladesh, see: http://www.thewearsurmaclinic.com/
Over the past year, we have become conscious of the very real problem that villagers have sourcing firewood. All my investigations indicate that little (or nothing) has been done to promote Solar Cooking in Bangladesh. We are just a tiny outfit, operating our Clinic on less than US$10.000 a year.
We are, ourselves, convinced that the ovens are very efficient. Despite the fact that England is not, by any stretch of the imagination, a sun rich country, I have cooked a tasty chicken my garden in northern England in about 18c of sun and in less than 3 hours with a simple Cookit!! I believe that I am the first person in England to cook a meal in a solar panel cooker.
The British Government (and all our Media) is trumpeting about the concern over environmental issues and the need to constantly investigate new "Green" projects.
Through my MP, I tried to enlist the support of the British Government (Department for Overseas Development) to invest in Solar Cooking for Bangladesh. He did try to support this, but the DoD was not interested. I have also tried to enlist the support of some other environmental organisations in UK, but without success so far. I will keep trying!
We are going to Bangladesh in July 2007 and will take some Cookits with us to try and demonstrate them in the village. Unfortunately, this will be the Monsoon season, not the best time of year to demonstrate Solar Cooking!
Still, watch this space!
News and recent developments
Edit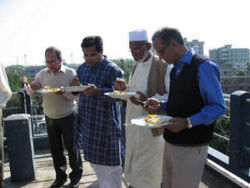 July 2009: Terry Elliott reports that he and his wife Carole have been busy raising solar cooker awareness in the village of Boroudha, where Carole founded the Wear Surma Child Health Clinic in 1992. While at the clinic, the Elliotts became increasingly aware of health problems caused by traditional indoor cooking fires. Children are often burned in these fires, and the smoke causes respiratory illnesses. Firewood is also expensive, whereas solar energy is free. In addition to demonstrations at hotels and in the village, the Elliotts solar cooked a meal of fish, vegetable curry, lentils and rice for several local Rotarians. "To say that the group was impressed is an understatement … they are hooked!" says Elliott. The Rotary Club of Jalalabad in Sylhet has proposed to set up a workshop to manufacture 1,000 solar cookers and hire trainers to teach solar cooking in a number of villages in northeastern Bangladesh. The budget for the project is about UK £6000, and a matching grant may be requested from Rotary International.
January 2009: Terry Elliott reports: We gave a demonstration of solar cooking to Garden City Rotary club. They are keen to use this fuelless method used , and they will be kicking off the idea in a small village close to Sylhet. There is also some interest in supporting some of the Baroudha projects. They took us to lunch (the hospitality has been outstanding) to a Chinese restaurant. We were interrupted by a TV camera crew filming us from all angles. And me without a shave! After I had followed my dream and made it to the top after X Factor, my one worry was the intrusion of the media into my private life. I like tried to cover my face but they go 'nah, Ken, just gives a bit of leg'. Terry wishes now that had hadn't agreed to let Hello magazine photograph his house. The perils of celebrity! Max Clifford did warn me. It appears that Rotary thought that the joint venture was newsworthy. If it is accepted, it certainly will be. The improbability of cooking using only the power of the sun and a bit of cardboard and tinfoil seems close to that of Gulliver's Lilliputians generating sunlight from cucumbers. We left to the usual crowds, applause, lights and traffic jams.I can almost smell the greasepaint!
External links
Edit
Email: terence.elliott@ntlworld.com or terence.elliott@gmail.com
Community content is available under
CC-BY-SA
unless otherwise noted.