Last edited:
6 August 2019
Events
International conferences
NEW: 

2-13 December, 2019 (Madrid, Spain): COP25 - The United Nations Framework Convention on Climate Change (UNFCCC) is hosting the twenty-fifth session of the Conference of the Parties (COP25) has been scheduled to take place in Feria de Madrid in Madrid, Spain from 2-13 December, 2019. More information...

22-24 January 2020 (Faro, Portugal): CON

SOL

FOOD

2020

- To be held at the Institute of Engineering, Universidade do Algarve, Campus da Penha. The conference will focus on solar thermal food processing. The deadline for receipt of abstracts was 15 June 2019. More information... 
See also: Global Calendar of Events and past events in Thailand
News
August 2008 - October 2010: GEF Small Grants Program funds project near Myanmar border where 1,748 households are piloting the use of solar cookers, thus reducing the use of firewood by 87,400 kg / day.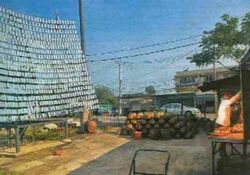 July 2009: According to the Bangkok Post newspaper, Sila Sutharat has operated a solar-powered chicken roasting stall in the Muang district of Phetchaburi since 1992. He splits and hangs chickens vertically against a grill that faces hundreds of small concave mirrors, reflecting sunlight at the grill and creating heat so intense that the chickens start to smoke in just a few seconds. Sila says he can roast up to 50 1.6 kg chickens between the hours of 7 a.m. and 11 a.m., taking just 10-15 minutes each in good sun. (The stall is not open during rain.) Though the reflector array cost 30,000 baht to build, he has no fuel expenses and is able to sell the chickens for 160 baht each. Sila has even received an honorary Bachelor's degree in "production technology" from Phetchaburi Rajabhat University for his inventiveness.
April 2007: Solar cooking demonstrated at the Tham Hin Refugee Camp.
History
Archived articles
Climate and culture
Resources
Possible funders
Solar cooker plans in Thai
Possible funders
Articles in the media
External links
Audio and video
Contacts
SCI Associates
NGOs
Manufacturers and vendors
Individuals
Government agencies
Educational institutions
See also
Community content is available under
CC-BY-SA
unless otherwise noted.