Last edited:
20 October 2015
Thirsty Planet is a 27-minute film by Ed Carswell. Set in the West African countries of Ghana and Benin, Thirsty Planet reveals the surprising potential of solar ovens. With temperatures often near 40 °C (104 °F), these equatorial regions hold great promise for using the sun to cook food and pasteurize water. We travel to northern Ghana where villagers are forced to draw drinking water from pools contaminated with parasites. We meet local doctors, Mercy Bannerman and Patrick Apoya, and learn how solar ovens are used in an attempt to eradicate the Guineau worm.
According to Ed Carswell:
Upon arrival in Accra, Ghana I was to meet a fellow named "Old Man." I'll admit I was a bit concerned, traveling alone and with all of my camera gear. However, Old Man greeted me at the airport with a wide Ghanaian smile and I instantly felt welcome and safe. Old Man insisted on calling me Mr. Edwin, and, although his real name is Ibrahim, he insisted I call him Old Man. As he drove he talked about his enthusiasm for solar cooking, and he invited me to stay at his home. Old Man led me through a maze of markets and helped me acquire materials to make CooKits (simple panel-type solar cookers). After a heart-warming stay in Accra, Old Man saw me off on a bus to Tamale, in northern Ghana.
In Tamale, Dr. Mercy Bannerman has been promoting solar water pasteurization with CooKits for years. Northern Ghana is second only to Sudan in the number of guinea worm infections, and Dr. Bannerman is trying to put a stop to it. Guinea worm is a parasite that effect humans through the contamination of drinking water.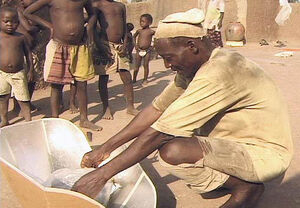 Dr. Bannerman met me for a video interview and spoke of her successes and challenges. "When I first showed up in the region with the cooker, people had a good laugh" she said. "People would say if the sun could cook, we'd all be cooked by now!"
Dr. Bannerman's tenacity gave me confidence to continue north to Bolgatanga, where Canada World Youth has an exchange program comprised of nine Ghanaians and nine Canadians ages 17 to 22. Together we built 10 CooKits and organized a solar cooking demonstration for educators and community leaders. "It's very hot! Now, I believe!" exclaimed Joseph Azumah, of the Red Cross.
The community demonstration was a key factor in the success of the program. The youth and teachers alike were empowered, and gained the confidence to spread the message of solar cooking. After four months I returned home and produced a 27-minute film, "Thirsty Planet," about solar water pasteurization in West Africa.
Contact
Email: ecarswell@shaw.ca
Web: http://carswellfilm.ca
Community content is available under
CC-BY-SA
unless otherwise noted.