Last edited:
5 March 2016
This article is about an entity that either no longer exists or that may no longer be active in solar cooking promotion. It is retained here for archival purposes.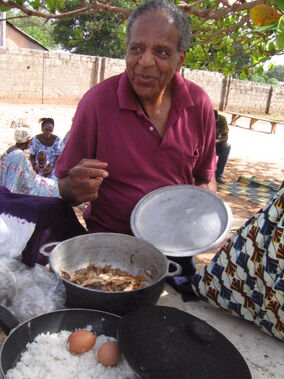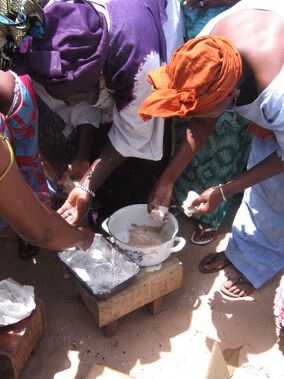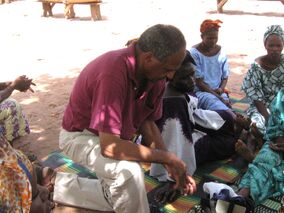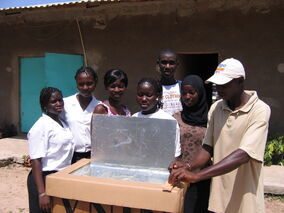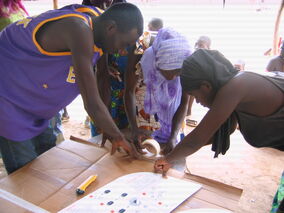 Tilo Tabiro is no longer active. Adventures in Health, Education, and Agricultural Development (AHEAD) continues to be active in the villages in The Gambia and advocates for conservation of trees, a cleaner environment and prudent use of material resources.
In 2008, the nongovernmental organization AHEAD conducted solar cooking training in five villages in The Gambia. Malcolm Gee led workshops to train 12-15 women per village in the construction and use of panel-type solar cookers. Eighty women were trained, who in turn have trained others. The women cooked meals of fish, rice, and vegetables in the cookers, and are experimenting with other traditional dishes. They have formed a trainers' cooperative called Tilo Tabiro.
News and recent developments
[
]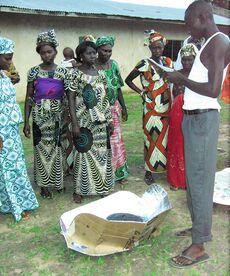 November 2012: Tilo Tabiro expands Integrated Cooking Method to Four More Villages in The Gambia - This year we have expanded to four more villages in The Gambia in addition to other existing ones. We have trained 483 women in 10 villages this year, namely Jarra Toniataba, Foni Kanlagi, Foni Sangajor, Kartong, Siffor, Siyone, Ker Cherno, Kerewan, Gunjur and Bakau. We set up an enterprise to some of these villages in order to sustain the project and trained women in both panel and box cookers and also introduced rocket stove as well. All these are being enjoyed by the women of these communities. Also introduced to President's International Award Youth Enterprise and Skill Centre where we taught students the basic knowledge of solar cookers. We are working hard with in developing the solar cookers to the highest level. We the Tilo Tabiro group have also signed a Memorandum of Understanding with our Ministry of Energy in 2010 and we are working in partnership with Gambia Women's Finance Association (GAWFA). We have three trainers and Yasanou Jobe as our new financial controller and Mr. Malcolm Gee and Lamin Sawo as the country coordinators. We have not receive funds from The Gambia government and we had poor response from the donation letters sent to some institutions within the United States, but the conducive environment in The Gambia made life easier than it would have been if it were otherwise. We have limited funds. The major problem we are facing now is finance. It will be of great pleasure to receive more support in cash and kind in other to help and safe women and our environment especially for the future generations. This will also help us to expand to much more communities.
September 2011: AHEAD and Tilo Tabiro have expanded to two more villages in the Gambia this summer. Malcolm Gee and Lamin Sawo led the workshop to train 25-30 women per village in constructing panel solar cookers and box cookers. The women cooked meals of rice, fish, vegetable and baked bread in the cookers.
December 2009: Audio interview with Lamin Sawo
September 2009: Lamin Sawo reports, "Having successfully completed the other phase of the training, this year we introduce box cooker to women in the communities, they will start money making enterprise by making bake foods and selling to sustain the project." Mr. Malcolm Gee the AHEAD Coordinator and TILO TABIRO received the President's International Award (PIA) of The Republic the Gambia. The award was presented by the Vice President of The Gambia, Aja Isatou Njie Saidy. "Towards their outstanding contribution and development of young people and the women in the communities."
July 2008: Lamin Sawo reports, "From 2nd June to date we are expanding and we had met 7 communities and trained 712 new women in the 7 new villages in the country. We trained them the basic knowledge of solar cooking and the benefit of this latest technology. The women appreciated the new technology we are training. And they promise to work as a team to help the other communities with the technology. Our aim is to reach the whole country within 5 years with the latest technology."
See also
[
]
Contact
[
]
Lamin Sawo
Country Coordinator
INOVATIVE SOLAR COOKING GAMBIA
TILO TABIRO
Tel: +1 (347) 766 1552
Email: lfsawo@hotmail.com
Malcolm Gee
Director, Gambian Programs
AHEAD
Tel: +1 (410) 448 0938
Email: mgee2440@verizon.net