Jurassic World: Dominion Dominates Fandom Wikis - The Loop
Play Sound
Last edited:
6 August 2019
Events
[
]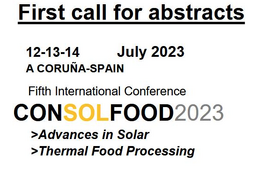 NEW: 

12-14 July 2023 (A Coruña, Spain): CONSOLFOOD2023 - Organizers have released a first call for abstracts to participate in the Fifth International Conference, taking place in Spain in 2023 as an in-person conference. The deadline for submission is 15 December 2022. More submittal information...
See also: Global Calendar of Events and past events in Turkey
News
[
]
January 2011: The U.S. Department of State recently awarded a $100,000 USD grant to the Foundation for the Support of Women's Work (FSWW) to launch a year-long solar cooking project. According to the Hürriyet Daily News, the project will have two phases. During the first phase, educational seminars about the effects of climate change are planned in several communities — Istanbul, the Marmara district of Bandırma, the southern province of Hatay, and the southeastern province of Mardin. Renewable energy sources will be discussed as alternatives to smoky cooking fires. An estimated 2,000 solar cookers will be built and sold by women's groups during the second phase of the project, providing needed income opportunities.
August 2006: Longtime solar cooking advocate and trainer Wilfred Pimentel, along with Ken Goyer and Cynthia Wee, led a two-day integrated cooking workshop in Pambak, Vanadzor, Turkey. They taught three technologies: solar cookers, fuel-efficient stoves and heat-retention cookers. With access to these complementary technologies, food can be cooked regardless of time of day and season, and with a maximum of overall fuel savings. The group demonstrated both panel-type and parabolic-type solar cookers, though the region's altitude and climate limit the amount of solar cooking that can be done with simple solar cookers. Seventeen people from a number of Armenian villages attended the workshop, held at the Peace Corps training center. Each participant received a CooKit and educational literature. They plan to return to their villages and begin teaching others about integrated cooking.
March 2006: Rotarian Abdullah Paksoy and his solar energy/fuel efficiency team from Misis, along with trainers from the United States, led multi-day demonstrations in the cities of Gazientep and Adiyaman. Rotary club members attended presentations and saw examples of solar cookers and fuel-efficient wood stoves in action. Fifteen household solar cookers and one community solar cooker were on display at a village square demonstration witnessed by more than 70 people. Bulgur, chicken, rice, and eggplant were among the dishes cooked. A fuel-efficient wood stove was used for baking bread. Forty women attended a demonstration held in a cotton field where they worked. The women brought food to be solar cooked for their midday meal. During the past five years, the Rotary Club of Adana-Seyhan, with leadership from Mr. Paksoy, has developed a functioning education center in Misis for teaching about solar cookers and for housing inventory and equipment. About 3,000 CooKits have been manufactured in Adana, and over half have been distributed. Mr. Paksoy admits that teaching women to adopt changes in their long-established, traditional cooking habits is a very slow process. Firewood shortages and rising gas prices play an increasingly important role in this transition. Mr. Paksoy's team has also begun to spread solar cooking to Armenia.
July 2004: The Seyhan Rotary Club in southeastern Turkey reports nearly 2,000 solar panel cookers produced and distributed — over 800 through training workshops and 1,000 supplied in an earthquake disaster relief effort in Turkey.
History
[
]
Rotary Club project in Adana
A large project was initiated in 2001 in the central Turkey city of Adana, through the initiative of Rotarian Abdullah Paksoy and his colleagues in the Sehan Rotary Club of that city. Working with a California Rotary member, Wilfred Pimentel, and aided by several other Rotary clubs in England and Canada, the project began with a visit to Adana by three Rotary volunteers.
The chosen site was a small town, Misis (new name for the former Yakapinar), located some 20 km from Adana. Activity centered at the local elementary school in a section of numerous new houses, mostly built or repaired after the area was hit by a major earthquake in 1998.
The elementary school principal, also a Rotarian, assembled a group of pupils' mothers to meet with Abdullah and the volunteers shortly after their arrival. Women were skeptical, naturally, but agreed to come and listen. Twelve women were trained, assembling in the school's "teachers' lounge," a tiny freestanding building with one gas burner and an Asian-style toilet. All training, including considerable solar cooking, was conducted in the sunny schoolyard, watched constantly by an endless stream of curious and very friendly children.
The initial training required two days (translation takes considerable time), but the Turkish women were intrigued enough to stick it out, and were amazed when wonderfully well-cooked food emerged from their pots. On the first day, the volunteers cooked lunch for all; on the second, the trainees brought food from home to cook and take home to their equally incredulous families. All but one of initial trainees purchased their CooKit, with pot (already painted) and bags. (The one who did not purchase was found to be unable to afford the small amount [approximately USD 5] and one was made available to her by a soft-hearted member of the training team.)
In the week following the training, all the new cooks were visited in their homes by the volunteer team members, checking on where the cookers were being used, bag procedure, orientation to the sun, etc., just to be sure all had understood the essentials. It was quickly clear that the trainees had caught on to all, were excellent cooks themselves, and that the Turkish cuisine was well suited to solar cooking. The group convened again regularly to discuss with one another the results they were having, their families' reactions, etc. Following that, the next step was another training process — converting the new cooks into trainers.
Nine of the 12 were willing to become trainers (some had family responsibilities that prevented them from doing so). The day was filled with role playing, with many practical tips on teaching, and focused on participatory learning practices. Solar Cookers International's excellent teaching manual was translated into Turkish so each new trainer had a copy, plus enlarged diagrams illustrating the major points their students needed to know, the "must haves" for solar cooking. After the training, all participants paired in teams of two to recruit neighbors and friends to receive the training that they had received from the international volunteers. All of the new trainees proved adept, and the training process was faster as no translation was required.
Within a month, and around the time that the volunteers were due to leave, the newly trained solar cookers held a solar picnic for the Adana Rotary Club and their spouses on a sunny Saturday. One hundred fifty people were fed from 33 pots of delicious food, including stuffed grape leaves, chicken, ratatouille, and pilafs. The food disappeared in moments and the women were touted as spectacular cooks and masters of the new cooking technique.
The next step was application for a substantial grant from Rotary International, which was granted and became available in late 2002. The project struggled in that interim period, doing demonstrations, training others, etc., but without resources to undertake more systematic expansion until the larger grant dollars arrived. Once the resources were received, a more ambitious program of expansion was in place to export the project to similar places by simply replicating the process in other towns, spreading outward from Misis itself to neighboring communities, and adding special populations to its concern (handicapped children, homeless, migrant workers, earthquake victims, etc.). A small building on the school grounds in Misis was converted into a resource center for the project, replacing the previous location in the teachers' lounge. The project was also given a Villager (community-sized box cooker), for use in a home for handicapped children, also initiated by Rotary. Interested persons are urged to turn to the case study for a more detailed description and many stories of the training and expansion process.
It is sometimes said that "imitation is the most sincere form of flattery." That was the case when an Adana manufacturer of cookware, intrigued by the promise of the CooKit in this country, where the sun's power is strong a significant period of the year, began to offer a free CooKits as incentives to consumers to buy his brand of cooking pots. The pots were heavy and non-stick, and expensive for the Turkish market.
The Rotary club members were initially taken aback by the sudden appearance of a rival solar cooking promoter. They worried, rightly, about the training in use of the CooKit that people would get if they only purchased a pot in a store and were given a CooKit. There was however nothing they could do about the circumstances, other than a bit of grumbling. There is no patent on the CooKit and all are freely urged to copy it and make use of it as fits their needs.
The pot manufacturer also manufactured a parabolic cooker, which he offered as incentive to buy a large sets of pots. The parabolic cooker was smaller than the German variety. In just two years, this area of Turkey went from little to no knowledge of solar cooking to experience with a wide range of devices and multiple programs with solutions for a variety of settings (including emergencies). The credit is due to the perseverance of the Rotary leadership and to the nature and dedication of the kindly, mature, enthusiastic women of the trainer corps.
Archived articles
Climate and culture
[
]
Resources
[
]
Possible funders
[
]
Reports
[
]
Articles in the media
[
]
External links
[
]
Contacts
[
]
The entities listed below are either based in Turkey, or have established solar cooking projects there:
SCI Associates
[
]
NGOs
[
]
Manufacturers and vendors
[
]
Individuals
[
]
Government agencies
[
]
Educational institutions
[
]
See also
[
]
References
[
]