Last edited:
12 February 2021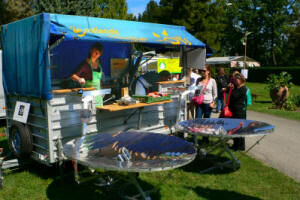 ULOG Freiburg sells complete solar ovens and solar food dryers in various sizes and assembly kits. Courses on the construction of their products can be organised on demand. They offer workshops, lectures and school projects around the globe.
The company does not promote solar energy at any cost, but where it makes most sense. At the invitation of organisations in other countries, they send a senior expert to hold workshops on solar oven and solar dryer construction or train craftsmen on the calculation and construction of solar kitchens: technology transfer should be fair.
However, technology transfer alone does not solve all problems. Every project needs to be adapted to the social and environmental uniqueness of each area if it is to be sustainable. ULOG Freiburg's activities have sown the seeds for change in many countries covering the continents of Europe, Africa, Asia and South America.
sunInside
Email: sunInside
Tel: +49-761-5192443
See Rolf Behringer.
Community content is available under
CC-BY-SA
unless otherwise noted.