Last edited:
12 February 2021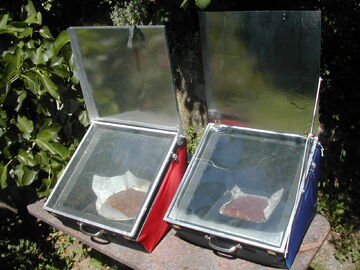 The ULOG light is a commercial box solar cooker, portable and very light, designed for countryside days. It can cook for three people. It's available ready to be used as well as dismantled in a kit. Its materials made the cooker quite resistant to stay outside. The cooker can reach temperatures higher than 130 ºC.
Materials
[
]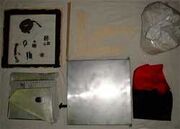 The body of the oven is shaped by a plywood 'skeleton', with wool as insulation, and recycled printing aluminium sheets (black painted) to make the interior accumulation box. The exterior case is made of nylon fabric. The capitation window includes a wood frame and a double window: glass towards the interior and a plastic sheet in the exterior side. The reflector is also made with recycled aluminium sheets
Dimensions/Weight
[
]
Dimensions: Base: 50 X 52 cm. With the reflector closed, has a maximum height of 45 cm. With the reflector completely open it reaches a maximum height of 94 cm.
Weight: 5 kg (without recipients).
See also
[
]
External links
[
]
Contact
[
]
Dr. Michael Götz
ExSol and Solemyo
15, rue des Gares
CH-1201 GENEVA
Switzerland

Tel.: 00521 9511 309 722
Email: exsol@cuisinesolaire.com