Last edited:
8 August 2022
Events
[
]
Featured international events
[
]
NEW: 

Niti Aayog: LiFE Global Call for Ideas and Papers (Applications Close: 31st December 2022, 11:59 PM IST) - The international group is seeking scientific and scalable ideas that can nudge individuals or households to adopt climate-friendly behaviors in their daily lives which, when accumulated globally, can significantly contribute to climate change. Prime Minister of India Shri. Narendra Modi launched the initiative on 5th June 2022, joined by leaders such as Mr Bill Gates, Co-Chairman of Bill & Melinda Gates Foundation; Lord Nicholas Stern, Climate Economist; Prof. Cass Sunstein, Co-author of Nudge Theory; Ms Inger Andersen, UNEP Global Head; Mr Achim Steiner, UNDP Global Head and Mr David Malpass, World Bank President and others. More program and application information at: https://www.niti.gov.in/life#applications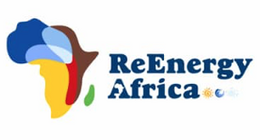 NEW: 

26-27 October 2022 (Kigali, Rwanda) 3rd Annual ReEnergy Africa Summit - Powering Business in Africa: Renewables Beyond Subsidies and Emerging Markets - The summit will take place at the Kigali Marriot Hotel, and will be the first summit with an in-person format with a virtual attendance option. ReEnergy Africa Summit - 2022 Agenda. A landmark global gathering event bringing people together to take stock of progress, showcase success and identify solutions to achieve faster, broader gains towards sustainable and affordable clean energy for all. It serves as a platform to broker new partnerships, spur investment, address challenges and drive actions towards clean energy transition and the realization of SDG7 in Africa by 2030. In-person and virtual registration information...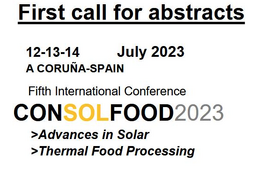 12-14 July 2023 (A Coruña, Spain): CONSOLFOOD2023 - Organizers have released a first call for abstracts to participate in the Fifth International Conference, taking place in Spain in 2023 as an in-person conference. The deadline for submission is 15 December 2022. More submittal information...
See also: Global Calendar of Events and past events in USA
News
[
]
NEW: 

August 2022: Roasting New Mexican chiles - On 21 October 2021, Kenneith Armijo, an engineer at Sandia National Laboratories in Albuquerque, New Mexico, USA was at the top of a 200-foot-tall tower at the lab's Solar Thermal Test Facility. In his possession was a sack of 22 pounds of New Mexican chiles. His mission: to roast them using only the power of the sun. Each year, the state produces more than 150 million pounds of chiles, the majority of which are harvested and roasted in steel drums from the end of August through October. But chile roasters across New Mexico burn enough propane yearly to release 7,800 metric tons of carbon dioxide into the atmosphere. By setting up a traditional steel-drum tumbling roaster at the top of the facility tower and focusing dozens of heliostats, or mirror-like devices, on it, he was able to maintain consistent roasting temperatures of around 482 °C (900 °F). The 22 pounds of chiles he roasted that day saved 2.68 pounds of greenhouse gas emissions compared to a similar batch roasted with propane. Read more at Gastro Obscura...
January 2021: Grant for solar cooking lending at library - The Hubbard Public Library in Ohio has received a grant from Constellation Energy Resources, LLC to implement a solar cooker lending program. Specifically, the funding was used to purchase an All American Sun Oven and selected accessories. "Constellation's Community Champions program is designed to support causes that are important to the community, especially those causes for which the project, organization, or initiative focuses on education, environment, or youth,"
October 2020: Luther Krueger is establishing himself as one of the foremost solar cooking enthusiasts in North America. He has created a solar cooker museum, with many of the cookers preparing meals in his Minneapolis, Minnesota, USA backyard. The goal is to have one of every solar cooker ever produced. He also recently completed a tour of the western United States to visit with a number of other enthusiasts and solar cooking professionals to record dialogue for his solar cooking podcast. On his trip Luther acquired a Villager Sun Oven, which he towed back home to Minnesota. Solar Today published a profile of Luther in their Fall 2020 publication Cookin'in the Sun.
History
[
]
Some of the many solar cooking non-governmental organizations based in the US are Solar Cookers International (SCI), Rotary International, the Solar Oven Society, and Solar Household Energy, Inc.
Sacramento Municipal Utility District
No precise numbers are available, but estimates suggest that perhaps as many as 10,000 Americans use solar cookers regularly. The electrical utility of the Sacramento, CA area, the Sacramento Municipal Utility District (SMUD), has been a strong supporter of solar energy usage. SMUD serves an area of more than a million people. Under earlier leadership, it pioneered the development of cleaner electricity generation, including building the first solar-powered generating station in the United States. It has offered rebates for replacing old appliances with energy-efficient equipment, and it cooperated in planting trees to lower the cost of air conditioning to consumers, as examples. For purposes of this report, it is important to note the strong support of SMUD for solar cooking education, including outreach to schools and community organizations. They have placed solar cookers with Scout troops, offered workshops in 65 schools of the area, and made available plans to build cookers to customers throughout their service area. In 1991, SMUD even produced a solar cooking cookbook. Reducing the use of electricity is in everyone's interest; this interesting example of a public utility's contribution to solar cooking as one contribution to solving the problem was noteworthy.
George Loff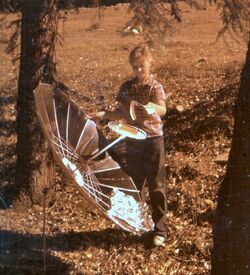 The late George Lof, a former director of the Industrial Research Institute at the University of Denver, Colorado, was an early pioneer of solar-powered technology, including solar cooking. In the fifties, he experimented with a parabolic solar cooker design that he dubbed the "Umbroiler" because of its umbrella-like structure. He marketed the design, but it was a commercial failure for the times.
Kerr-Cole Sustainable Living Center
Considerable activity can also be found in the state of Arizona, probably the sunniest of the U.S. fifty states. The most important solar cooking fact about Arizona is that the late Barbara Kerr, the foremost expert on solar cooking in the U.S., lived in a small community in this state. She created and lived in the Kerr-Cole Sustainable Living Center, which demonstrates a wide range of ways to live lightly, rather than destructively, on the earth. Barbara is the author of several books (The full text of one is here) and articles on solar cooking, the creator and marketer (with her colleague, Sherry Cole) of a cardboard box cooker, the refiner of the CooKit as the first inexpensive but efficient solar cooker, and a never-ending source of information to those who seek her knowledge on the internet. A visit to Taylor, Arizona, is a trip to an important piece of solar cooking history.
Individuals
Solar devices are also manufactured in this area. Early pioneers, the late Bob Larson and his wife Heather Larson, produced cookbooks and plans for solar dryers until their untimely deaths. Jay Campbell, a New Mexican engineer, has invented a range of cooking devices that won prizes for ingenuity and efficiency, though he is not a manufacturer but rather an idea person. One firm, Zone Works, makes and sells parabolics out of Albuquerque, NM.
Solar Oven Society
Unlikely as it may sound, the state of Minnesota has also made contributions to the development of solar cooking. Mike and Martha Port, founders of the Solar Oven Society, have worked in a variety of Central American and Caribbean nations on various projects. Recently, they completed research and development of a new cooker, manufactured from recycled soda bottles; the device will help to fill the gap between the very inexpensive (but not so long lasting) CooKit and the more expensive box or parabolic cookers. With the assistance of a small business development grant from the State of Minnesota, charitable contributions from a range of churches and organizations, and the dedicated volunteer labor of the Ports over many years, they have recently been able to begin the sale and marketing, both in the U.S. and abroad, of the Sport. A collectivity of Minnesota churches made possible the shipment of 400 unassembled cookers to Afghanistan for sale at a subsidized price to people whose need for cooking energy is great.
Nevada Solar Cookers Association
The Nevada Solar Cookers Association was formed to share recipes, ideas, and stories and to spread the news about solar cooking in their area. Solar Cooker Review, March 2003.
Solar Cookers International
The Sacramento, California NGO Solar Cookers International, the sponsor of this Wiki, has worked since 1989 to promote solar cooking around the world.
Archived articles
Climate and culture
[
]
Resources
[
]
Possible funders
[
]
Facebook groups
[
]
Solar cooking blogs
[
]
Solar cooking clubs
[
]
Project evaluations
[
]
Reports
[
]
Articles in the media
[
]
Audio and video
[
]
Contacts
[
]
The entities listed below are either based in USA, or have established solar cooking projects there:
SCI Associates
[
]
NGOs
[
]
Manufacturers and vendors
[
]
Individuals
[
]
Government agencies
[
]
Educational institutions
[
]
See also
[
]
References
[
]