Last edited:
22 February 2021
Events
[
]
NEW: 

15-17 September 2021: Climate Chance Summit Africa 2021 - Registration is open to attend the virtual 3rd edition of the Climate Chance Africa Summit. Three days of sessions on key themes and sectors of climate action hosted by non-state actors engaged in climate change in Africa. There is no charge for attendance, but registration is required
NEW: 

Friday, 17 September 2021 (10:30am CDT, 15:30 GMT): Homeschool program on solar cooking - The Syracuse-Turkey Creek Township Public Library, in Syracuse, Indiana, USA, offers online programs for homeschool students on Fridays at 10:30am. This program is described as learning to build and use a solar cooker. Read more...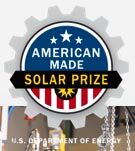 NEW: 

5 October 2021: American made solar competition - The U.S. Dept. of Energy is sponsoring a a multi-part competition to spur solar manufacturing, develop innovative solar solutions and products, and create domestic jobs and opportunities through public-private partnerships. The contest is open to U.S. residents, and the final phase is still open for submittals until 5 October 2021. Much of the attention has been with photovoltaic solutions, and this last phase is structured with two tracks that focus separately on hardware and software components. Solar cooking equipment should qualify as hardware solutions. Read more about the competition...
NEW: 

22-26 November 2021: 2nd National Congress for Solar Drying and Cooking Food - An affiliated group of universities in Mexico will host an online conference relating to solar food drying and cooking, as well as, food safety and energy savings realized with minimal environmental impact. Participants can register to view the presentations, or apply for presentation consideration. The conference will be in Spanish. Registration information... - (English version)
17-23 December 2021: Solar Cooking Awareness Week (Southern Hemisphere) - A loosely organized bid to acknowledge the fun and benefits of solar cooking. Show someone how to solar cook and share a meal.
24-26 January 2022: Fourth International Conference: Advances in Solar Thermal Food Processing - CONSOLFOOD Chairman, Celestino Ruivo, has announced an extended call for abstracts for the upcoming conference in January 2022, which is now planned to be an online event. Advances in solar cooking as well as solar food processing will be considered for inclusion. The event schedule and submission requirements are in CONSOLFOOD 2022 conference information.
See also: Global Calendar of Events and past events in USA
News
[
]
January 2021: Grant for solar cooking lending at library - The Hubbard Public Library in Ohio has received a grant from Constellation Energy Resources, LLC to implement a solar cooker lending program. Specifically, the funding was used to purchase an All American Sun Oven and selected accessories. "Constellation's Community Champions program is designed to support causes that are important to the community, especially those causes for which the project, organization, or initiative focuses on education, environment, or youth,"
October 2020: Luther Krueger is establishing himself as one of the foremost solar cooking enthusiasts in North America. He has created a solar cooker museum, with many of the cookers preparing meals in his Minneapolis, Minnesota, USA backyard. The goal is to have one of every solar cooker ever produced. He also recently completed a tour of the western United States to visit with a number of other enthusiasts and solar cooking professionals to record dialogue for his solar cooking podcast. On his trip Luther acquired a Villager Sun Oven, which he towed back home to Minnesota. Solar Today published a profile of Luther in their Fall 2020 publication Cookin'in the Sun.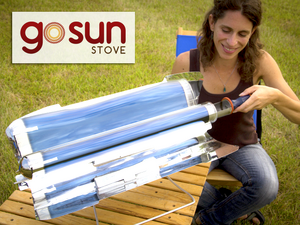 October 2018: Solar Cookers International held a solar oven demonstration at the San Diego Clean Energy Fair. The event also featured several clean energy-related workshops and presentations on topics including solar energy, energy storage, and electric and hybrid vehicles. Read more...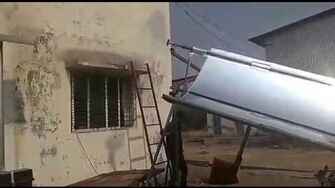 May 2018: Dr. Ajay Chandak, Solar Cookers International Global Advisor, seeks a US partner for project development of inclined trough solar concentrator for a grant from the United States-India Science and Technology Endowment fund (IUSSTF): "Commercializing Technologies for Societal Impact." The pilot project can be seen in this video: Link to Pilot Project. Dr. Chandak is confident the cost of this concentrator will be at least 40% less than the corresponding cost of concentrators in the market. The fund aims to select and financially support promising joint US-India entrepreneurial initiatives. Grant size: up to INR 2.50 Crores (approx. $400,000 USD). To participate, contact Dr. Chandak well before the 15 June 2018 deadline: renewable.consultant@gmail.com
April 2018: Solar cooking in Puerto Rico after Hurricane Maria - In February and March, MSA Renewtech Foundation (India) and the United Clergy Task Force (UCTF) (US) responded to requests from ten faith-based communities in rural Puerto Rico for community-sized solar cookers. With private funding, coordination by UCTF, training by Mr. Pranav Gadhia of MSA Renewtech, and bilingual technical instructions, curriculum, and survey tools from Solar Cookers International (SCI), ten faith congregations of more than 100 people each are being trained in the assembly and use of the PRINCE-40 parabolic dish solar cooker in rural Puerto Rico. In late April, Ms. Anne Patterson, an SCI Global Advisor, will deploy 25+ Solavore solar ovens from Punta Santiago to the Toro Negro rain forest and Morovis.  Most of these places are still largely without power and families spend a lot of money on fuel for generators. Monitoring and evaluation are incorporated into this project to track results. The evaluation tools used in these projects can be downloaded from http://www.solarcookers.org. Also available in Spanish from SCI.
July 2017: Old school bus becomes a solar dryer - The resourceful staff and students at the remote Kua O Ka La Public Charter School in Pū'ala'a, Hawaii, have converted an old school bus into a solar food dehydrator. Off grid, a primary goal at the school is to be able to run everything with solar power. More information...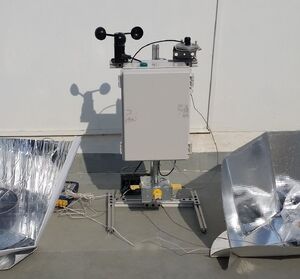 June 2017: Solar Cookers International (SCI) launches pilot solar cooker testing centers in California and New York - The purpose of this pilot project is to check the repeatability, reliability, and reproducibility of results from SCI Performance Evaluation Process (PEP) testing stations for solar cookers, irrespective of location. SCI's pilot testing centers are located at different latitudes and at different elevations. The two locations also experience different weather conditions. The solar cookers, the cookware, and the testing instrumentation, however, are the same at both locations. This pilot project is testing sets of three types of solar cookers: reflective-panel cookers, box ovens and parabolic reflectors. The PEP results provide cooking power measured in Watts, which is only one of many ways to evaluate solar cooker performance. In June, weather conditions at SCI's pilot testing centers are well suited for testing solar cookers according to the ASABE S580.1 protocol for Testing and Reporting Solar Cooker Performance. This protocol requires that outdoor ambient temperature must be between 20 - 35 °C (68 - 95 °F). This temperature range is generally available at both SCI pilot testing centers between the vernal (spring) equinox and the autumnal (fall) equinox. Testing days within the required temperature range should also be clear days with consistent solar energy. SCI welcomes others to join this pilot solar cooker testing project to validate the reproducibility of the SCI PEP testing stations. By using the same instrumentation, results have a consistent format for data comparison. Potential project partners can access the assembly manual for the SCI PEP testing station, available as open-source content online at SCI's PEP web page. To join SCI's pilot solar cookers testing project, email info@solarcookers.org
May 2017: Solar cooking project builds on STEAM - Middle school students in Springfield, Oregon, USA, were exposed to a multi-facetted lesson plan, with their challenge to design and build their own solar cooker. The lesson met the requirements for STEAM recognition. To qualify, a project typically integrates each of the core classes, including math, science, language arts, and social studies. STEAM stands for science, technology, engineering, art and math. Read more...
March 2017: Solar Cookers International is nominating a team of solar cooking experts for the UNHCR Energy Expert Roster to provide solar cooking consultancy to refugee camps.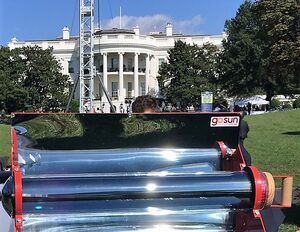 September 2016: The PPG Foundation has provided financial support for a solar oven engineering/science project for second-grade students in Texico, Illinois.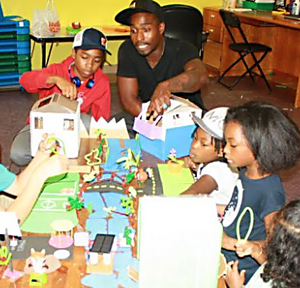 August 2016: Children learn about their solar future - At a weeklong day camp in Minneapolis, Minnesota, USA, young participants learned how solar energy will integrate into their coming lives. They learned to build solar lanterns, design a solar oven to bake a cake, and working in teams, design their own solar-powered devices. Read more...
July 2016: Solar cooker manufacturer receives rational certification as a women's business enterprise - WBENC's national standard of certification is a meticulous process including an in-depth review of the business and site inspection. The certification process is designed to confirm the business, in this case Solavore, is at least 51% owned, operated, and controlled by a woman or women. Read more...
October 2015: University of Arizona students have "Solar Oven Throwdown" - UA faculty have designed a course that includes a solar cooker contest for students who are considering a career in engineering, be they freshmen at the UA or upperclassmen at certain local high schools. It is a chance to learn about how engineering works by working through design and construction of a device with a team. Read more... - Arizona Public Media
July 2015: Tracking solar cooker headed to middle school - The Civano Middle School located in Tucson, Arizona, USA, will be receiving a tracking solar box cooker for fall semester. Students will be able to learn firsthand about solar cooking. The cooker and tracking system has been designed by C. Alan Nichols, an engineer from the Tucson area. Read more about the system at The Tracking Solar Cooker.
June 2015: Solar cooking meets the tech community - Chef José Andrés invited Kirk Smith, a Professor of Environmental Health Sciences, at UC Berkeley, USA, to join him at a panel discussion for environmentalists challenging the tech community held in Silicon Valley, California. Dr. Kirk has discounted solar cooking in the past, but now feels it is a viable part of the clean cooking solution to help preserve the environment and improve the health of the many cooks cooking over open fires. Dr. Smith and Andrés called on the audience to go back to their employers – the technology companies of the Bay Area – and apply as much innovative thinking to clean cooking as has been applied to electric cars and evolving the jet engine. Delicious solar-cooked mushroom tacos were prepared on the grounds outside of the conference. More information
January 2015: Irene Perbal has explained how she used her experience promoting solar cooking in Sudan and Brazil to help out back in her home state of California, USA. She has been encouraging the use of solar cooking at local food banks. She began doing talks and seminars to train locals on how to build and use the cookers, including the underserved frequenting the food banks. Often her presentation includes sharing a lunch of solar cooked lasagne. Thinking Globally and Acting Locally - Huffington Post
History
[
]
Some of the many solar cooking non-governmental organizations based in the US are Solar Cookers International (SCI), Rotary International, the Solar Oven Society, and Solar Household Energy, Inc.
Sacramento Municipal Utility District
No precise numbers are available, but estimates suggest that perhaps as many as 10,000 Americans use solar cookers regularly. The electrical utility of the Sacramento, CA area, the Sacramento Municipal Utility District (SMUD), has been a strong supporter of solar energy usage. SMUD serves an area of more than a million people. Under earlier leadership, it pioneered the development of cleaner electricity generation, including building the first solar-powered generating station in the United States. It has offered rebates for replacing old appliances with energy-efficient equipment, and it cooperated in planting trees to lower the cost of air conditioning to consumers, as examples. For purposes of this report, it is important to note the strong support of SMUD for solar cooking education, including outreach to schools and community organizations. They have placed solar cookers with Scout troops, offered workshops in 65 schools of the area, and made available plans to build cookers to customers throughout their service area. In 1991, SMUD even produced a solar cooking cookbook. Reducing the use of electricity is in everyone's interest; this interesting example of a public utility's contribution to solar cooking as one contribution to solving the problem was noteworthy.
George Loff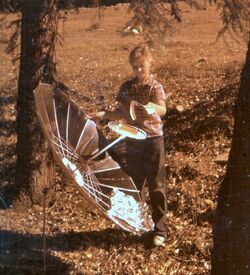 The late George Lof, a former director of the Industrial Research Institute at the University of Denver, Colorado, was an early pioneer of solar-powered technology, including solar cooking. In the fifties, he experimented with a parabolic solar cooker design that he dubbed the "Umbroiler" because of its umbrella-like structure. He marketed the design, but it was a commercial failure for the times.
Kerr-Cole Sustainable Living Center
Considerable activity can also be found in the state of Arizona, probably the sunniest of the U.S. fifty states. The most important solar cooking fact about Arizona is that the late Barbara Kerr, the foremost expert on solar cooking in the U.S., lived in a small community in this state. She created and lived in the Kerr-Cole Sustainable Living Center, which demonstrates a wide range of ways to live lightly, rather than destructively, on the earth. Barbara is the author of several books (The full text of one is here) and articles on solar cooking, the creator and marketer (with her colleague, Sherry Cole) of a cardboard box cooker, the refiner of the CooKit as the first inexpensive but efficient solar cooker, and a never-ending source of information to those who seek her knowledge on the internet. A visit to Taylor, Arizona, is a trip to an important piece of solar cooking history.
Individuals
Solar devices are also manufactured in this area. Early pioneers, the late Bob Larson and his wife Heather Larson, produced cookbooks and plans for solar dryers until their untimely deaths. Jay Campbell, a New Mexican engineer, has invented a range of cooking devices that won prizes for ingenuity and efficiency, though he is not a manufacturer but rather an idea person. One firm, Zone Works, makes and sells parabolics out of Albuquerque, NM.
Solar Oven Society
Unlikely as it may sound, the state of Minnesota has also made contributions to the development of solar cooking. Mike and Martha Port, founders of the Solar Oven Society, have worked in a variety of Central American and Caribbean nations on various projects. Recently, they completed research and development of a new cooker, manufactured from recycled soda bottles; the device will help to fill the gap between the very inexpensive (but not so long lasting) CooKit and the more expensive box or parabolic cookers. With the assistance of a small business development grant from the State of Minnesota, charitable contributions from a range of churches and organizations, and the dedicated volunteer labor of the Ports over many years, they have recently been able to begin the sale and marketing, both in the U.S. and abroad, of the Sport. A collectivity of Minnesota churches made possible the shipment of 400 unassembled cookers to Afghanistan for sale at a subsidized price to people whose need for cooking energy is great.
Nevada Solar Cookers Association
The Nevada Solar Cookers Association was formed to share recipes, ideas, and stories and to spread the news about solar cooking in their area. Solar Cooker Review, March 2003.
Solar Cookers International
The Sacramento, California NGO Solar Cookers International, the sponsor of this Wiki, has worked since 1989 to promote solar cooking around the world.
Archived articles
Climate and culture
[
]
Resources
[
]
Possible funders
[
]
Facebook groups
[
]
Solar cooking blogs
[
]
Solar cooking clubs
[
]
Project evaluations
[
]
Reports
[
]
Articles in the media
[
]
Audio and video
[
]
Contacts
[
]
The entities listed below are either based in USA, or have established solar cooking projects there:
SCI Associates
[
]
NGOs
[
]
Manufacturers and vendors
[
]
Individuals
[
]
Government agencies
[
]
Educational institutions
[
]
See also
[
]
References
[
]