April 2014: Building material supplier in Kenya imports solar cooker supplies - Roger Haines reports that Global Hardware, Ltd., a prominent Nairobi, Kenya building supply company, globalhardwarekenya@gmail.com, has agreed to purchase a large quantity of reflective foam insulation and polycarbonate plastic film for resale at low cost to solar cooking entrepreneurs. This is expected to reduce to less than USD 10 the wholesale cost of materials in Nairobi for the newly designed Haines Solar Cooker. The hope is that the availability of these inexpensive materials will promote the creation of new solar cooking entrepreneurs in East Africa. Haines' San Diego Rotary Club will purchase materials for 500 of the new cookers for distribution by the Rotary Club of Gulu, Uganda.
March 2014: Cooking Resource Center under construction in Biharwe - Kawesa Mukasa, director for the Solar Connect Association, reports that construction is underway for the Renewable Energy for Cooking Resource Center located in Biharwe, Uganda. The center will provide all types of fuel-efficient cook stoves, both solar and biomass, which will be fabricated at the center. The center will also distribute information on renewable energy for cooking and train young people to create small-scale enterprises in fabrication and distribution of solar cookers and efficient biomass stoves. The construction of the Renewable Energy Center is being funded by SCA with support from Solar Cooking Netherlands and Wilde Ganzen.
August 2013: Uganda NGO with proven profitability plans for expansion at new location - Henk Crietee from Solar Cooking Netherlands was in Uganda for two weeks in early August to evaluate Solar Connect Association (SCA) project activities. During Crietee's visit, a piece of land was secured in Mbarara on which SCA will construct a building to house a new Renewable Energy Center. Integrated solar cooking appliances will be produced, advertised, and sold from this new location, which will offer better exposure for their products to local residents, tourists, and political opinion leaders. While SCA has shown itself to be relatively self-sufficient in terms of covering operation costs, through the sales of solar cookers, hay baskets and rocket stoves, they cannot afford to construct a new building yet. Participation by Solar Cooking Netherlands with help in securing the land has been appreciated. Donors wishing to help contribute to the building construction can contact Solar Cooking Netherlands. This fledgling effort is another example that demonstrates solar cooking, and related integrated cooking methods, can be a successful business by incorporating local manufacturing, sales, and long-term consumer support.
February 2013: Solar Connect Association has made a lasting impact on people's lives in Uganda - They have a production facility for solar cookers, hay baskets, and WAPIs, as well as a retail outlet in the Mbarara district of western Uganda. The facility in Mbarara is now self-sustaining financially, after years receiving support from donors, by being able to sell their products for a modest profit. Solar Connect Association has now opened a new distribution center in Kampala. The Kampala distribution center will help reach the rest of the country, South Sudan, Eastern Congo, as well as Rwanda and Burundi. They still need some logistical support from any donor, in the form of a distribution van/pick-up vehicle for this Kampala Distribution Center. Selling from nine stores in various villages, the association has sold 770 solar panel cookers, 770 WAPIs, 301 hay baskets, 37 solar box cookers, 846 Rocket Stoves, and 42 parabolic solar cookers in the second quarter of 2012. They seek collaboration with stakeholders worldwide who share the dream of making the 3-stone cooking fire a thing of the past in Eastern Africa. Read more at Solar Connect Association: Integrated Cooking in Uganda 2012
June 2012: Last year was the first year that the Mbarara Production and Distribution Centre, designed by Solar Connect Association, operated independently without financial and operational support from Solar Cooking Foundation The Netherlands. A resounding success and exactly what we at SCN as well as our Solar Connect friends had and have in mind.
The objective was to realise the sustainable introduction of energy-saving cooking techniques and methods with financial and operational support from SCN of limited duration and aimed at reaching a cost-covering activity after three years. This goal has now been reached in Mbarara! The necessary production, information and training by local female instructors, marketing, sales and business volume, have been realised and will provide a positive and sustainable contribution to the socio-economic development of women and families in the region. In this first year of autonomy, CooKit sets were produced, demonstrated, sold to and used by almost 3000 households. SCA targets for the next few years aim at a further increase in production and distribution in the region.
April 2011: The project initiated by Ron Mutebi to manufacture solar cookers in Uganda is moving forward. Hopefully, production will begin this April. In a recent interview with The EastAfrican Mutebi revealed that he has more than 1,000 prospective buyers for his product. "The Ultra Sun Cooker is designed to meet up to 70 percent of the cooking needs of a typical family, entirely using the power of the sun," he says. Uganda's dependence on forest resources for the domestic energy needs of most families continues to deplete the forest cover, a problem other East African countries are also battling with. It is estimated by the Food and Agricultural Organization that Uganda is currently losing almost 2% of their forested areas annually. More Information...
July 2011: Light Gives Heat on their solar cooking workshop in Uganda: "We have given up any notions that we can bring about health simply by stumbling upon it in the same way that we stumbled upon destruction. There must be changes in the way that we think and live. To bring about these changes we teamed up with Solar Cookers International (SCI). With the help of SCI we are enabling the SUUBI and EPOH artisans to cook their food and boil their water with the free power of the sun. This reduces the emissions of charcoal that the women would normally use, benefiting the women monetarily and environmentally. One artisan reported that she spends $5 a week on charcoal. With the help of LGH, she can make a one-time purchase of a solar cooker for about $5, and save on the weekly expense of charcoal." Read more...
April 2011: Solar cooker manufacturing business in Uganda is moving forward - Hopefully, production will begin this April in Uganda. In a recent interview with The EastAfrican Ron Mutebi revealed that he has more than 1,000 prospective buyers for his product. "The Ultra Sun Cooker is designed to meet up to 70 percent of the cooking needs of a typical family, entirely using the power of the sun," he says. Uganda's dependence on forest resources for the domestic energy needs of most families continues to deplete the forest cover, a problem other East African countries are also battling with. It is estimated by the Food and Agricultural Organization that Uganda is currently losing almost 2% of their forested areas annually. More Information...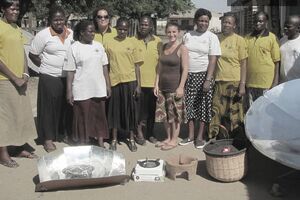 March 2011: Light Gives Heat visits Solar Cookers International demonstration in Kisumu, Uganda - Light Gives Heat is a non-profit promoting grass-root economic sustainability and creative endeavors in Africa. Ugandan Director, Amberle Reyes and a staff member recently visited a demonstration of sustainable cooking methods sponsored by Solar Cookers International. It included traditional fixed and portable earthenware stoves, called upesi in Kiswahili, which more efficiently use charcoal or wood as fuel, CooKit solar panel cookers, and Heat-retention cooking baskets. They were most interested in solar cookers and fireless baskets. Locals were initially attracted to solar cooking not because of the possibility of saving money by buying less fuel, or the health benefits of indoor smoke reduction, but because solar cookers can bake cakes. Cake is seen as a "rich person food", and LGH saw an entrepreneurial opportunity: Cakes are sold for weddings and birthdays. Most people cannot make high quality cakes because of the irregular temperatures of charcoal and wood stoves, but solar cookers bake perfect, moist cakes with very little worry of burning or overcooking. At the end of March, SCI staff will bring CookIts and fireless baskets to Jinja and demonstrate first-hand their effectiveness to all their employees. Light Gives Heat has received an 8,000 USD grant to supply their Uganda Artisans with these solar cookers. More Information.
December 2010: Ron Mutebi returned to Uganda in November to check progress on the new solar oven assembly plant, and reports it is scheduled to open in January, with oven sales beginning in the new year. Mutebi says that at least 1,000 individuals in Uganda have expressed interest in purchasing the ovens. "Everyone who has seen the performance of the Sun Oven wants to get one," Mutebi told Ugandans Abroad. "This is regardless of gender, class, or educational background." During his trip, Mutebi did a demonstration of the solar oven to Vice-President Gilbert Bukenya. "In a few minutes of seeing the oven cook and the temperatures that it was accumulating, he literally pulled out his wallet and paid in U.S. dollars for four ovens to be delivered to his country home." - Ugandans Abroad
December 2010: Mbarara project has nearly reached break-even status. The Solar Connect Association, Uganda, had the ambitious objective to sell 3400 cooking sets in the Mbarara region in 2010. That is 60% more than the previous year and it achieved close to a 100% success rate! The objective to continue under its own steam in 2011 is now within reach. By now, approx. 7,600 households in the Mbarara region cook with solar energy techniques (approx. 45,000 people). Sales for 2011 are anticipated at 6,000. The number of villages served grew from 10 to 15, the number of female instructors increased, training and information meetings through women's circles increased steadily as well as the production of CooKits, hay baskets for heat-retention cooking and Lorena Stoves (a fuel-saving stove). Quality of products and services improved and was closely monitored by means of consumer evaluations. Next to financial support, Solar Cooking Netherlands provides project support, professional expertise and consultancy and helps finding operational partners and donors. A lot of attention was devoted to marketing and sales training, the business approach to production and the strengthening of the financial administration.
September 2010: An immigrant from Uganda, now residing in Chicago, USA, has used the first portion of a $100,000 business competition prize to begin setting up an operation in his homeland to produce and distribute solar ovens. Ron Mutebi won his prize at the African Diaspora Marketplace competition in Uganda in Washington in January. Mutebi arranged to ship from Chicago the components for 365 solar ovens and tools to assemble them in July. The shipment is scheduled to arrive in Uganda in October. In November, Mutebi will travel to Uganda to oversee the completion of an assembly plant and the training of staff to produce, distribute and service the cookers, made by Sun Ovens International in Elgin, Illinois. The ovens will appear in Ugandan markets in January 2011.
July 2010: Hans Le Noble reports record CooKit sales. For the third year running, Solar Cooking Netherlands (SCN) has worked together with Solar Connect Association (SCA) in Uganda. In addition to information delivery about and lobbying for the use of solar energy and wood-saving cooking techniques in Uganda, SCA produces and sells the complete range of related cooking appliances. SCA also takes care of the requisite training for the users, mainly women, in the Mbarara district in southern Uganda, close to the borders with Rwanda and Tanzania. SCA is by now active in 10 rural villages and has a smoothly running shop plus information centre in the town of Mbarara. In the past 2 years, nearly 4,200 households (about 25,000 people) switched to solar energy and wood-saving cooking techniques. It is expected that in the current year another 2,200 households will follow. A household thus saves on average €0.50 per day or €180.- per year, a considerable amount for "low-income" households! Millions of kilos of charcoal and firewood are saved annually! Hence less deforestation! The Mbarara programme is supposed to reach its break-even point by the end of 2010 and will from on then continue to operate as an independent and self-supporting unit. Energy-saving cooking will then become an accepted and sustainable alternative for a large part of the Ugandan population and will reduce its need for development aid. In November 2009, Hans Le Noble paid a working visit as (PUM) Netherlands senior expert to the SCA Mbarara project. Improved or new production and marketing techniques such as direct selling, market expansion, production outsourcing and attention to quality and design were recommended, discussed and implemented. All this has contributed to the record sale of 750 CooKits in the 4th quarter of 2009! Two instructors/marketers work fulltime in Mbarara together with 14 female instructors and 1 instructor (indeed, one man!) on a commission basis, plus another saleswoman/instructor in the shop. Demonstrations and training meetings were organised every day in villages as well as in town. To promote even further 'integrated solar and fuel-saving cooking', a sales and distribution centre is to be opened in the Kampala region, hopefully as early as in 2010. This centre will buy the solar CooKits from the Mbarara production centre, which will create a sounder production basis. Financing discussions are under way with other NGOs. The objective is to distribute 2,200 CooKits in the first 12 months of 2010.
June 2010: The Obia Solar CooKit Group sprang from the project started by 13-year-old Max Ozimek in Obia in 2008. Since that time a group of men and women (calling themselves the Obia Solar Cookit Group) has continued to use the cookers and is now (June 2010) working to train others in the village and surrounding areas.
April 2010: CEDESOL was nominated for the Global Leadership Award at the March 2009 meeting of the Partnership for Clean Indoor Air(PICA), which took place in Kampala, Uganda. The 262 partners of PICA made the gathering one of the largest of its kind so far. More Information on PICA
August 2009: Sport solar ovens from the Solar Oven Society (SOS) were launched at the Vegetable Oil Development Project (VODP) offices at Nakasero recently. Read more.
May 2009: Over the weekend United Religions Initiative visited the Bufuula community in eastern Uganda in the jinja district and carried out an awareness campaign with the local community in a bid to make them aware of solar cooking, cooker adaptation, and production.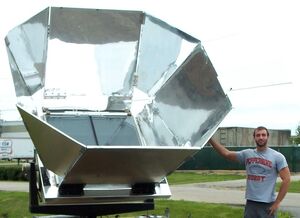 March 2009: Indiana native Dusty Breeding first visited Africa in 2006, working with orphans and other malnourished children. He was so moved by the heartbreaking conditions he experienced that he decided to put his culinary arts background to use to help the children learn to bake bread for their own nourishment and to help lift themselves out of poverty. The nonprofit organization Breeding founded, LifeBread, Inc., is dedicated to empowering the people of impoverished nations through nutritional education and food preparation training as a means to curb the severity of world hunger. Breeding is enthusiastic about the use of solar ovens in his programs, and hopes to eventually equip an orphanage with a large commercial model capable of baking 400 loaves of bread daily. During one trip to Uganda, Breeding planned to use a solar oven made out of a 50-gallon drum to help students bake rolls for 200 campers.
November 2008: Solar Cookers International's (SCI) recent collaboration with Uganda's Solar Connect Association (SCA) was inspired by 13-year-old Max Ozimek, an 8th grader from Ohio, USA. Last year, Max researched solar cookers for a science fair project, and learned how the simple devices can make a huge difference for people that lack cooking fuel. Max volunteers at a hospice, where he befriended Father Alexander Inke, a priest from Obia, Uganda. While listening to Father Inke's stories of life in Obia, Max was reminded of the African communities he had learned of while researching solar cookers and SCI's projects abroad. Max thought solar cookers could help the women of Obia, many of whom must walk several miles to gather cooking fuel and household water. Max felt the need to help the small village of Obia, so he and his mother, Mary Lou, began raising funds and contacted SCI about how to proceed. Per SCI's suggestion, Max and Mary Lou contacted SCA, which has promoted solar cookers in Uganda since the mid-1990s. SCA agreed to provide a five-day integrated cooking training for 22 women that Father Inke identified as community leaders capable of teaching others. Kawesa Mukasa and Olivia Kanyesigye instructed the group (and dozens of onlookers) how to build and use solar cookers and how to cook effectively with the least amount of fuel possible by supplementing solar cookers with fuel-efficient stoves and Heat-retention cooking retained-heat devices]] when the sun isn't shining. Longtime SCI friend and supporter Mark Cotham volunteered his time to assist with this effort, and also provided a much-needed vehicle to be used for further trainings in Uganda. Max and SCI staff tested five local water sources in Obia. Participants were shocked to find that most of their water sources were contaminated with Escherichia coli and unsafe to drink. SCI taught them how to cheaply and effectively pasteurize the water with a solar cooker and a Water Pasteurization Indicator (WAPI). Some of the new solar cooks had already initiated small trainings in their regions just weeks after the workshop. Max is working to ensure these efforts continue by raising funds to purchase materials for extended trainings in Nebbi district, and keeping in close contact with SCI and SCA for follow-up visits over the next few years. SCI and SCA plan to team up again on an integrated cooking and safe water workshop in 2009.
August 2008: Max Ozimek, a 13 year old boy from the Cleveland area, won a science project on solar cooking last year. Doing some volunteer work at a local hospice he met Father Alexander Inke. Father Inke grew up in the village of Obia in the Nebbi District of Uganda, near the Congo border. Max learned about the hardships in Obia and deduced that solar cooking could help Obia in many ways. Rather than let her son's dream languish, Max's mom, Mary Lou, set about with extreme determination and the assistance of Solar Cookers International's (SCI) Karyn Ellis, SCI's Director of International Program Development, to make an Integrated Cooking Method training project happen in Obia. The training course in Obia occurred from June 10th through June 15th. The course was primarily taught by Solar Connect Association (SCA) of Uganda with Kawesa Mukasa and Olivia Kanyesigye teaching solar cooking principles, CooKit construction, Solar Water Pasteurization, Fuel-Efficient Stoves and Hay Basket use. Aid Africa representatives from nearby Gulu assisted in demonstrating a 6 Brick Rocket Stove made from adobe bricks and local materials. The CooKits, Hay Baskets and Rocket Stoves make Integrated Cooking possible, using the least amount of fuel and labor possible no matter the weather. Water Testing with SCI's Portable Microbiology Laboratory (PML) was conducted by Miss Ellis as well; results of E-Coli presence in 5 local water sources was portrayed and the participants were taught to treat contaminated water with a CooKit. The 36 class participants were selected by Father Inke based on background, diversity, locale and leadership skills, and showed justifiable pride as the village and Chief watched them graduate from the training workshop on June 15th. The potential difference this project can make in the lives the people of Obia and surrounding environments can hardly be overstated. It is projected that class participants will teach others in surrounding villages how to construct and use CooKits, Hay Baskets and Fuel-Efficient Stoves to cook food and pasteurize water, as well as save the precious wood of their diminishing forests. Ways that Uganda's SCA can build on its successful training and further Integrated Cooking in the area are being actively investigated. All this, because a mother believed in a son's dream to help a priest's far away village.
July 2008: Karyn Ellis of Solar Cookers International (SCI) writes, "In early June I set out to Uganda to assist with an Integrated Solar Cooking workshop in the small town of Obia, on the border of Congo. This project was initiated by Max and Mary Lou Ozimek of Ohio, and started with 13-year old Max winning a science project with a solar cooker last year. Max volunteers for a hospice where he met Father Alexander Inke, who made an impression on Max and quickly became a close family friend. As a result of many conversations with Father Inke about his village of Obia in NW Uganda, Max correctly deduced that solar cookers could make a substantial impact on a small village like Obia with very few resources. Max and Mary Lou contacted me at SCI, and Kawesa Mukasa at Solar Connect Association (SCA) and an integrated solar cooking workshop project was born. For those who don't know, Integrated Cooking is a fusion of solar cooking, along with hay baskets and fuel efficient stoves. The combination of these cooking techniques assure an 85% reduction in the amount of fuel used in any given area ~ an impact that helps considerably in areas where fuel resources are dwindling at a disconcerting rate. Needless to say, our 5-day workshop was a resounding success, supplemented nicely by a surprise visit from Aid Africa who put on an informative and educational demonstration on the fuel-efficient 6-Brick Rocket Stove. We are already receiving reports back that a good number of the 36 participants are reaching out to nearby communities and organizing demonstrations and workshops on their own. That's what it's all about! SCI and SCA will work together to provide adequate follow up as well as materials to ensure that future endeavors are productive and effective in the Obia area and Nebbi district". See the Photo Blog for the Uganda Integrated Cooking Workshop here: http://www.solarcookers.org/news/2008/06/uganda-integrated-cooking-workshop.html
April 2007: In the last six months of 2006, the Solar Connect Association (SCA) distributed 300 solar CooKits in rural areas of western Uganda, including the villages of Kikokwa and Ruharo, as well as in the Orukiga refugee settlement. With support from its new partner the KoZon Foundation, the SCA plans to disseminate an additional 2000 solar cookers in the western areas by the end of 2007. The SCA has worked with Project Environmentale de Virunga in the eastern Congo, near the habitat of the mountain gorillas, and with the Association Burundais pour la Protection des Oiseaux in Bunjumbura-Burundi. Both of these neighboring organizations reportedly need sources for low-cost aluminum foil and other materials. Contact: Solar Connect Association
February 2007: Email report from Kawesa Mukasa: Since last July, we have made some progress in disseminating solar cookers in rural areas of western Uganda. Some three hundred CooKits have have been distributed in the villages of Kikokwa, Ruharo and Orukiga Refugee Settlement in Mbarara District found in western Uganda. Our association is partnering with the KoZon Foundation and we are to disseminate two thousand solar cookers by 30th December 2007 in the above mentioned villages. We now use cassava paste as glue on aluminium foil for Cookits. We make the glue ourselves. The idea is from the KoZon Foundation. We had the previledge to receive Mrs. Clara Thomas and Mr. Henk Crientee from Holland last December (2006) on a solar cooker field visit to our project. They were able to see a clusters of over 70 CooKits from three villages and they were only limited by time, they could have seen many more. One organisation we supported to introduce solar cookers in Eastern Congo called Projet Enviromentale de Virunga (Pevi) is now producing solar cookers independently from the Solar Connect Association but they lack materials. This is the same thing with another one in Burundi called Association Burundais pour la Protection des Oiseaux (ABO) in Bunjumbura-Burundi. They too need cheap aluminium materials and support. We shall be grateful to hear news about your projects and activities. Let us share information actively so as to contribute in our own small way to mitigation of climate change and conservation of our beautiful forests and savannah woodlands.
February 2007: The GEF Small Grants Programme funded a project by the Happy Childhood Foundation: The purpose of the project is to improve the tree cover in areas along River Malaba in Chawo parish. This will in the long term conserve the water catchment so that it contributes to the maintenance of the water quantity and quality. Trees are cut at a high rate by community members who make charcoal for sale. Most of the charcoal is used by households in urban centers for cooking and it is their main source of fuel. The project will work with up to 40 households in Busia town and provide them solar ovens at a subsidized price so that they can eventually stop using charcoal for cooking. In addition, the project will target the charcoal makers and involve them in alternative income-generating activities. Furthermore, community members will be involved in tree planting, especially indigenous tree species, along River Malaba in Chawo parish to improve tree cover.
Community content is available under
CC-BY-SA
unless otherwise noted.