Last edited:
6 August 2019
| | |
| --- | --- |
| | Students in Dubai, United Arab Emirates, learn to solar cook in 2015. Photo credit: SuryaKumbh |
Events
International conferences
NEW: 

2-13 December, 2019 (Madrid, Spain): COP25 - The United Nations Framework Convention on Climate Change (UNFCCC) is hosting the twenty-fifth session of the Conference of the Parties (COP25) has been scheduled to take place in Feria de Madrid in Madrid, Spain from 2-13 December, 2019. More information...

22-24 January 2020 (Faro, Portugal): CON

SOL

FOOD

2020

- To be held at the Institute of Engineering, Universidade do Algarve, Campus da Penha. The conference will focus on solar thermal food processing. The deadline for receipt of abstracts was 15 June 2019. More information... 
See also: Global Calendar of Events and past events in United Arab Emirates
News
July 2016: A new solar concentrator power plant was recently approved for construction in Dubai and is set to be the largest in the world. The plant will reportedly generate 1,000 megawatts of power by 2020 and 5,000 megawatts by 2030. Read more...
July 2016: So far Beacon Energy Solutions has introduced solar cooking to more than 200 students across three different schools in Dubai. Read more... - Khaleej Times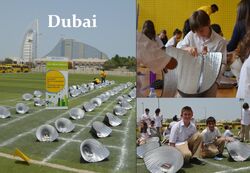 June 2015: Dubai students learn to use solar reflectors to cook in the sun - Inspired by the Guinness World Record setting event held in Mumbai, India, earlier this year, Beacon Energy Solutions partnered with DPS Academy in Dubai, United Arab Emirates, to "inspire youngsters to harness ... solar energy." Sixty-seven students from grades 5 - 8 gathered to learn how to use a solar oven to cook several types of local dishes.
History
Archived articles
Climate and culture
Resources
Possible funders
Construction plans in Arabic
Possible funders
Reports
Articles in the media
Web pages
Contacts
SCI Associates
NGOs
Manufacturers and vendors
Individuals
Government agencies
Educational institutions
See also
Community content is available under
CC-BY-SA
unless otherwise noted.