Jurassic World: Dominion Dominates Fandom Wikis - The Loop
Play Sound
Last edited:
15 October 2020
Events
[
]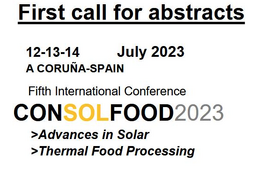 NEW: 

12-14 July 2023 (A Coruña, Spain): CONSOLFOOD2023 - Organizers have released a first call for abstracts to participate in the Fifth International Conference, taking place in Spain in 2023 as an in-person conference. The deadline for submission is 15 December 2022. More submittal information...
See also: Global Calendar of Events and past events in United Kingdom
News
[
]
November 2016: Solar cooking in Cambridge - SLiCK UK demonstrated solar cooking at the Cambridge Museum of Technology during the Pivotal festival. Despite the cold ambient air temperature, low sun angles, and short solar cooking day, the sunny weather provided ample power for practical demonstration of panel, evacuated tube, and box cookers. Complementary cooking technologies were also on show, with improved combustion stoves and fireless cookers on display.
September 2016: UK lecturer donates sixteen parabolic solar cookers to local communities - Karen Treasure, a lecturer at Plymouth University in the United Kingdom (UK), has donated sixteen parabolic solar cookers to various communities in Livingstone as well as in rural areas between Monze and Mazabuka in Zambia. "This year, there is a prediction that Zambia will lose 400,000 hectares of trees, which is not sustainable," Dr Treasure said in her presentation. She feels solar cookers are among the best, sustainable options to benefit people living in rural areas. Read more... 
August 2016: SLiCK participated in the UK's Green Festival making solar cooking known to more residents of the UK.
February 2013: Dytecna, located in Worcestershire, UK, and Isis Innovation Ltd, the technology transfer company of the University of Oxford, are collaborating in the development of an innovative solar oven, targeting the developing world and humanitarian aid markets. According to their recent press release, the solar cooker Albedo (which means 'reflective index') contains no electronics, is purely mechanical, cheap and robust, and is easy to assemble and operate. Albedo will provide heating in excess of 200 °C (392 °F) in a small oven mounted on a portable work surface at a comfortable height. The Albedo oven and reflectors are supplied in a flat-pack system making it easy to transport, a critical and unique attribute. The reflectors are made flat, but form perfectly curved surfaces when assembled without the need for skilled labor. It appears the oven will remain stationary, while the reflector will rotate to maintain orientation to the sun. Read more...
March 2012: On March 13 at the House of Commons, the charity Cord is going to announce an extension of its innovative program of solar cooker deliveries and essential training. Cord originally commissioned research by Bolivia Inti-Sud Soleil, who identified the difficult task (often taking ten hours) of looking for wood needed for cooking and warmth, as well as the damaging environmental impact it is having on tree cover in Chad. Cord is hosting its parliamentary reception with MP for Warwick and Leamington Chris White, who is backing the scheme.
May 2010: London Week: Designs of the Year - A Kyoto Box solar cooker was included this year in the annual exhibition. More Information...
December 2009: Prince Charles brings up "solar-powered cooking" in conversation with military personnel and their families.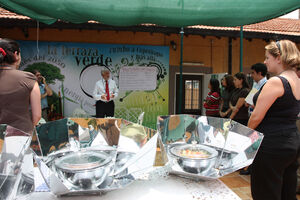 August 2009: The UK Embassy in Mexico has instigated an ambitious project to reduce its carbon footprint and save money. Over the past 2 years steps have been taken including purchasing more efficient cars, recycling paper and toner cartridges, and increased use of teleconferences and videoconferences to reduce travel. This year they have embarked on a new phase with a new goal to further reduce emissions and main energy costs by 20%. They anticipate reducing the embassy's use of butane gas by at least 80% through the use of solar heaters and better management of hot water. They plan to institute more efficient recycling, to solar heat shower water, to install and use solar coffee makers and solar ovens for people to cook their lunches, to recycle water, to relamp inefficient lighting fixtures, and to turn off hot water to the toilet room sinks. To be effective, all staff is encouraged to buy in to the projects and to contribute their ideas. To facilitate this, they have created a Green Terrace which doubles as an additional meeting room. The Terrace has a solar-powered coffee maker, solar oven, and water purifier.
July 2009: Terry Elliott reports that he and his wife Carole have been busy raising solar cooker awareness in the village of Boroudha, where Carole founded the Wear Surma Child Health Clinic in 1992. While at the clinic, the Elliotts became increasingly aware of health problems caused by traditional indoor cooking fires. Children are often burned in these fires, and the smoke causes respiratory illnesses. Firewood is also expensive, whereas solar energy is free. In addition to demonstrations at hotels and in the village, the Elliotts solar cooked a meal of fish, vegetable curry, lentils, and rice for several local Rotarians. "To say that the group was impressed is an understatement … they are hooked!" says Elliott. The Rotary Club of Jalalabad in Sylhet has proposed to set up a workshop to manufacture 1,000 solar cookers and hire trainers to teach solar cooking in a number of villages in northeastern Bangladesh. The budget for the project is about UK £6000, and a matching grant may be requested from Rotary International.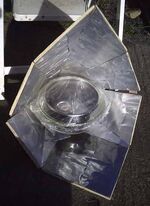 July 2009: Paul Booth writes, "I've made a solar funnel cooker out of wood, using old beverage cans — cut open, flattened and then stapled to the wood — as reflectors. They appear durable and weatherproof, and cost nothing. I am achieving temperatures of greater than 95 °C (203 °F) during an English winter! I hope this information is of use to other people."
History
[
]
Anna Pearce
A principal promoter in the UK was Anna Pearce. She also made an attempt to promote the Wonderbox (a retained-heat cooker) and the Anahat (a combined cooker and retained heat device) for use in country.
Archived articles
Climate and culture
[
]
Cooking accounts for 5% of household energy use in the UK. [1]
Resources
[
]
Possible funders
[
]
Facebook groups
[
]
Documents
[
]
Articles in the media
[
]
Audio and video
[
]
Contacts
[
]
The entities listed below are either based in United Kingdom, or have established solar cooking projects there:
SCI Associates
[
]
NGOs
[
]
Manufacturers and vendors
[
]
Individuals
[
]
Government agencies
[
]
Educational institutions
[
]
See also
[
]
References
[
]