Last edited:
5 August 2019
| | |
| --- | --- |
| | The Third National Solar Energy Conference was held in the city of Guichon, Paysandú in 2007. |
Online events
Edit
NEW: 

Webinar:

11 July, 2020 (2:00-4:00 PDT, 9:00pm-11:00pm GMT): Cooking using a Haybox and a Battery Powered Slow Cooker - This webinar, presented by SF Innovations Ltd, will look at two different techniques of cooking using a well insulated cooking container. It will show how to cook rice, stews and even bake bread using little or no fossil fuel. Registration information...
NEW: 

1-4 September 2020: EuroSun2020 is going virtual - The conference will be now be held on a virtual platform, as a response to safety concerns surrounding Covid-19. According to the organization, "We are currently working on new registration fees that reflect the resources and support for creating the virtual conference infrastructure and presenting the conference online. We will provide more details on the registration rates in the coming weeks." The 13th Conference on Solar Energy for Buildings and Industry will offer a platform to discuss the latest developments with leading solar energy experts, policy makers, and industry representatives. More information...
December 2020: SWC50 – The Century of Solar - In 1970 solar research pioneers met at the first International Solar Energy Society (ISES) Conference in Melbourne Australia. ISES is commemorating this Conference with a special 50th Anniversary Conference and Display, called the Solar World Congress at 50 (SWC50). The face-to-face conference, originally scheduled for 2-4 December 2020, will be replaced by a series of eight virtual conferences over the course of the month in December 2020. It will include the same panel sessions that were planned for the in-person planned event. More information...
See also: Global Calendar of Events and past events in Uruguay
February 2007: The third national solar energy conference was held in February in the city of Guichon, Paysandú. Sponsored by the Uruguayan Center of Appropriate Technologies (CEUTA), delegates attended from all departments in the country. Also attending were representatives of the National Bureau for the Environment (DINAMA), U.N. Educational, Scientific and Cultural Organization (UNESCO), and the municipal government of Paysandú. Solar cookers were on display in Plaza Williman, where they could be seen by the general public. The city of Guichon was the site of a workshop on construction and use of solar cookers in 2004. Out of that gathering has grown the national solar conferences. The fourth national conference will be held early in 2008. Contact: Juan José Oña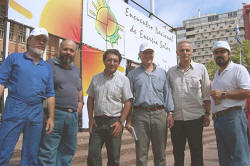 August 2006: Juan José Oña reports that Uruguay observed its Solar Week with the Second National Conference on Solar Energy in Montevideo in March. The Uruguayan Center of Appropriate Technologies (CEUTA) formed a network of solar promoters at last year's conference and has held workshops nationwide during the past year. These actions have invigorated the solar cooking movement in Uruguay, which was reflected in this year's conference. The events featured solar cookers, water heaters, and solar food dryers designed and built by inventors from across the country. People who had attended earlier workshops were invited to a special workshop to deepen their skills. The workshop featured solar cooking promoters Pedro Serrano of Chile and Alfredo Estevez of Argentina. Brazil also sent representatives to the conference, where promoters shared their experiences with solar technology and training and discussed future plans. The conference also included a panel discussion on solar energy and public policy. An exhibition in the city center exposed thousands of people to many homemade, low-cost solar devices, and media coverage of the conference was good. The conference was sponsored by CEUTA and a host of governmental and non-governmental agencies. Contact: Juan José Oña
July 2005: The Centro Uruguayo de Tecnologias Apropriadas took part in organizing Uruguay's first "National Solar Energy Encounter" in March. The event followed a series of workshops that taught people to build their own solar equipment, including solar ovens, solar water heaters, and solar food dryers. Solar activists from many parts of the country gathered in Montevideo to share ideas and plan future activities. The gathering gained wide exposure in the news media. Contact: Juan José Oña
Archived articles
Climate and culture
Edit
Resources
Edit
Possible funders
Edit
Articles in the media
Edit
Audio and Video
Edit
External links
Edit
The entities listed below are either based in Uruguay, or have established solar cooking projects there:
SCI Associates
Edit
Manufacturers and vendors
Edit
Individuals
Edit
Government agencies
Edit
Educational institutions
Edit
References
Edit
Community content is available under
CC-BY-SA
unless otherwise noted.