Jurassic World: Dominion Dominates Fandom Wikis - The Loop
Play Sound
Last edited:
28 July 2014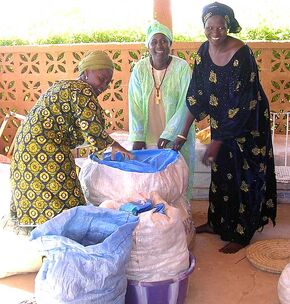 At the Granada solar cookering conference David and Ruth Whitfield were so kind to give me the heat-retention bag they had taken with them from Bolivia. It is made from two empty ricebags with lama wool between them to serve as insulation. In the picture it is the one in front at the left. I immediately realized that this would be a wonderful solution for a cheap heat-retention device and took it with me to the KoZon/EIP (Ecole Instrument de Paix) project in Tahoua, Niger.
And in fact, it was. We first made them from two ricebags and cotton wool, like the one in the middle. But for the large pots used in the Sahel it was not big enough. So our CooKit trainers, Zeinabou, Zodi and Ramatou, took the initiative to make them from four sacks each and used a fifth sack for a cushion on top. It is the one they are holding, large enough to hold the 12 to 16 liter (3 to 4 gallons) pots. They call it "Idadafoua" and it works marvelously. It also fits perfectly in with KoZon's strategy to combine the use of three appliances: a) improved wood stoves; b) heat-retention devices; and c) the CooKit.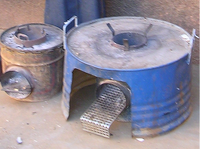 Women in the Sahel cook meals for large families of 10 to 12 persons, usually more, sometimes less. The pot of the CooKit is too small to cook millet-broth or rice for these enlarged families. The EIP is introducing an American Rocket stove type (picture II, éconobois and paceko), which uses less than 75% of the wood used with a traditional stove. The cooking process is finished in the heat-retention bag and food for meals is always available, one is not dependent of sunshine. But when the sun shines the CooKit is there and is used for meat - and fish sauces, eggs, sweet potatoes, groundnuts, cakes (to sell pieces at schools and offices), etc. All in all, the 3 appliances diminish perfectly the amount of firewood needed.
Thanks Ruth and David for giving us the idea for a cheap and easy to make heat retention bag.
Wietske Jongbloed
KoZon Foundation
See also
[
]