Scalloped Corn Casserole

2 eggs, beaten
1 c. sour cream (can be light or fat-free or regular or a combination)
1 can cream style corn
1 can whole kernel corn (about half-drained)
6 T. melted butter (can substitute other fats/oils/spreads for all but 2T., and up to 2T. can be a fat-free product)
1/2 t. seasoned salt (I use Tony's Creole, a rather spicy seasoned salt)
1/2 t. Tabasco or other hot sauce (this is not enough to make it overly spicy, as corn is very bland)
Corn Muffin packaged mix (8.5 oz.)
1 T. sugar, honey, or maple syrup
Paprika (optional, but may give a better color if your solar cooker is on the slow side in terms of browning—add 1/2 t. or so to the batter and sprinkle some on top)
Preheat solar oven (or other cooker in which you have successfully managed to bake things like casseroles and breads). Combine all ingredients, mix well, and pour into whatever greased suncooking pan you have that comes closest to a 13"x9" baking pan or 2 1/2 qt. casserole. Sprinkle some paprika on top if you like, put on the lid, and put it in your cooker.
Times are wildly various in suncooking, but if it were going into a 350F conventional oven, it would take 35-45 minutes. It's done when it's not jiggly in the middle... it should be set up enough to cut or scoop pretty cleanly when you serve it. It's a very moist casserole, so you don't have to worry too much about overcooking and it's easy to hold for awhile by hayboxing if the sun starts to drop and you're not ready to eat yet. (It's not bad at room temperature, either, though you wouldn't want to store it that way for too long.)
You can bake this casserole as low as 180F, but it would probably take at least 3 or 4 hours at that temperature. The lower your oven temperature, the more tendency it has to sort of separate into layers... more bread-like towards the bottom, more custardy at the top—while higher temperatures (say 225F and up) result in a more homogenous structure, but it's delicious either way.
If your family is very small (1-3), you can bake half of the mixture (in a smaller pan) and freeze the other half (raw) for another time. Just thaw completely (if you freeze in plastic bags, set in bowl to thaw so you'll keep your liquid if it leaks), mix a bit, pour into greased pan, cover, and bake.
This is a great recipe that works as a hearty side or a vegetarian entree. You can make big batches of the mixture and divide it up for freezing, so all you have to do is start thawing the night before to have something ready for your cooker the following day.SharonID 23:06, 28 June 2007 (UTC)
Please add your recipes by clicking the "Edit" button (above), entering your recipe, and clicking the "Publish" button. If the format doesn't look right, don't worry - a site administrator will tidy it up. You can leave comments or questions on the "Talk" page by clicking the "Talk" button and then "Edit" (and the "Publish" button when you're done).
Corn-on-the-Cob for freezing

Husk the corn and place in a dark colored pan. Do NOT add water. Cover and bake for 1 hour.
Fresh corn with husks
1 tablespoon water
Pull back the husks, but do not remove. Clean corn and remove silks. Fold up the husks to cover the corn. Place in a black roaster and add water. Cover and bake 45 minutes. Drain the husk and submerge corn in ice water. Drain, cut the kernels from the cob, package and freeze.
Zucchini
Zucchini
Butter
Oregano
Garlic
Cut zucchini into 1/2 inch diagonal slices; place in dark enamel pan, and season with with butter, oregano and garlic. Do not add water. Cover and bake 45 minutes.
Zucchini Quiche
2 medium zucchini, chopped or shredded
2 cups Swiss cheese, coarsely shredded
3 to 4 eggs
1 cup biscuit or buttermilk pancake mix
1/4 cup salad oil
1/4 teaspoon Italian seasoning
1/4 teaspoon nutmeg
1/2 cup chopped onion
Diced mushrooms
Salt and pepper
Lightly oil a dark 9-inch round roaster. Beat eggs, stir in the biscuit or pancake mix and seasonings in the bottom of the pan. Add zucchini and shredded cheese and stir lightly with a fork. Cover and bake in a preheated solar oven about 2 hours or until a knife inserted in the center comes out clean. Makes 6 servings.
Cheesed Onions
5 to 6 medium onions
2 cups grated cheddar cheese
2 cups milk
1/4 cup butter or margarine
3 tablespoons flour
1/2 teaspoon salt
Slice onions and place in a dark round pan. Blend milk, butter, flour, salt and cheese together. Pour over the onions. Cover and bake 1 to 2 hours.
Whole Stewed Tomatoes
Whole tomatoes
Bread
Cheese
Italian seasoning
salt
Pepper
Place each whole tomato into a greased custard cup and cut tomato into four sections. Spread cheese onto bread and tear into small pieces. Add cheese/bread pieces to the tomato. Sprinkle with Italian seasoning and pepper. Cover and bake about 45 minutes.
Artichokes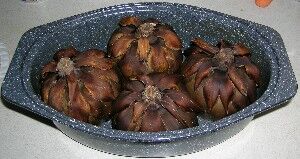 Artichokes
Many of us love artichokes but find that they take a lot of energy and time to cook. They do cook well in a solar cooker, and they are easy to do, compared to cooking them in the house. They turn out quite delicious when cooked with sunshine, but they are not exactly pretty to look at. I got a great deal on four fresh, big, beautiful artichokes, so thought I would experiment with them. I cut of the tops, put them in a pan with an inch of water in the bottom, and put them in, top side down. I let them cook for three hours and they were delicious, but not pretty. The top picture shows the finished artichokes, and the bottom photo shows how they cooked in my Global Sun Oven. Would I cook them this way again? Oh yes. They were delicious, both hot and cold. The centers were absolutely tender and the chokes pulled away quite easily. We ate them with both melted butter and seasoned vinegar.
from: http://www.HeavenSentFood.com
Beets
Place fresh beets in a black pot. Cover and bake for one hour or so. The skins slip right off. The beets are ready for chilling or adding to salads.
Baked Potatoes
Clean potatoes and rub with shortening or butter. Place in a dark dish. Cover and bake 3 hours or until done.
Scalloped Potatoes
4 cups thinly sliced potatoes
1/4 cup finely chopped onion
1/2 teaspoon salt
1/4 teaspoon pepper
1/4 cup butter or margarine
1 can cream of mushroom soup
1/4 to 1/2 cup milk
grated cheddar cheese (optional)
In a greased 2-quart dark casserole dish, arrange 1 layer of potatoes. Dot with butter and sprinkle with some of the grated onion, salt, and pepper. Make about 4 layers. Mix soup and milk together and pour over the layers. Cover and bake about 2 hours or until a fork goes through potatoes easily. Sprinkle grated cheese over the top. Before serving, replace cover for a few minutes to melt the cheese.
Hutspot
Cut 4 potatoes, 1 carrot and half an onion in 1cm cubes. Beef or pork sausage can be added for taste. Cook in solar oven with a tablespoon of olive oil for 3 hours. Mush. Add salt, pepper and fresh parsley.
Pineapple and Sweet Potato
1 large sweet potato, peeled and diced
1/2 cup pineapple chunks, unsweetened
1 tablespoon pineapple juice
1/4 teaspoon cinnamon, optional
Combine ingredients in a dark casserole dish. Cover. Bake in solar oven until sweet potato is soft.
Solar Mexican Beans
2 cups pinto beans
2 cloves garlic, chopped
1 8-oz. can tomato sauce
1 or 2 tablespoons chili powder
1/2 teaspoon oregano
1 sliced onion
1 or 2 fresh chili peppers, chopped
1 teaspoon cumin
Salt
Soak beans overnight. Drain. Cover beans with fresh water. Add onion and garlic. Stir. Cover. Place in oven and bake about three hours. Combine 1 can of tomato sauce, chili powder, cumin and oregano and add to beans. Cover and cook another 4 hours. Check to see if beans need more moisture. Add salt to taste.
Quick Baked Beans
1 can pork and beans or B & M baked beans
1/2 cup brown sugar
1/4 cup Worcestershire sauce
1/4 cup mustard
Combine ingredients and mix well. Place in a dark 9-inch round roaster or amber glass dish. Cover and bake for 2 hours.
Black Beans
1 pound package black beans
6 cups water
2 16-oz. cans diced tomatoes
2 ounces of picante sauce
Place clean and sorted beans in a black pot. Add water to cover top of beans by 2 inches. Cover and cook approximately 9 hours (start beans anytime before 9:00 a.m. and add tomatoes and picante sauce after 4:00 p.m.) Variations: serve over white or brown rice or top servings with shredded cheddar cheese.
Brown Rice
1 1/2 to 1 3/4 cups water
1 cup rice
1 tablespoon butter
Salt
Soy sauce
Pour desired amount of rice into a dark pot. For every cup of rice, add a tablespoon of butter. Pour hot water over the rice and butter. Add spices as you wish, except for salt or soy sauce (add salty spices after cooking). Cover. Cook 1 1/2 hours if starting with a hot oven. Cook 2 hours, starting with a cold oven. You may substitute white rice in this recipe, using 1 cup of water for every cup of rice.
Green Bean Casserole
1 10 oz. package French green beans, frozen
1 can cream of mushroom soup
1 small can French fried onion rings
Combine beans, soup and 1/2 of the onion rings. Place in a dark pan. Top with remaining onion rings. Cover and bake 1 1/2 hours.
Dot's Stewed Okra
1/2 lb. Okra, rinsed...don't cut!
1 large can of whole tomatoes with juice
1 medium yellow onion, halved and sliced
1 teaspoon salt
1 teaspoon pepper
2 tablespoons oil or bacon fat
1 tablespoon sugar
This dish is great when slowly cooked in a SBC all day long. The smaller the better when it comes to the okra. Put salt, pepper, onion and tomatoes with juice in heavy saucepan. Crush tomatoes with hands. Stir in sugar and oil. Cook in solar box cooker until okra is tender. Serve with steamed rice.
Note: Small okra pods are more tender. Recipe from article in "Natural History" magazine.
Larry's Polenta del Sole
Picture courtesy of Mark Saliers
1/2 cup corn meal
1/2 cup chopped onions
2 3/4 cups water
2/3 cup grated cheese
Herbs
Seasoned salt
Combine first 3 ingredients and cook until soft (45 min. to 2 hours, depending on conditions.) Stir in remaining ingredients, and return to cooker for 15 to 30 minutes. It can be enjoyed while still hot and soft, or let the polenta set and cut into squares. Eat warm or cold.
Dar's Scalloped Eggplant
1 large eggplant, peeled & diced
1 onion, minced
1 cup Saltine crackers crushed
2 teaspoons baking powder
2 tablespoons butter, melted
2 eggs
2 1/2 oz. evaporated milk, to moisten
Salt and pepper
Parmesan cheese, grated
Mix all ingredients except cheese in greased covered pot and solar cook until the consistency of pudding. (2 hours?)
Sprinkle cheese on top and cook for 15 minutes more.
Poor and Healthy Style Lentils
Lentils
Water
Onion
Garlic
Vegetable Oil
Soak lentils in the water overnight or for a few hours. Drain and place them in a pan. Add the same quantity of water in the pan, season with salt & pepper. Chop onion and add it too. Also add a small amount of vegetable oil. Optional, add 1 or 2 sliced cloves of garlic and bay leaves. Optional, a carrot finely sliced may be added. Stir thoroughly all the ingredients with a wooden or plastic spoon. Cooking time: 6 to 9 hours, depending of the sun & the quantity of food.
Mixed Spring Vegetables
Take a mixture of vegetables, like leeks, courgettes, French beans, peas, carrots, potatoes, onions, pepper, tomatoes or any other type. Wash and slice them and place in a pan. Add water to cover the vegetables, season with salt and pepper. Add 1 or 2 sliced cloves of garlic and a bay leaf. Add a little vegetable oil. Cooking time: 6 to 8 hours.
Solar Broccoli
Cut fresh broccoli into spears and place into dark pot with lid. Add butter and seasoning to broccoli. Do not add water. Cooking time varies depending on desired texture (approximately 2 hours for tender broccoli).
Minty James (green peppers)
2 chopped Green Peppers
1 clove of Garlic
1 tablespoon of Butter
1 teaspoon of Mint
dash of salt dash of pepper
half a cup of water
Put everything in a jar and leave for two hours if you like your peppers a bit crunchy, if not leave it longer.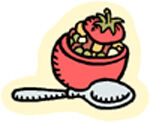 Jim's Spaghetti Squash
1 spaghetti squash
1 tbsp butter/margarine
1 cup water
spaghetti sauce of choice
parmesan cheese
Cut squash in half lengthwise and remove seeds. Coat inside with butter/margarine. Place skin side up in small roaster. Pour in 1 cup water. Cover, place in solar oven for 2 hours. Remove insides from skin, serve with spaghetti sauce and parmesan cheese.
We use a global sun oven...temps in Jan. in Arizona desert country get to 320F. at altitude of 850 feet. This serves 2...1/4 squash each. A whole squash could be done the same after cleaning and buttering.
Kelewele and Red Red
To make the Kelewele you will need:
3 ripened plantains
1 tablespoon of ginger powder
1 tablespoon of red pepper powder
10 tablespoons of red palm oil (peanut oil can be used as a substitute)
Peel the plantain and cut into thin slices. Sprinkle the powdered ginger and red pepper on the plantain. Place the plantain into a cooking pot and place the pot into a parabolic type of cooker. I believe the flavor will be good if a solar oven is used, but it will most likely take a parabolic cooker to roast the plantain.
To make the Red Red stew you will need:
1 cup of cow peas (black eyed peas)
1 tomato
1 onion
1 small fish with the bones removed
1 teaspoon of dried shrimp
1 teaspoon of red pepper
Small quantity of salt to taste
I used frozen peas as they are available at our local store. If the cow peas are dried, cover them in water and soak for about an hour. When bubbles appear, they are ready to cook. Chop a fish into small bite size chunks. I used catfish "nuggets", but any locally available fish should be fine. Add the fish pieces to the pot. Chop up the onion and tomato. Add the onion and tomato pieces to the pot. Add the seasoning and stir the stew around to mix everything together well. Place in a solar oven for about 3 or 4 hours. It may take less time, depending on conditions.
This stew really taste great. If you ever try it once, you will make it again and again!