Last edited:
9 October 2019
Making Solar Cookers and more in Vietnam (Danang) .wmv

Vietnam Solar Serve has provided a video tour of their production facility in Danang, Vietnam. The resourceful group has been adapting solar cooker designs from other countries and developing their own solar energy products since 2000. Looking at the larger alternative energy picture, they also promote photovoltaic panels made in Vietnam and are working on designs for water and wind power turbines. They manufacture a variety of solar cookers including parabolic and box cookers.
International conferencesEdit

22-24 January 2020 (Faro, Portugal): CON

SOL

FOOD

2020

- To be held at the Institute of Engineering, Universidade do Algarve, Campus da Penha. The conference will focus on solar thermal food processing. The deadline for receipt of abstracts was 15 June 2019. More information... 
See also: Global Calendar of Events and past events in Vietnam
October 2019: Solar Serve News #60 Around 25 American students from different universities came to visit us. They were all studying environmental subjects and wanted to know what we were doing. It was a nice group of young people. We showed them our parabolic cooker on arrival. It was already late in the afternoon but there was still enough sun to boil water. After showing a short video, we answered several questions and told them that protecting the environment was not just the responsibility of the government, but it must work through all spheres of social life. Later they visited our factory and were very interested in what we did. Although it was sometimes very simple, it turned out to be something very new for the students.
July 2019: Solar Serve News #59

Thousands of cooking stoves were piled up in our center. What a relief when we received the news that the people in the north got permission to hand out the stoves in rural areas. Immediately we were able to ship several containers full with cooking stoves to Haiphong. We were also happy that the main sponsor from Korea did not hold back after this delay and helped us financially so we were able to pay our workers, buy the right material and purchase new equipment. It worked out very well. What a blessing!
April 2019: Solar Serve News #58

If you have visited our Solar Serve center recently, maybe 'full house' came to your mind. It is not that we are fully occupied with staff or workers, but our place is filled with thousands of cooking stoves. We are recently not able to send new containers full of cooking stoves to the north. The agency that is responsible to distribute them to the poor has been stopped by the authorities. The reason is unclear but we are hopeful that it will be resolved soon. We are still making new stoves, although our placed is now packed (full house) waiting to be sent to the north. Please stand with us that bureaucracy will not hinder us from helping the poor in the north.
Januari 2019: Solar Serve News #57

First of all, greetings from Danang. We wish you a wonderful year where impossible things will be possible. We at Solar Serve have seen a breakthrough in the last few months, and we'd love to see that happen with you too. We encourage you to use your ability to create new things, and don't give up if it is not working yet. Many years ago we started with making our solar box cookers and later on the parabolic cookers. It has been a process of learning and taking right decisions, but also being able to give up when something was not working well. It brought us to where we are now. Let us give you the latest update and see for yourself the change we went through.
October 2018: Solar Serve News #56

Our staff needs to be in good shape. Physical exercises will help them to keep going. Now they are playing football after work in front of our center and some of them are going to a gym. We and other neighbors have been asking for years if a large piece of waste land opposite our center could be used for physical entertainment. Finally to everyone's surprise many wild trees were cut off last month and trucks loaded with sand showed up and it was announced that in three months' time there will be a park for everyone. This will affect our neighborhood and also the physical conditions of our staff. They need that for the coming months if you read more about our next challenges.
Sept 2018: 

We just posted a new youtube video in how to benefit your community. It shows you how we do it in Danang since 1997: 1. Charity: We are helping people during natural disasters and other needs. 2. Social Enterprise: We manufacture different types of green products made by local workers and disadvantaged people. 3. Training: We train local people to start their own family business in order to come out of poverty. Now they can support their families, churches and communities with their own profits.
July 2018: Solar Serve News #55 There has been a demand for more clean stoves in Vietnam and across the borders. In our last letter we told you that we were not able to make the covers of our stoves anymore. After being mistreated by a dishonest company we asked a retired engineer to design a machine for us so we could make the covers by ourselves. Together with his son, he came up with two heavy machines for cutting and pressing. They have been installed already and after some changes, we have cut and pressed thousands of covers ourselves already. Now we are no longer dependent on others in producing a good clean stove.
April 2018:Solar Serve News #54

We received a donation from Swiss Create, the business development branch of a Swiss Consulting Group. The purpose was to make 600 clean stoves and 50 solar lamps for the victims of typhoon Damrey and also for the victims of a severe flood. We already had 1000 stoves in our store, so we were able to help the first typhoon victims immediately in the province of Quang Ngai. It was just the beginning of helping many others in the provinces of Quang Nam, Binh Dinh and Lam Dong, and even in the Mekong Delta. For us it was so great when Swiss Create got involved, so that we were able to help immediately. May this be an inspiration for you when hands and feet are coming together. Please contact us: bichsolarserve@gmail.com
October 2017: Solar Serve News #53

We have built a small cottage in our research and display center. A windmill was placed in front and our waterwheel beside for supplying electricity. We filled the cottage with a few clean cookers, a solar lamp, and a parabolic and box cooker in front. It became a great spot to show our work and to take pictures with our visitors.
This woman needs help

August 2017: Exposure to smoke from traditional cookstoves In the coming year we as Solar Serve are planning to make around 9,000 clean cookers and distribute them among the minorities and people in poor areas in Vietnam. The stoves are loved especially by the minorities, but some do not see the need or do not have the ability to buy them. They often do not want to change their cooking habits, even if their health is being damaged by indoor smoke. They still have a long way to go, so we are going to help them anyway. http://www.vietnamsolarserve.org
July 2017: Solar Serve News #52

In the third week of May, our new building was finished. We had electricity, the toilets worked well, and our workers did the final touch by making a fence in front of the building. We repaired all our products that we had made over the last 20 years and displayed them all over the building. A bamboo cottage will be built where visitors can see how everything is used. We hope to attract visitors who are interested in what we are doing. We will also use the building for research and designing new products. So if you have time, come to visit us! It is easy to find when you travel from the airport to the Marble mountains or Hoi An.
April 2017: Solar Serve News #51

During a social enterprise conference in Singapore, one man from Myanmar became interested in our work and asked if he could send some workers to Danang so we could teach them how to make our products. Although one of his workers could not come, the man arrived with his family and two workers in April and we were able to teach them for one week. They are great people and eager to learn. First there was a day of teaching the principles of all instruments, and after that the practical aspects and making of the instruments (parabolic and clean cooker) with our workers. It worked out very well!
January 2017: Solar Serve News #50 We made a suggestion to friends in Vietnam that our solar lamp "Light of the World" was available as a Christmas gift to bless families, friends, or staff of their organizations. We have done this with our own staff and they were very happy with it. The good thing about our lamp is that it is a solid product that can be used for years, in comparison to the cheaper ones on the market. The lamps are still available for other occasions to bless people in areas where electricity can be a problem. Even mobile phones, etc. can be recharged with it.
November 2016: Solar Serve News #49

Cứu trợ nạn nhân lũ lụt tại Quảng Bình - Relief for flood victims

10 November 2016 - Caritas Chính Toà và Solar Serve ở Đà Nẵng cứu trợ nạn nhân lũ lụt tại Quảng Bình - Hàng trăm chăn ấm, bếp sạch di động nhỏ, nước sạch và hỗ trợ tài chính. On 10 November 2016 Caritas Chinh Toa and Solar Serve in Danang helped flood victims in Quang Binh with hundreds of blankets, clean cooking stoves, clean water, and financial support.
September 2016: How to use our new solar lamp This is our latest solar product,

this time a handy solar light for fishermen, farmers, local people, and minorities in the mountains when they run out of electricity. Watch this clip and you will understand why we get excited in helping those people with our new solar lamp. They are made in our Solar Serve Center in Danang, Vietnam.
July 2016: Solar Serve News #48

"Give a man a fish, and he will be hungry again tomorrow; teach him to catch a fish, and he will be richer all his life." Although the origin of this proverb is not clear, it helps us to explain what we are doing at Solar Serve. It is more than only making solar ovens or clean cookers, or any human effort to help others. For us it is important that people learn to fish well, so that they can stand strong in life. What a joy if we are able to help people to learn fishing. Here is the link of the Vietnamese version of our newsletter
April 2016: Solar Serve News #47

A man from France came to visit us in Danang. He runs a restaurant in Vung Tau, a popular seaside resort in the south of Vietnam. He knew all about solar cookers and other environmentally friendly devices. He was very excited and wanted to buy several devices for his restaurant (three box cookers, two parabolics and three clean cookstoves). He also ordered two solar lamps. For us it was interesting that after several years someone requested our box cookers again. (Because of the sunny weather in the south, they could be an attraction for tourists eating in his restaurant.) Here is the link of the Vietnamese version of our newsletter
January 2016: The year 2016 is already several days old. Our wish for you is that everything will turn out for good. Don't give up! Although the world is shaking, we have decided not to hold back. There are still many things to do. We learn from the ants that they refuse to take it easy. They are working hard and storing up against the coming time. We also do not want to just look a few feet in front of us by not preparing for the future. So, here are some goals for the coming year! Solar Serve News #46 Here is the link of the Vietnamese version of our newsletter
October 2015:

Solar Serve News #45 There are 54 ethnic groups in Vietnam. Most of the minorities live in the mountains and are hard to reach. We needed open areas for our solar cooker projects, but this was not always possible in places with lots of trees. But since we also helped them with our clean cookers, things changed. We already have been working with seven different minorities (see picture). Here is the link of the Vietnamese version of our newsletter
July 2015: Solar Serve News #44 For 15 years we have been doing charity work, and since 2006 we have also been running a social enterprise. It was not always easy to work with products depending on the environment. It was sometimes very hard to change the mindset of people. We learned a lot. The turning point came when we included the clean cookstoves in our work. It became a good alternative in combination with the parabolic cookers. It improved people's health and finances, and also the environment. This is one of the reasons why we kept on going after 15 years and, thanks to you, why we have never felt alone.
June 2015: An amazing small clean cookstove This new clean cookstove is a great cooking alternative when there is no sunshine. Just watch the introduction video on YouTube.
April 2015: Solar Serve News #43 Here we are again. At Solar Serve we all have our responsibilities and it is good that we can use our talents. Creativity is needed when we meet new challenges. During the last few months, we have been working together with several other agencies, organizations, and social enterprises. It was good to work together. We also received some training and now we are able to pass it on to others. Here are some of the latest stories.
October 2014: Solar Serve News #42 A middle-aged man came to visit us. In the Vietnamese war, when he was young and full of energy, he lost his arm during a bomb explosion. It was hard for him to grow up. He finally left Vietnam and ended up in Europe. After many years he was able to forgive and wanted to visit his country again. He had to face the wounds of the past, but was very courageous and very serious in showing forgiveness. He even offered to help us a few days with one of our designs. It was great to see him working at our center with a passion to help. Very touching!
July 2014: Solar Serve News #41 We received a letter from Energy Globe that we, Solar Serve, were the national winner of the Energy Globe Award 2014 for Vietnam. With more than 160 participating countries and over 1,000 project submissions annually, the Energy Globe Award is today's most prestigious environmental prize worldwide. It distinguishes projects regionally, nationally, and globally that safeguard resources such as energy, or develop renewable or emission-free sources. Unfortunately, we were not able to receive the award in person, but we were honored for this recognition. Read more...
April 2014: Solar Serve News #40

We are a social enterprise and our purpose is to have an impact in society. We do this by making environmentally friendly equipment for people so that their lives will be changed and improved. Last year we got the impression that we should do more and came up with a plan which started on 11 February and will last for one year. The exciting thing is that it also gives you an opportunity to get involved.
January 2014: Solar Serve News #39

First of all, Happy New Year. We hope it will be a great year. Don't give up doing good and expecting hard situations to change into wonderful opportunities. Enjoy and love your work so that you never have "to work" again! But if you want to work with us, don't dream about the weather. Lately, it has been very cold in Danang and even in the northern provinces of Vietnam. Some mountains near Sapa were covered with snow. Unthinkable, but everything is possible in Vietnam, so welcome to our world!
October 2013: Solar Serve News #38 We just finished the Mid-Autumn Festival, with gifts, lanterns, drums, lion dances, and special dishes to eat. A very special dish is the moon cake. Companies buy expensive moon cakes for their workers or customers. This year the festival was surrounded by rain and storm, so many children could not participate in it and many moon cakes were left over. For us it was more a start of new excitement, which we would like to share in this letter.
July 2013: Solar Serve News #37 Solar Serve wrote another newsletter. It has been 13 years since Solar Serve was officially started. Their first newsletter was written in 2003. At the moment they are preparing themselves for difficult times ahead. It could be for solar aid to anyone and everywhere.
June 2013: Vietnam Solar Serve has produced the video See and Believe - Thấy và Tin, a short video clip to make you believe that cooking with the sun is possible.
January 2013: Solar Serve News #35 We made more solar cookers and improved some models. We also finished 150 clean stoves. Our staff left our Center at four o'clock in the morning to visit two villages near the ancient city of Hue. The truck was fully loaded and people were already waiting for the cookers. After explaining the benefits and usage of the stoves to the people and farmers, the local authorities were able to hand out the stoves. They were sponsored by a organization involved in health, gender, and climate programs. A great way to help people. People were so thankful. Not long after, we received another order and felt that the clean stoves are a good replacement when it is raining and a solar cooker cannot be used. The weight is 4 kg and the cost is reasonable (around $25 USD). This is a great way for organizations to help poor people by supporting clean cooking, protecting their health and the environment, and also helping them save money in fuel costs.
November 2012:

Clean Cooking Stoves for Vietnamese farmers - November 2012

Since 1997 we have been testing our solar cookers. During the summer months the use of solar cookers is for many people a blessing. But after all those years there was still one major question: "But when it's raining, what do we do?" The main answer was to encourage people to return to their old way of cooking, but it never satisfied us. In 2007, during an exhibition in Nepal, they showed us several clean cooking stoves. We talked with some people about their benefits. Was this the answer to the above question and a good alternative? After several years of researching and asking around, finally, in 2011, we came up with our own model. It worked so well that local farmers near Hue city (Vietnam) became very interested. In November 2012, we made 170 clean cooking stoves for them, and when they received them they were very excited. So, it became a great alternative when there is no sun! Watch this short video clip!
October 2012: In Vietnam Solar Serve News No. 34, Vietnam Solar Serve explains how they have incorporated clean cookstoves with solar cooking to better serve local cooks. Till now it has been a good year for us and we are excited for the new things to come. In our 34th newsletter, we mainly tell about our new challenge and show you some pictures, besides our ongoing solar cooker projects.
August 2012:

GUST Project - Solar Serve - Danang (Vietnam)

A team of three French students came to visit our Solar Serve Center. They had organized a "Global Universities' Social Trip" (GUST), a project that aimed to raise students' awareness of social entrepreneurship in Asia. For six months they met many social entrepreneurs throughout Asia who worked on problems such as energy, communication, waste, water, and housing. They made videos that presented the entrepreneurs' projects, the social issues they wanted to solve, and the challenges they had to overcome. Here is the video (click on picture) they made on their visit to our Solar Serve Center in Danang. For more information on the GUST Project, visit the Gust Project Vimeo Channel.
July 2012: Solar Serve News #33 After winning the CSIP award in 2011, a lot of things changed and a whole new scale of support and advice came together with it. A consultant encouraged us to design a new cooker which can be used for boiling water. This seems to be the greatest need at the moment. As a result we redesigned several models and will test them in the coming months.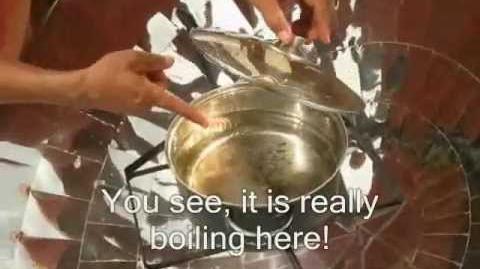 April 2012: Vietnam Solar Serve has provided a recent video tour of their production facility in Danang, Vietnam. The resourceful group has been adapting solar cooker designs from other countries and developing their own solar energy products since 2000. Looking at the larger alternative energy picture, they also promote photovoltaic panels made in Vietnam and are working on designs for water and wind power turbines. They manufacture a variety of solar cookers including parabolic and solar box cookers.
Archived articles
Climate and culture
Edit
Resources
Edit
Possible funders
Edit
External links
Edit
Articles in the media
Edit
Audio and video
Edit
The entities listed below are either based in Vietnam, or have established solar cooking projects there:
SCI Associates
Edit
Manufacturers and vendors
Edit
Individuals
Edit
Government agencies
Edit
Educational institutions
Edit
References
Edit
Community content is available under
CC-BY-SA
unless otherwise noted.